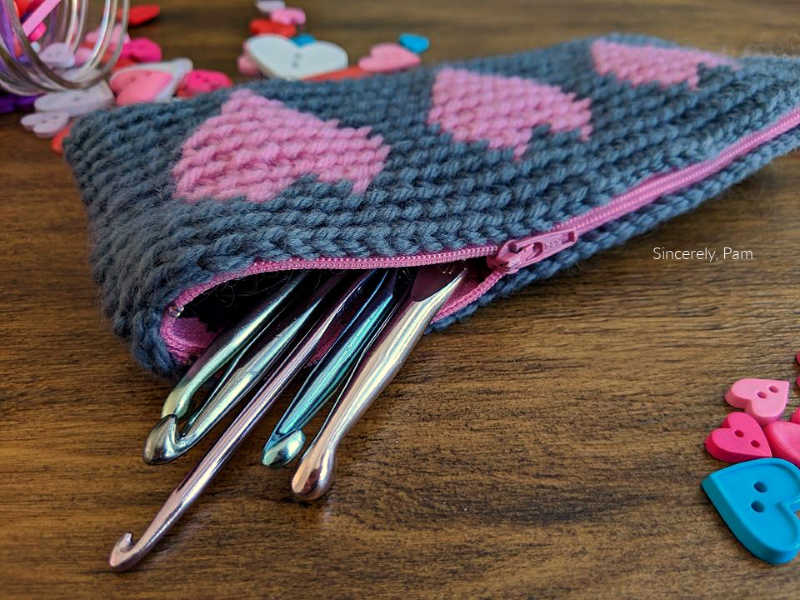 WOAH! And just like that, we are gearing up for Valentine's Day! We don't actively celebrate it in our home, but I do love love, you know? So when Sonya, Jennifer, and Crystal suggested we do another CAL together, I was giddy at the thought of coming up with a quick and easy way to help celebrate this special day in the classroom.
>>> CLICK HERE TO SIGN UP FOR THE SINCERELY, PAM WEEKLY NEWSLETTER! <<<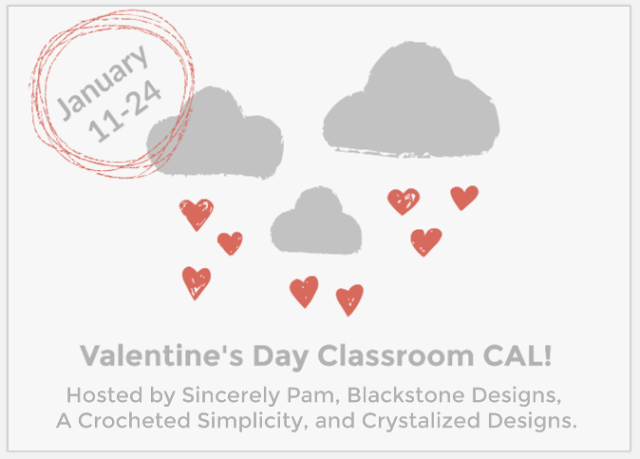 Once again, Blackstone Designs, A Crocheted Simplicity, Sincerely Pam, and Crystalized Designs have teamed up to bring you a fun blog hop style CAL.
For this CAL, we decided to take the theme of Valentine's Day one step further, and come up with different items that could be used in the classroom, or given to classmates as gifts.
While each pattern will be on our blogs, you will need to join each designer's Facebook Community Group in order to participate and enter to win prizes.
Blackstone Designs | Crochet Community
Monthly CAL | Sincerely Pam
A Crocheted Simplicity Crochet Community
Crystalized Designs Crochet Group 
This CAL runs from January 11th-24th. When you finish each pattern, you will post a photo of your finished item in that designer's Facebook group to enter to win a pattern from that designer. You can also upload a photo of your finished item to Ravelry projects and be entered to win a $25 Gift Card to Amazon! The more projects you complete, the greater your chances of winning!
Don't forget to tag your WIPs and finished projects on social media using #VdayCAL so we can see what you're working on!
Sonya of Blackstone Designs came up with this sweet Love Notes Valentine pattern!
Jennifer of A Crocheted Simplicity designed these hungry little Happy Monster Bookmarks!
This week it's my turn! I'll admit it, I struggled a bit to think of something. As someone who mostly sticks to garments and home decor, I was a little stuck as to what to make. Finally, inspiration struck (with a little nudge from the other Designers), and the Tapestry Heart Pencil Case was born! Ready for the pattern?
>>> Add it to your Ravelry Favorites or Queue HERE <<<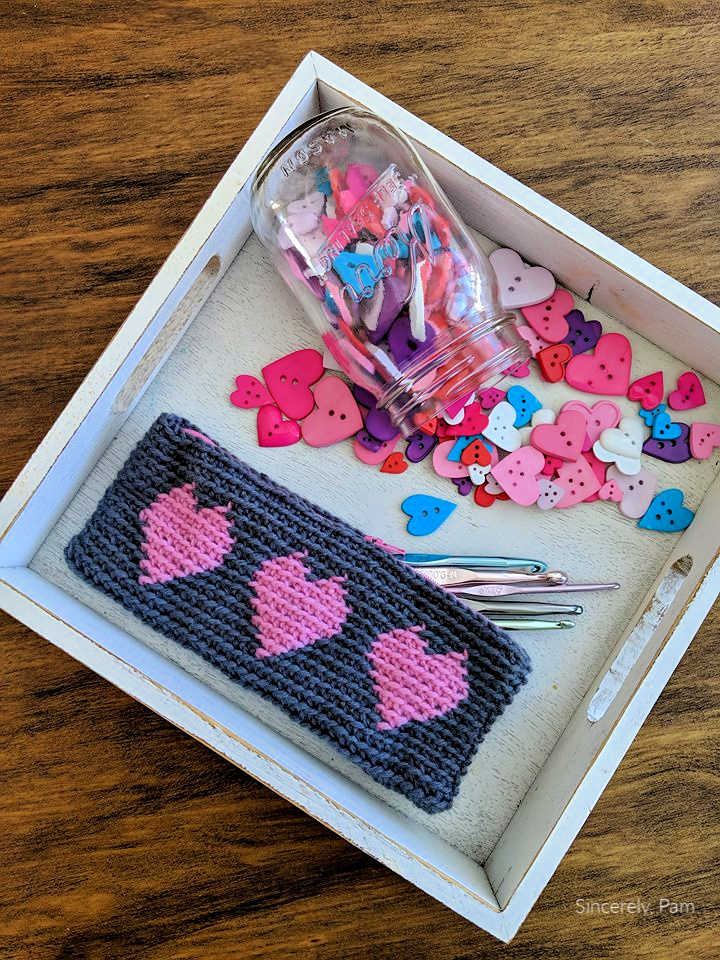 This post contains affiliate links. If you purchase something from one of these links, I will receive a small commission at no extra cost to you.
Materials
Yarn: 2 colors of  Worsted Weight #4 medium yarn. Sample made with Caron Kindness.
Hook: G (4.0 mm).
Tapestry Needle.
Measuring Tape.
7" closed zipper.
Pattern Key
ch: chain

st(s): stitch(es)

slst: slip stich

sc: single crochet

BLO: back loop only
Experience Level
Intermediate
Gauge
20 sc in BLO = 4"
Special Pattern Notes
This pencil case is worked in the Round from the bottom up.
When choosing colors for your case, using the photo above as a guide, Color A = Grey, Color B = Pink.
This entire pattern is worked in the BLO (back loops only). Joining with a slst is always worked into both loops.
Always work the first st of each Round in the same as the ch1. Always join in the first st of the Round.
Copyright Notice
You are free to sell what you make from this pattern, but you may not share, copy or reproduce this pattern in part or whole.
Photographs are also copyright protected and may not be used. Please link back to one of my shops if selling your finished items online.
(c) Pam Dajczak 2019
Sincerely, Pam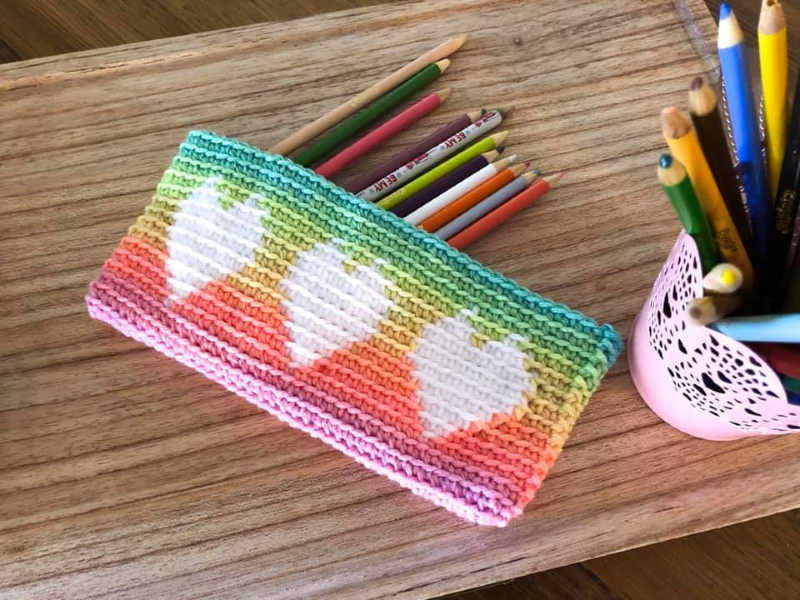 How cute is this pencil case Stevee made when testing? She used Red Heart Super Saver Stripes in the color Retro Stripes!
Pattern Instructions
Using the Main Color:
1: Ch40, sc in 2nd chain from hook and across, turn to work back across the foundation chain in the remaining loops, join. (78 sc now and throughout)
2-3: Ch1, working in the BLO, sc around, join.
HEART PATTERN
The remainder of the pencil case is worked entirely in the BLO.
When working the different colors of the case, the instructions will refer to them only as (A) or (B) before the number of sts you need to work in that particular color. For example, (A) 2, (B) 1, means to sc 2 sts in color A, then sc 1 st in color B. You may carry the colors behind one another when working the color changes, or cut the yarn at each color change and weave in ends. This is personal preference depending on how it affects tension and whether or not you want a smooth finish inside the case. If color changes are pulled too tightly, the case will pucker. See graph below for color chart. See THIS TUTORIAL for tips on how to change colors in Tapestry Crochet.

4: Ch1, (A) 7, (B) 1, [(A) 11, (B) 1] twice, (A) remaining sts, join.
5: Ch1, (A) 6, (B) 3, [(A) 9, (B) 3] twice, (A) remaining sts, join.
6: Ch1, (A) 5, (B) 5, [(A) 7, (B) 5] twice, (A) remaining sts, join.
7: Ch1, (A) 4, (B) 7, [(A) 5, (B) 7] twice, (A) remaining sts, join.
8-10: Ch1, [(A) 3, (B) 9] three times, (A) remaining sts, join.
11: Ch1, (A) 4, [(B) 3, (A) 1, (B) 3, (A) 5] three times, (A) remaining sts, join.
12: Ch1, (A) 5, [(B) 1, (A) 3, (B) 1, (A) 7] three times, (A) remaining sts, join.
13-15: Ch1, (A) sc around, join.
Fasten off and weave in all ends.
FINISHING
It is easy to sew on a zipper to your crochet pieces! Check out THIS TUTORIAL for easy step-by-step instructions.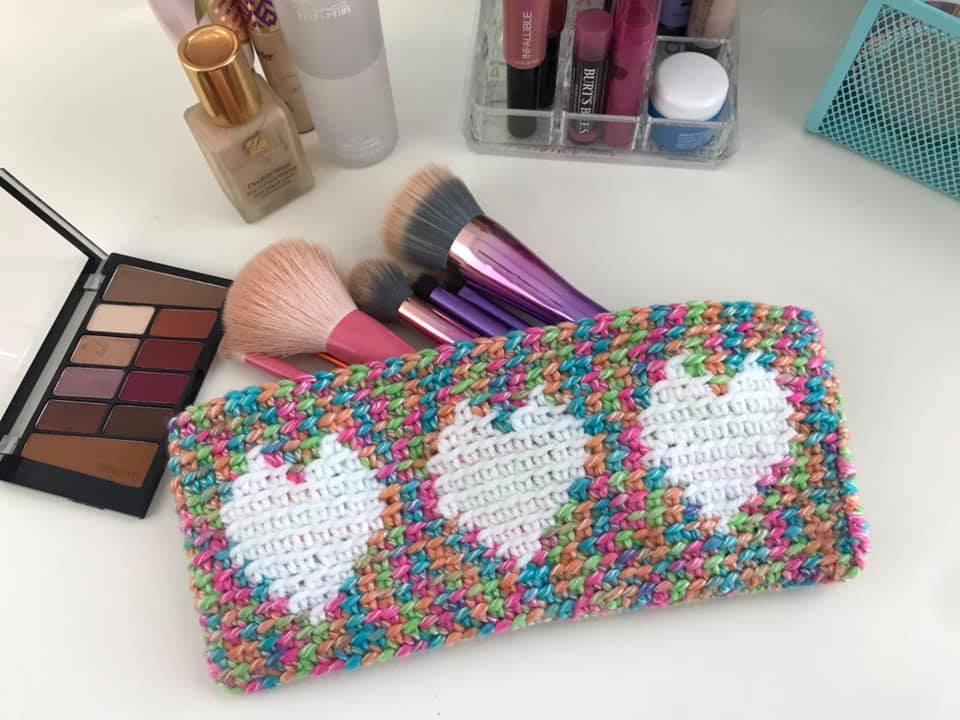 What will you use your Tapestry Heart Pencil Case for? I love them for pencils, crochet hooks, or even makeup brushes like Mallorie did above! I love the way it looks with the Yarn Bee Caterina from Hobby Lobby that she chose!
Loving Tapestry Crochet? Check out my other Tapestry Crochet patterns HERE!
And don't forget to check out Crystalized Designs when she reveals the final pattern in this CAL on January 21st, 2019.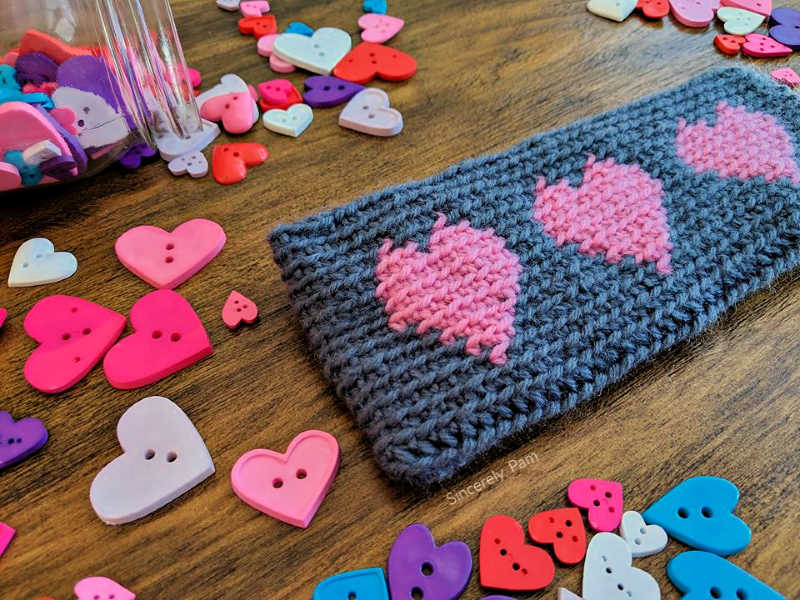 If you like the Tapestry Heart Pencil Case, check out my Robot Pillow crochet pattern!