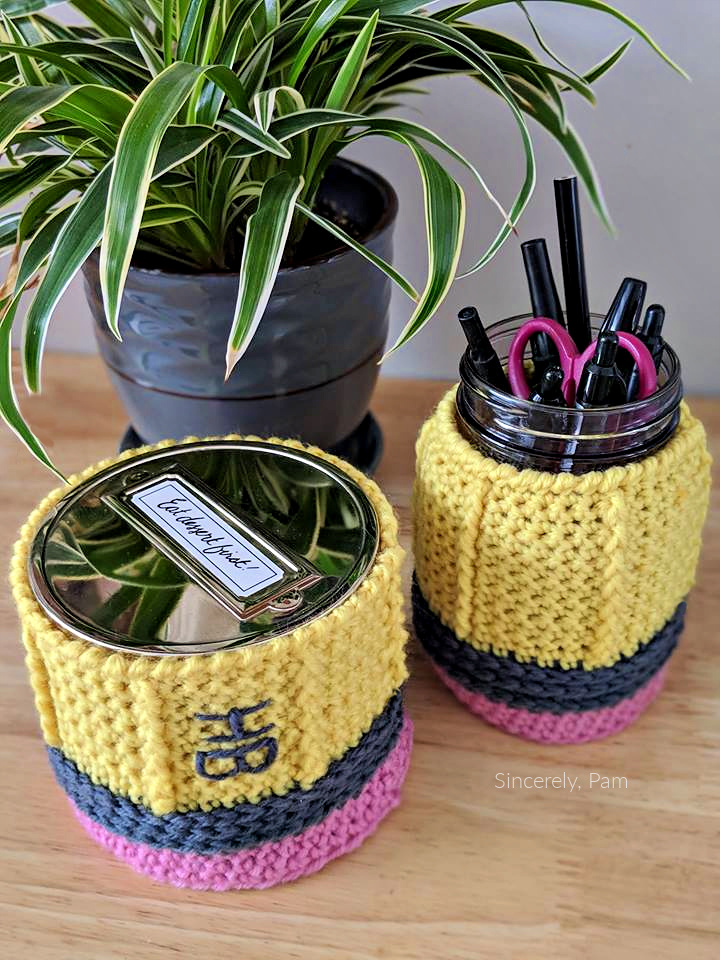 Teacher Gifts are next up on my Christmas Gift making list. I thought that this Pencil Mason Jar Cozy would look so cute on a desk filled with pencils, don't you? Although I'm pretty sure I will fill mine with fancy chocolates before giving it to my son's teacher. After making the Buffalo Plaid 3 Wick Candle Cozy I couldn't help but also make one with a pencil theme as well. Because what Teacher doesn't deserve a little scented relaxation at the end of the day, am I right? Ooooo! Maybe I will fill the Mason Jar with homemade bath salts!! The possibilities really are endless. Just make sure to add a note reminding people to not use the cozy while burning a candle, they are for decoration only.
>>> CLICK HERE TO SIGN UP FOR THE SINCERELY, PAM WEEKLY NEWSLETTER! <<<
If you like these cozies, you might want to check out my other Cozy patterns! Reindeer Mason Jar Cozy, Lansdowne Basket Cozy, or the Buffalo Plaid Cozy.
>>>BUY THE AD-FREE PDF, WHICH INCLUDES THE BUFFALO PLAID COZY PATTERN, HERE<<<
This post contains affiliate links to products we recommend. We may receive a commission for purchases made through these links.
Materials
Yarn: 3 colors of  Worsted Weight #4 medium yarn. Samples made with Caron Kindness.
Hook: H (5 mm).
Tapestry Needle.
Measuring Tape.
Pattern Key
ch: chain

st(s): stitch(es)

sk: skip

sp: space

slst: slip stich

sc: single crochet

hdc: half double crochet

dc: double crochet

FPdc: front post double crochet

BLO: back loop only
Special Pattern Notes
If giving the 3 Wick Cozy as a gift, please attach a note reminding that the Cozy is just for gift-wrapping/decoration purposes only, and should not be used while a Candle is burning!
These cozies are worked in the Round from the bottom up.
Beginning chains do not count as stitches.
Always work the first st of each Round in the same as the ch1. Always join in the first st of the Round.
Gauge                              
First 3 Rounds = 3" 
Experience Level                              
Easy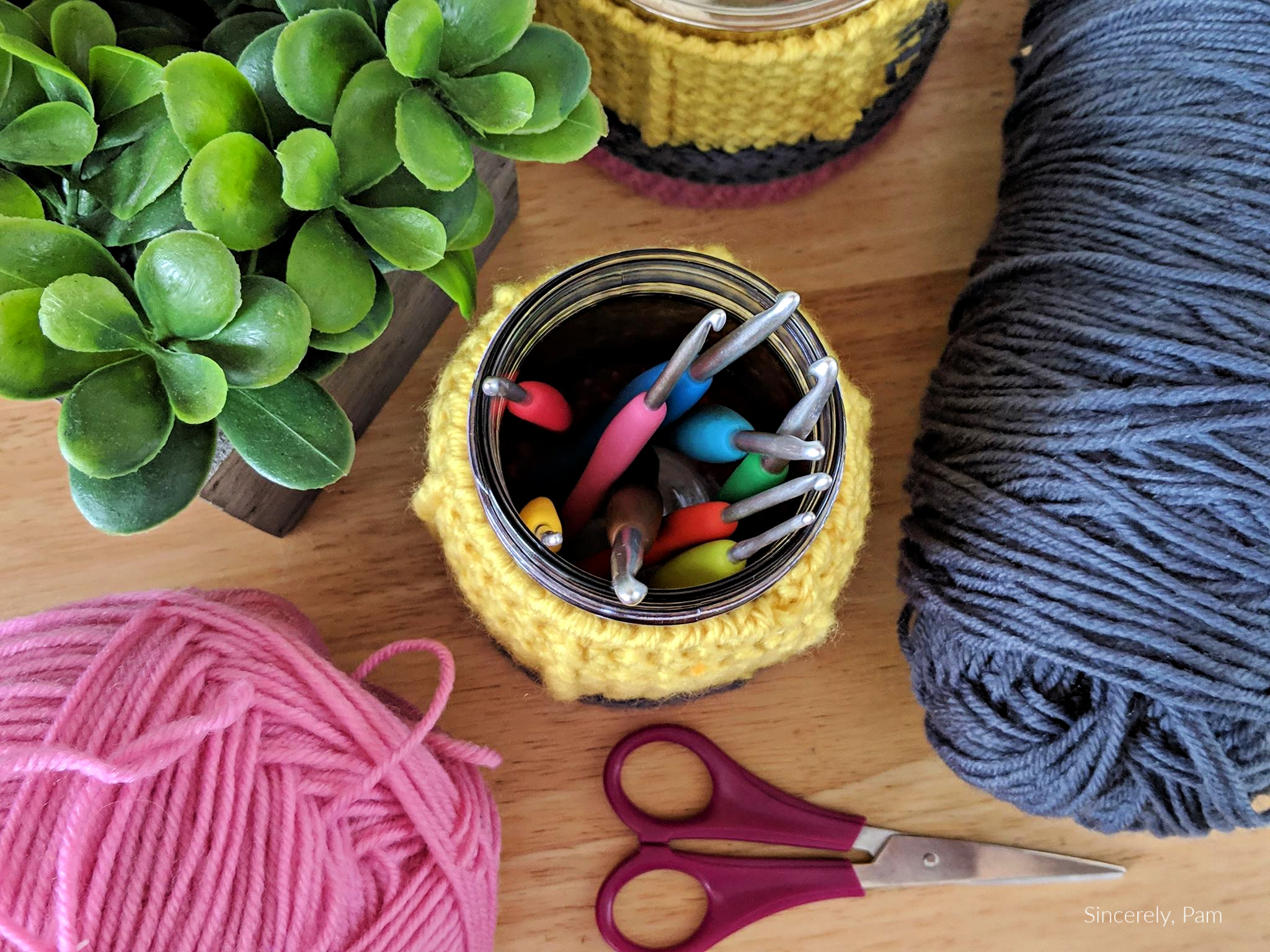 Copyright Notice
You are free to sell what you make from this pattern, but you may not share, copy or reproduce this pattern in part or whole.
Photographs are also copyright protected and may not be used. Please link back to one of my shops if selling your finished items online.
(c) Pam Dajczak 2018
Sincerely, Pam

Start with Pink
1: Starting with a Magic Circle, ch2, 12 dc in circle, pull gently to close, join to first dc. (12 dc)
2: Ch2, 2dc around, join. (24 dc)
3: Ch2, dc in first, 2dc in next, *dc in next, 2dc in next, repeat from * around, join. (36 dc)
End here for Mason Jar size, continue on to Round 5.
4: Ch2, sc in first 2, 2sc in next, *sc in next 2, 2sc in next, repeat from * around, join. (48 sc)
5: Ch1, working in the BLO, sc around, join. (36, 48 sts now and throughout)
6-7: Ch1, sc around, join.
Fasten off Pink, switch to Grey.
8: Ch1, hdc around, join.
9-10: Ch1, working in the 3rd loop, hdc around, join. The 3rd loop is a horizontal bar located at the back of the hdc stitch, behind the top two loops. See photo below.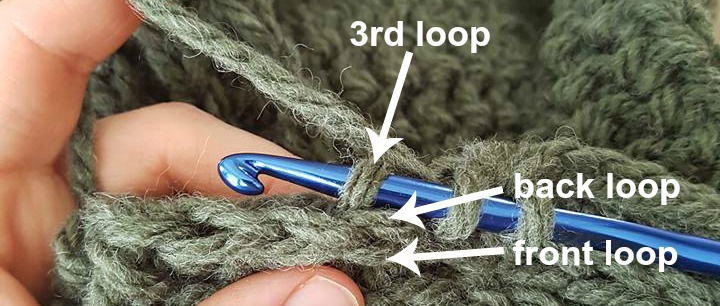 Fasten off Grey, switch to Yellow.
11: Ch1, working in the 3rd loop, sc around, join.
12: Ch1, sc first 5, FPdc in next, *sc next 5, FPdc in next, repeat from * around, join.
13: Ch1, TURN, sc around, join.
14: Ch1, TURN, sc first 5, FPdc around post st 2 Rounds below, *sc next 5, FPdc around next post st, repeat from * around, join.
Continue to repeat Rounds 13 and 14 until Cozy measures 4.5" tall for Mason Jar, 4" tall for 3-wick.
15: Ch1, reverse sc around, join.
Fasten off and weave in all ends.