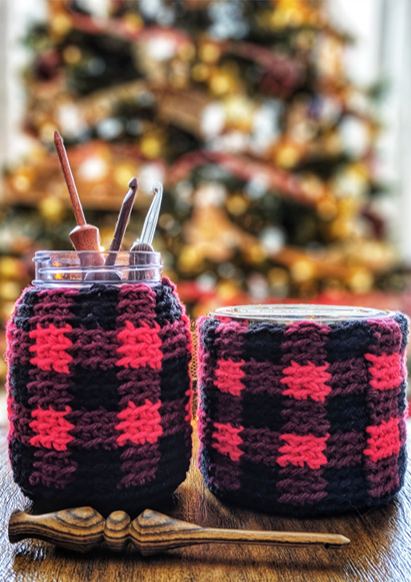 Just like this Buffalo Plaid Cozy crochet pattern, I'm going to keep this quick! It's the time of year when we are running low on time and still have gifts to make! I can't be the only one, can I?
This post contains affiliate links to products we recommend. We may receive a commission for purchases made through these links.
There are so many amazing Mason Jar gift ideas on Pinterest! You can fill them with candies, homemade mixes, craft supplies, sugar scrubs, you get the idea. I love having a few on hand for hostess and teacher gifts. That and 3 wick candles. I have never seen anyone disappointed when getting one of those as a gift. If you are anything like me, you also enjoy adding a personal touch to anything you give. That's what I love about these jar cozies! They also add a layer of protection when my kids bring them in their backpacks to school ?. Just make sure to add a note reminding people to not use the cozy while burning a candle, they are for decoration only.
>>> CLICK HERE TO SIGN UP FOR THE SINCERELY, PAM WEEKLY NEWSLETTER! <<<
If you like these cozies, you might want to check out my other Cozy patterns! Reindeer Mason Jar Cozy, Pencil Cozy, or the Julie Basket and Plant Cozy.
So, without further ado, here is the pattern for both the Buffalo Plaid Mason Jar and Buffalo Plaid 3 Wick Candle Cozies!
>>>BUY THE AD-FREE PDF, WHICH INCLUDES THE PENCIL COZY PATTERN, HERE<<<
Materials
Yarn: 3 colors of Worsted Weight #4 medium yarn. Samples made with Loops and Threads Impeccable.
Hook: H (5 mm).
Tapestry Needle.
Measuring Tape.
Pattern Key
ch: chain

st(s): stitch(es)

slst: slip stich

sc: single crochet

dc: double crochet

BLO: back loop only
Special Pattern Notes
If giving the 3 Wick Cozy as a gift, please attach a note reminding that the Cozy is just for gift-wrapping/decoration purposes only, and should not be used while a Candle is burning!
This Cozy is worked in one piece from the bottom up.
Beginning ch1 does not count as a st throughout. All sc sts starting on Row 5 are worked in the back loop only (BLO).
When joining rounds, join in both loops even when working the round in BLO.
When working the different colors of the Cozy, the instructions will refer to them only as (B) for Black, (W) for Wine, and (R) for Red before the number of sts you need to work in that particular color. For example, (W) 3, (B) 3, means to sc 3 sts in color Wine, then sc 3 sts in color Black. You may carry or float the colors behind one another when working the color changes, or crochet over the unused yarn. This is personal preference depending on how it affects tension and gauge. If color changes are pulled too tightly, the Cozy will pucker.
Experience Level
Intermediate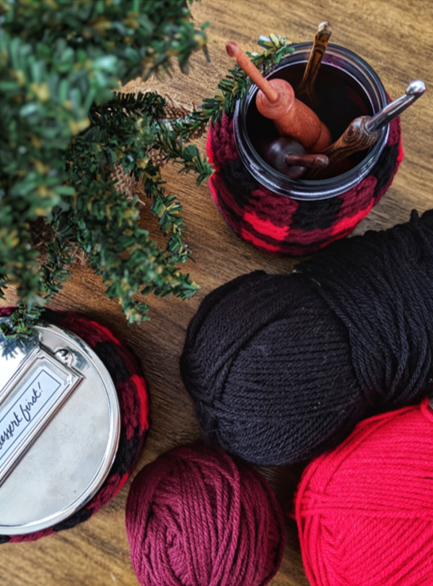 Copyright Notice
You are free to sell what you make from this pattern, but you may not share, copy or reproduce this pattern in part or whole.
Photographs are also copyright protected and may not be used. Please link back to one of my shops if selling your finished items online.
(c) Pam Dajczak 2018
Sincerely, Pam

Pattern Instructions
Start with Black
1: Starting with a Magic Circle, ch2, 12 dc in circle, pull gently to close, join to first dc. (12 dc)
2: Ch2, 2dc around, join. (24 dc)
3: Ch2, dc in first, 2dc in next, *dc in next, 2dc in next, repeat from * around, join. (36 dc)
End here for Mason Jar size, continue on to Round 5.
4: Ch2, sc in first 2, 2sc in next, *sc in next 2, 2sc in next, repeat from * around, join. (48 sc)
5: Ch1, working in the BLO, sc around, join. (36, 48 sts now and throughout)
Plaid. See Special Pattern Notes about Color Changes.
6-8: Ch1, *(B) 3, (W) 3, repeat from * around, join.
9-11-: Ch1, *(W) 3, (R) 3, repeat from * around, join.
Repeat Rounds 6-11 until desired height is reached, using the Chart on Page 1 as a guide. End after a repeat of 8 or 11.
Fasten off and weave in all ends.