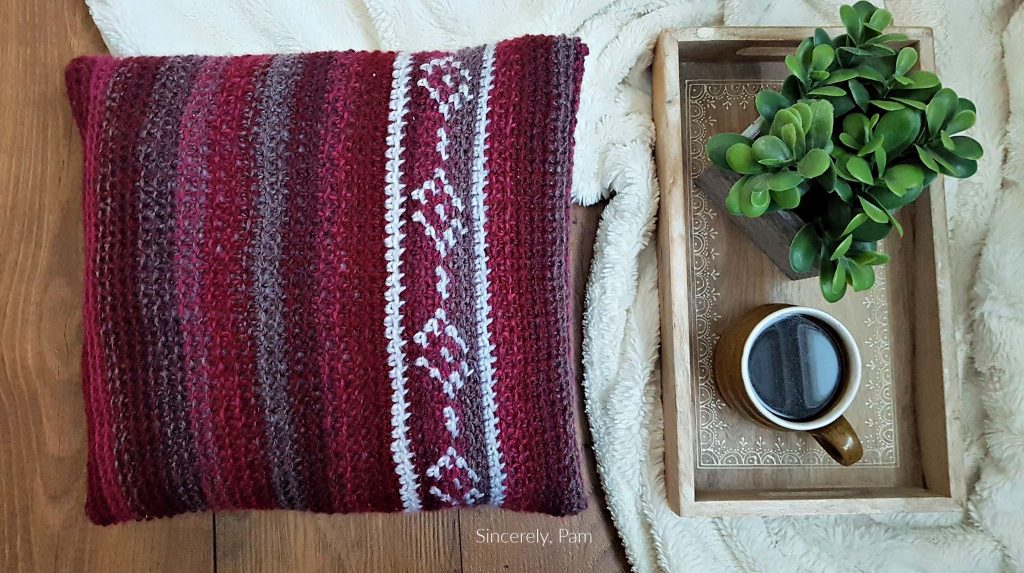 You all know by now that I love anything to do with home decor and tapestry crochet. So I'm sure you aren't shocked to learn that over the Holidays I decided to work on something new with the scrap yarn I have laying around!
>>> CLICK HERE TO SIGN UP FOR THE SINCERELY, PAM WEEKLY NEWSLETTER! <<<
I feel like I have been doing a decent job getting the house ready to sell. I truly enjoy organizing and tidying up. Although I find crochet to be relaxing, there is a different kind of calm I feel when decreasing clutter, scrubbing out closets, and scraping off whatever that was I found behind the stove. You know what I mean? I can't be the only one!
My home office is almost complete and I just love to stare at my shelves. All my yarn is in there. I have done so much purging and reflecting on what I really need and how much is too much for what I do. Since I no longer create anything "made to order", and I try not to use a particular brand/color for more than one design, I no longer need a "stash". I think I will share more about that in an upcoming post! Would you like that?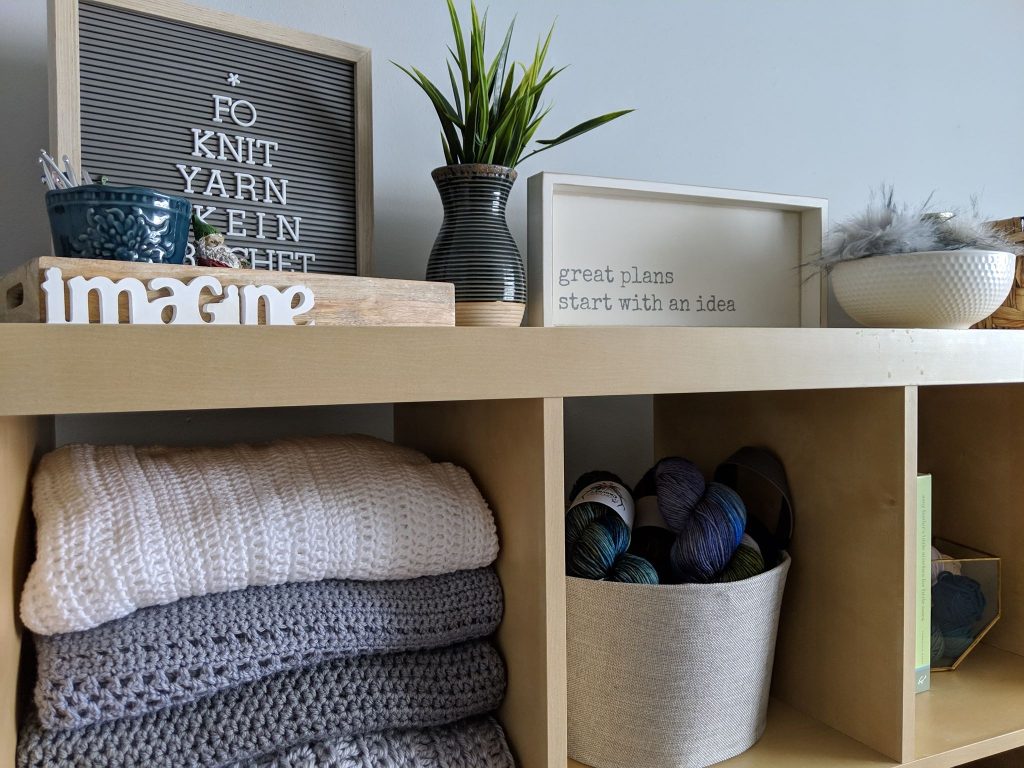 Now! Back to the pillow!
I was holding a couple skeins of Loops and Threads Barcelona. I had originally grabbed them to make some Lansdowne Toques for a craft show, but I didn't end up participating, so now I had two giant skeins and had to decide…. Keep? Or donate? I'm sure you can guess which choice I made ?.
This yarn is so darn pretty! The self-striping is nice and gradual, and the colors are so soft that combining multiple colorways doesn't take away from the beauty of the yarn! Barcelona is a bulky #5 acrylic yarn that is exclusive to Michaels stores. Since it is a thinner #5, you could substitute with a heavier worsted like Lion Brand With Love, or another bulky yarn of your choice.
Ready for the pattern?
>>> Add it to your Ravelry Favorites or Queue HERE <<<
Are you ready for the pattern? Let's go!
This post contains affiliate links. If you purchase something from one of these links, I will receive a small commission at no extra cost to you.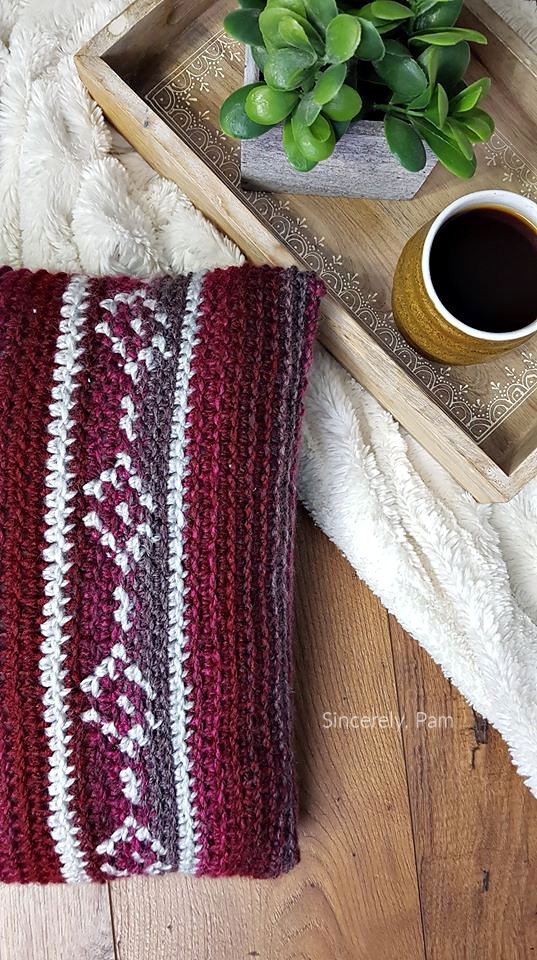 Materials
Yarn: Bulky #5. Sample made using Loops and Threads Barcelona in Main Color (A) and Contrast Color (B).

Hook: I (5.5mm).

Tapestry Needle for weaving in ends.

Measuring Tape.

16" closed zipper (optional)
Pattern Key
ch: chain

st(s): stitch(es)

slst: slip stich

sc: single crochet

BLO: back loop only
Gauge
12 sc x 10 Rows worked in the BLO = 4"x4"
Experience Level
Special Pattern Notes
This pattern is worked in joined rounds.
Beginning ch1 does not count as a stitch throughout.
Tapestry Color Changes. See photo tutorial HERE.
Adding a Zipper: See the photo tutorial HERE.
Copyright Notice
You are free to sell what you make from this pattern, but you may not share, copy or reproduce this pattern in part or whole.
Photographs are also copyright protected and may not be used. Please link back to one of my shops if selling your finished items online.
© Pam Dajczak 2019
Sincerely, Pam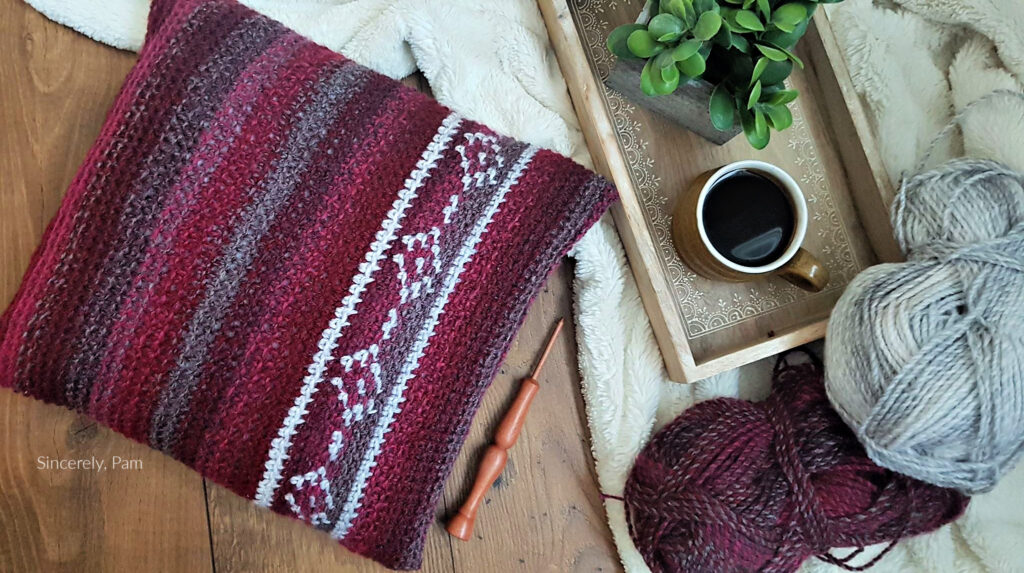 Pattern Instructions
Multiple of 11 sts will widen your pillow by approximately 3.75". So, for a 20"x20" insert, you will increase your starting chain to 56.
1: Ch 45, sc in 2nd chain from hook and across, turn to work back along the remaining loops of the foundation chain, sc across, join to first sc. (88 sc now and throughout)
2-7: Ch1, working in the BLO for the rest of the pillow, sc around, join.
When working the different colors of the Pillow, the instructions will refer to them only as (A) for the main color and (B) for the contrast color before the number of sts you need to work in that particular color. For example, I used a burgundy color for (A) and white for (B), so (A) 10, (B) 4, means to sc 10 sts in burgundy then sc 4 sts in white. You may carry the colors behind one another when working the color changes, or cut the yarn at each color change and weave in the ends. This is personal preference depending on how it affects tension. If color changes are pulled too tightly, the Pillow will pucker. Check out my Tapestry Crochet Tutorial HERE.
Here is the color chart below. This will be the design you will create.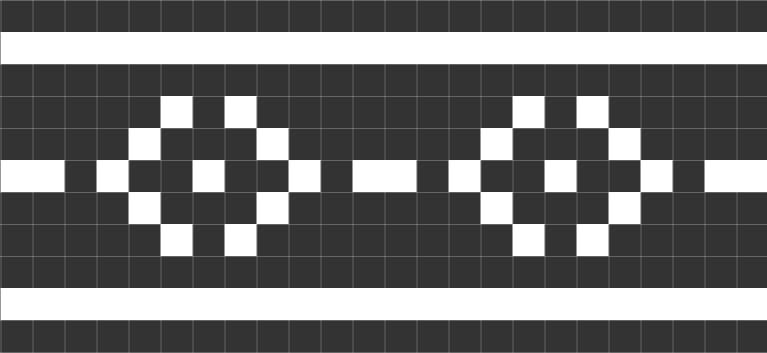 Tapestry
1) Ch1, (B), sc around, join.
2) Ch1, (A), sc around, join.
3) Ch1, *(A) 5, (B) 1, (A) 1, (B) 1, (A) 3, repeat from * around, join.
4) Ch1, *(A) 4, (B) 1, (A) 3, (B) 1, (A) 2, repeat from * around, join.
5) Ch1, *(B) 2, (A) 1, (B) 1, (A) 2, (B) 1, (A) 2, (B) 1, (A) 1, repeat from * around, join.
6) Ch1, *(A) 4, (B) 1, (A) 3, (B) 1, (A) 2, repeat from * around, join.
7) Ch1, *(A) 5, (B) 1, (A) 1, (B) 1, (A) 3, repeat from * around, join.
8) Ch1, (A), sc around, join. 
9)  Ch1, (B), sc around, join. Fasten off (B).
10) Ch1, (A), sc around, join.
Repeat 10 until Pillow measures 16"x16".
FINISHING
To finish the Pillow, you can either add a zipper using this easy tutorial HERE, or, you can close up your pillow using a simple basting st. Just weave a tapestry needle and yarn back and forth through the back loops of the remaining sts. See photo below.
Fasten off and weave in remaining ends.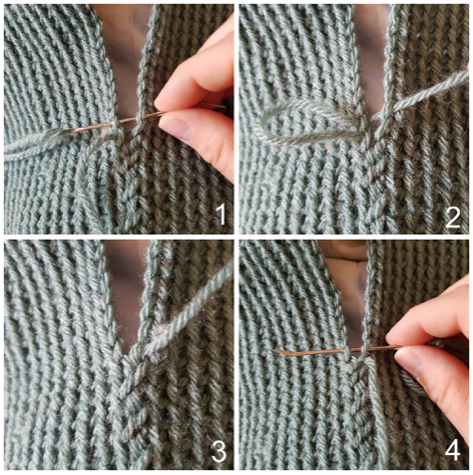 Looking back, I think some tassels on each corner would be fun too! What do you think?
Check out my other Tapestry Crochet Patterns HERE!