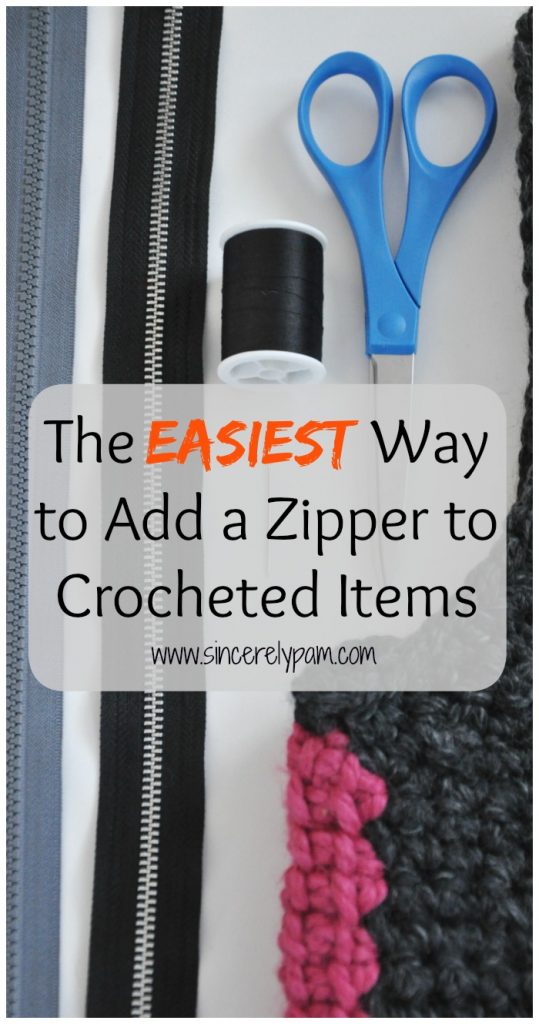 I have a couple designs that feature a zipper and one of the comments that I get the most is "I can't sew, so I probably can't do this.". Well, I'm here to tell you that this is one of the EASIEST ways to add something special to your crocheted pieces and you really don't need any special skill to do it! If you can weave in ends, you can sew on a zipper!
This post may contain affiliate links.
The first thing you will want to do when adding a zipper to your crocheted item is to gather all of your supplies! You will need:
separating zipper
needle
thread
scissors
measuring tape
project you are adding your zipper to.
When choosing your zipper, you will first need to measure how long your zipper needs to be. My Vest opening is 24″ long so I picked up 2 zippers that were the right length and decided I liked the black one best for this project.
Tip: When picking your zipper, make sure you buy the right kind! Since this is a garment that needs a fully opening zipper, I made sure to grab a separating zipper and not a closed one.
In the above right photo, you can see how the needle goes through the zipper tape ever sew easily ? See what I did there haha! Anyway, it goes through with no effort. There is no need to use a machine with this method! Now, to get started you will want to make sure that your finished item has been completely blocked and is ready to go! Line up your item with the zipper, leaving the zipper slightly shorter than the fabric and pin into place evenly along the edge. I like to live dangerously and skip this step. I have also paid the price of having to go back and rip out the zipper and try again. Don't be a Pam. Pin before you sew! Then, with your needle and thread, start sewing! I used a basting stitch to allow for some stretch. You will be pleasantly surprised at how easily this step goes! Stop every few inches and take a step back to make sure nothing has shifted.
I like to put several stitches in the top and bottom of the zipper to make sure the tape is completely flat against the fabric so that it doesn't bother me when I'm wearing it. Once you have finished sewing one side, unzip the zipper and repeat on the other side. I like to stop every once in a while, zip up the garment and make sure everything is staying even. This is especially important if you need to line up stripes, pockets, or any other element where symmetry is important.
Here you can see how the zipper looks on my finished Marek Women's Vests!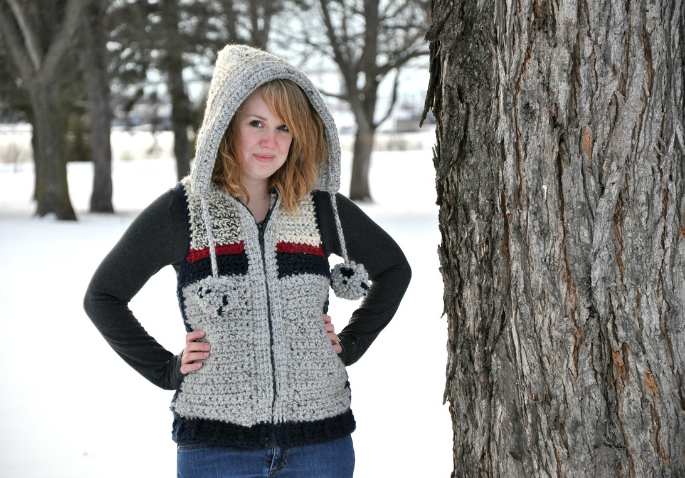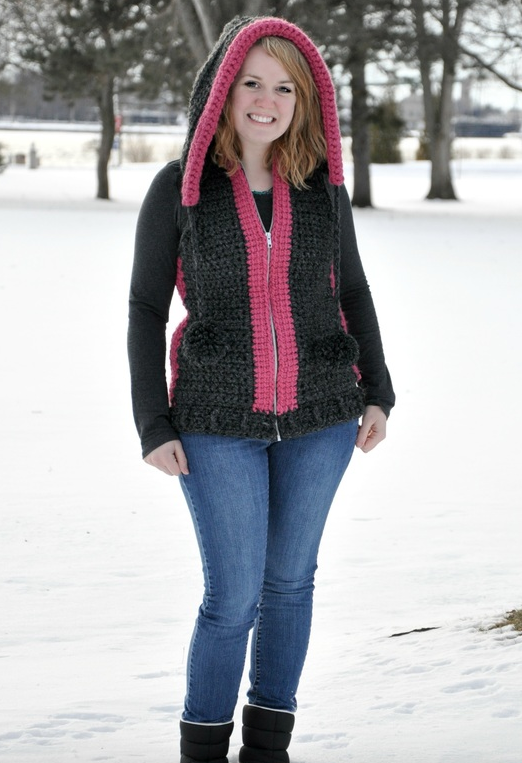 I also used this technique on my Dylan Cardigan, Steff Herringbone Cowl and Robot Pencil Case. What do you think? Let me know in the comments if you have added zippers to your crochet or knit projects! What do you think of this technique?
Until next time!
Sincerely, Pam