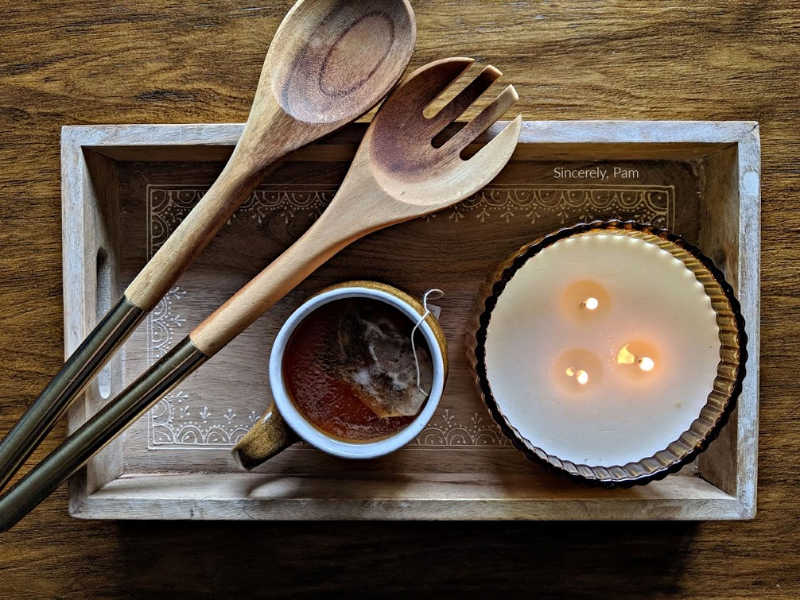 It's time for another Blog Hop! I hope you're geared up and ready for the Christmas Kitchen CAL (Crochet Along) with Sincerely, Pam, A Crocheted Simplicity, Blackstone Designs, and Crystalized Designs. This time around we have brought you four new, free, crochet patterns to use in and around your kitchen, just in time for the Holidays. I am so excited to bring you the Farmhouse Apron Crochet Pattern as part of this event!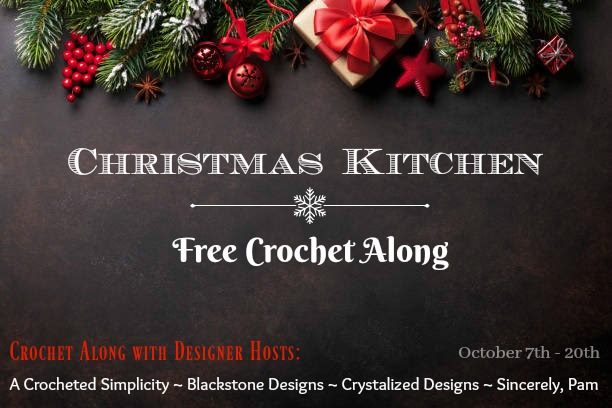 CAL Rules!
If this is your first CAL with us, WELCOME! We are so excited that you have joined us and we promise that this is a lot of fun. There are also prizes up for grabs, but you need to know how to enter to win, am I right? CLICK HERE to jump on over and learn everything you need to know!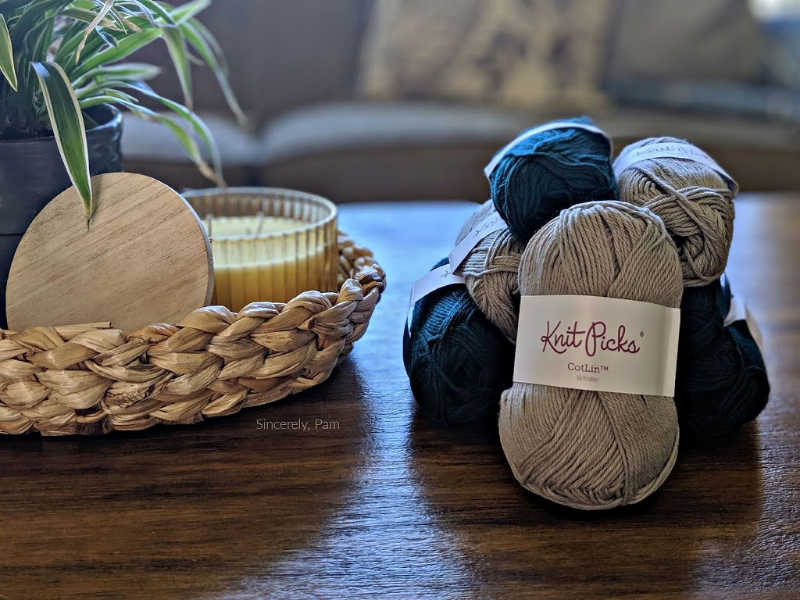 This post contains affiliate links to products we recommend. We may receive a commission for purchases made through these links.

Have you tried this yarn?
Have you ever tried Knit Picks CotLin yarn? If you haven't, you don't know what you're missing! CotLin is a 70% Tanguis Cotton, 30% Linen blend DK weight yarn. Tanguis (tan-gwiss) cotton is very soft, absorbent fiber. The Belgian linen adds the characteristic flecks with very low elasticity – helping to to prevent stretching. This makes it an excellent yarn for not only garments for adults and kids, but also for washcloths and kitchen items. You know, like an apron. *wink, wink* Each skein is 50g in weight and contains 123 yards and comes in 45 different colours. I chose the colours Shoal and Whisker.
https://shareasale.com/r.cfm?b=1396443&u=1059965&m=59159&urllink=&afftrack=
>>> Purchase the ad-free PDF of the Farmhouse Apron Crochet Pattern on Ravelry, Etsy, or LoveCrafts! <<<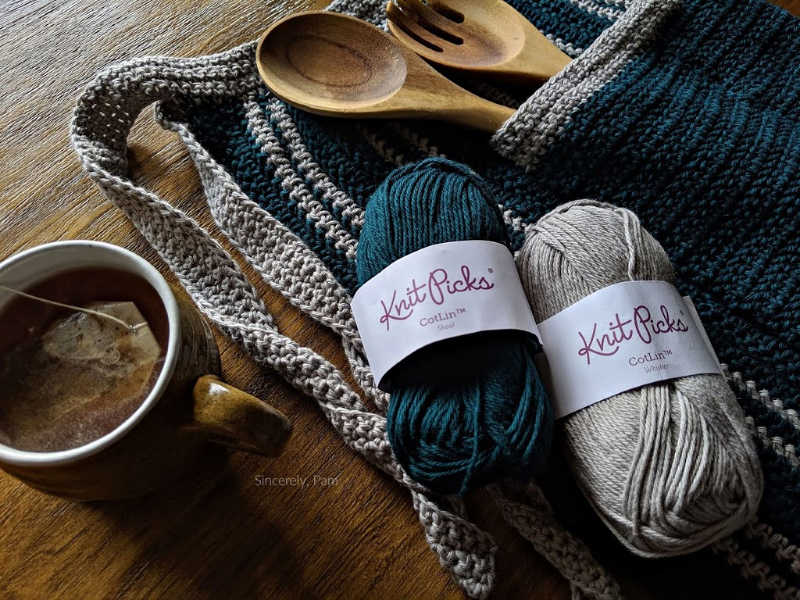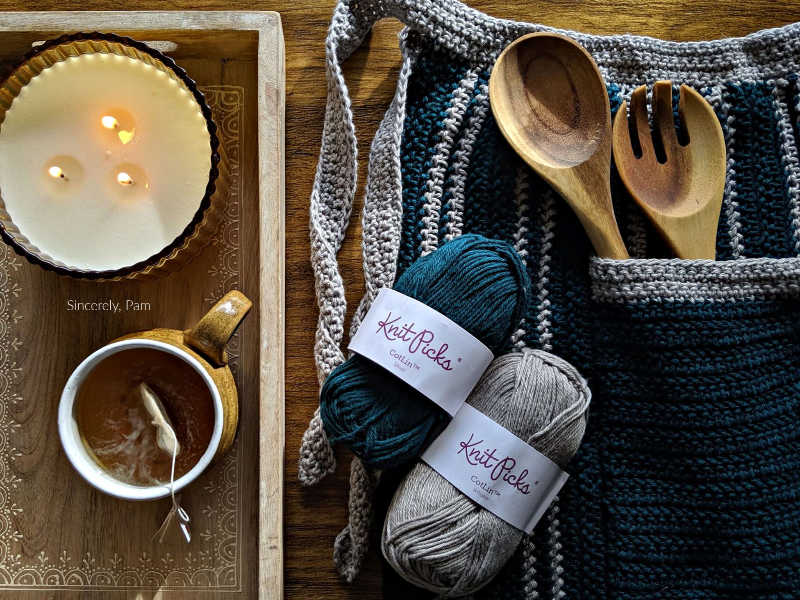 Don't forget to share your pics of the Farmhouse Kitchen Apron in the Sincerely, Pam Facebook Group once you're finished! Remember to add your WIPs and finished pics to Instagram too! Tag me @bysincerelypam and use the hashtag #ChristmasKitchenCAL to be entered to win a $25 Knit Picks Gift Card!
Drumroll, please!
Materials
Yarn: 2 colors of Light #3, DK yarn. Sample made with Knit Picks CotLin (4 balls Shoal, 2 balls Whisker). 738 yards/300 grams total.
Hook: G (4.5 mm).
Measuring Tape.
Pattern Key
ch: chain
st(s): stitch(es)
sk: skip
sc: single crochet
hhdc: herringbone half double crochet
Experience Level
Beginner
Gauge
14 hhdc and 12 rows = 4" x 4"
Special Pattern Notes
This Apron is worked in two pieces.
Although this pattern is worked using two colours, you can use one solid colour, or several. The instructions include colour changes as shown in the sample.
If you would like a longer apron than shown, increase your starting chain accordingly. If you would like it wider, repeat Rows
Always work the first st of each Row in the same as the ch1.
Copyright Notice
You are free to sell what you make from this pattern, but you may not share, copy or reproduce this pattern in part or whole.
Photographs are also copyright protected and may not be used. Please link back to one of my shops if selling your finished items online.
(c) Pam Dajczak 2019
Sincerely, Pam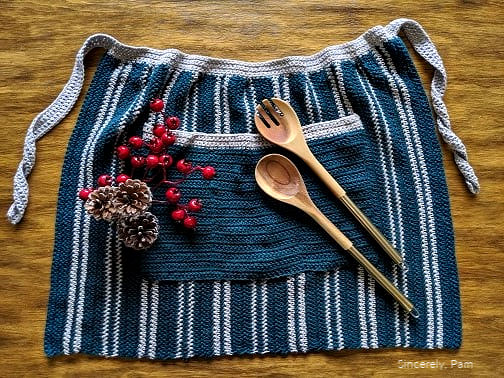 Farmhouse Apron Crochet Pattern
APRON BODY
Using the Main Colour:
1: Ch71, hhdc in 2nd chain and across. (70 hhdc now and throughout)
2: Ch1, turn, hhdc across.
Repeat Row 2 until your Apron is approximately 27" long (this will be the width of your Apron).
The pattern for colour changes is as follows: 4 rows Shoal, 1 row Whisker, 1 row Shoal, 1 row Whisker.
Fasten off and weave in all ends.
APRON TIES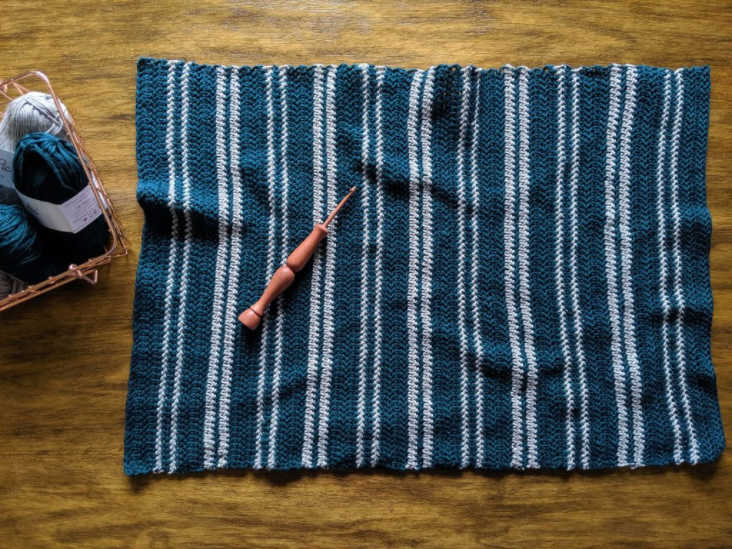 Using the Contrast Colour:
This part of the pattern is worked across the unworked side of the rectangle just completed. You will begin with a chain (one tie started), then work sts across one of the unfinished sides of the Apron Body, then chain again (second tie started).
1: Ch60 (first tie), sc evenly across to second group of grey stripes (see first photo below), sc5tog evenly across the grey stripe group (see second and third photos below), sc evenly across to fourth grey stripe group, sc5tog. Continue to sc evenly across while sc5tog every second grey stripe group. Once you get to the end of the apron body, ch60.    
Here is what the apron will look like after working a sc5tog on every second grey stripe group. You can see the long chains on each side which will be the ties for the apron.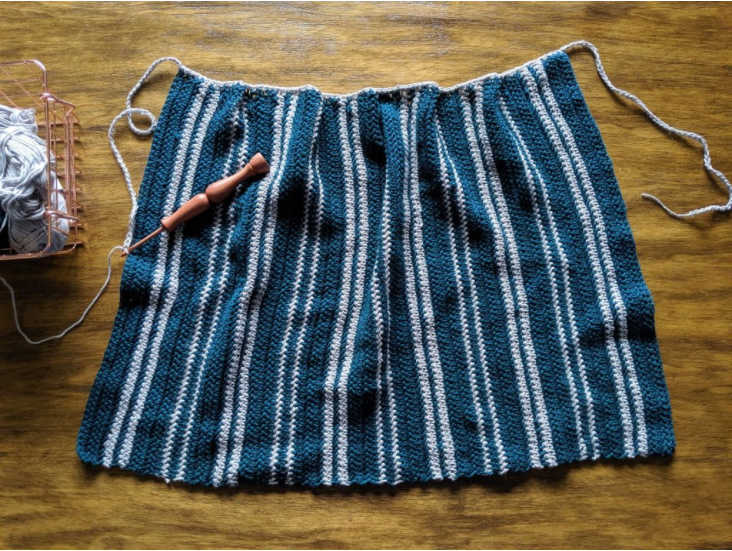 2-5: Ch1, turn, sc across.
Fasten off and weave in all ends.
Apron Body complete!
APRON POCKET
Using the Main Colour:
1: Ch61, hhdc in 2nd chain and across. (60 hhdc now and throughout)
2-28: Ch1, turn, hhdc across.
Switch to Contrast Colour.
29-33: Ch1, sc across.
Fasten off and weave in all ends.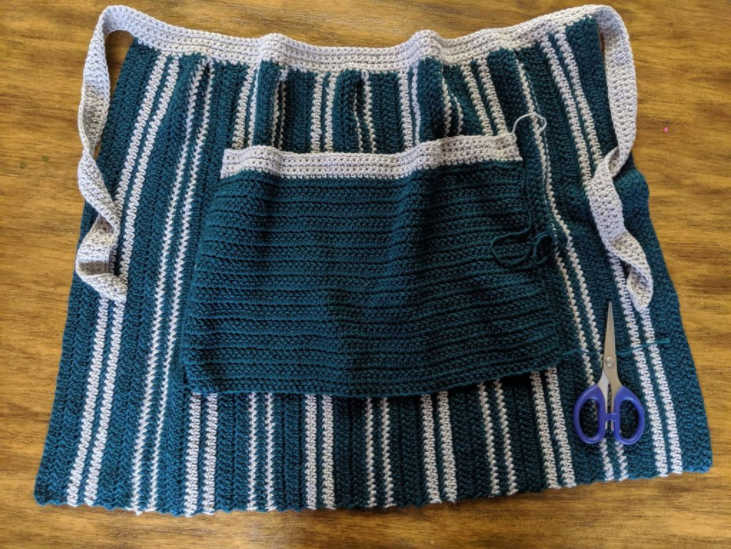 ATTACHING
Using a long piece of yarn and a tapestry needle, carefully sew the Pocket to the Apron Body. Sample shown has the pocket approximately 20 stitches up from the bottom of the Apron.
FINISHING
Using the Main Color and hook, surface crochet through the pocket and apron body, to divide the pocket into three sections. See red arrows below. To do this also prevents the pocket from sagging. Read a tutorial on how to Surface Crochet HERE. Fasten off and weave in all ends.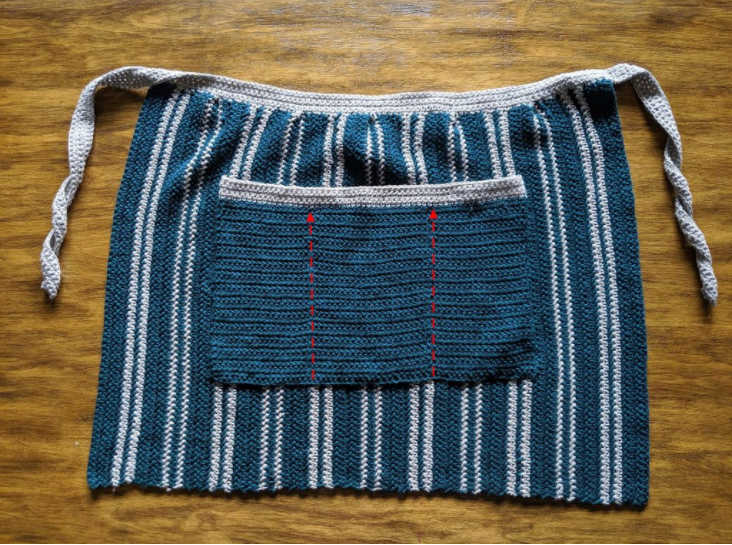 And that is it! Remember to add your photo of your finished apron in my Facebook Group! Look for the CAL graphic (like the one at the beginning of this post) and you are entered to win!

Check out A Crocheted Simplicity's CAL pattern HERE, Blackstone Designs' HERE, and Crystalized Designs' HERE!
Did you enjoy the Farmhouse Apron Crochet Pattern? Why don't you check out my other FREE crochet patterns HERE!