The Danielle Pillow Cover crochet pattern is one of my favorites. It's a fast, easy pattern that uses basic stitches in a fun way that creates LOADS of texture! I love that it fits in with almost any decor, and uses bulky yarn so it works up quickly!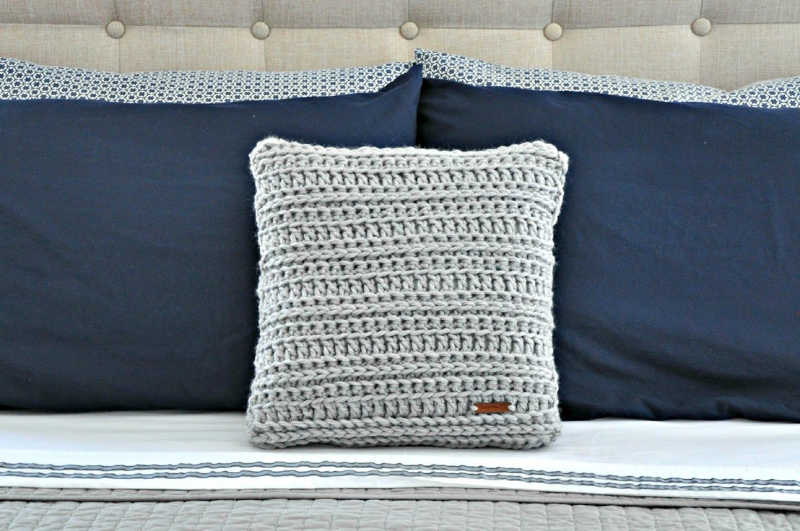 This post contains affiliate links to products we recommend. We may receive a commission for purchases made through these links.
For the pillow pictured above, I used Loops and Threads Woolzee which is a #6 weight super bulky yarn. This yarn did fuzz up when on my couch. I wouldn't recommend it for a place that gets a ton of use. I would probably use something similar to Red Heart Yarn Sweet Home, or a similar polyester yarn. When I moved it to my bed there were no issues since it was only there to look pretty and wasn't actually used.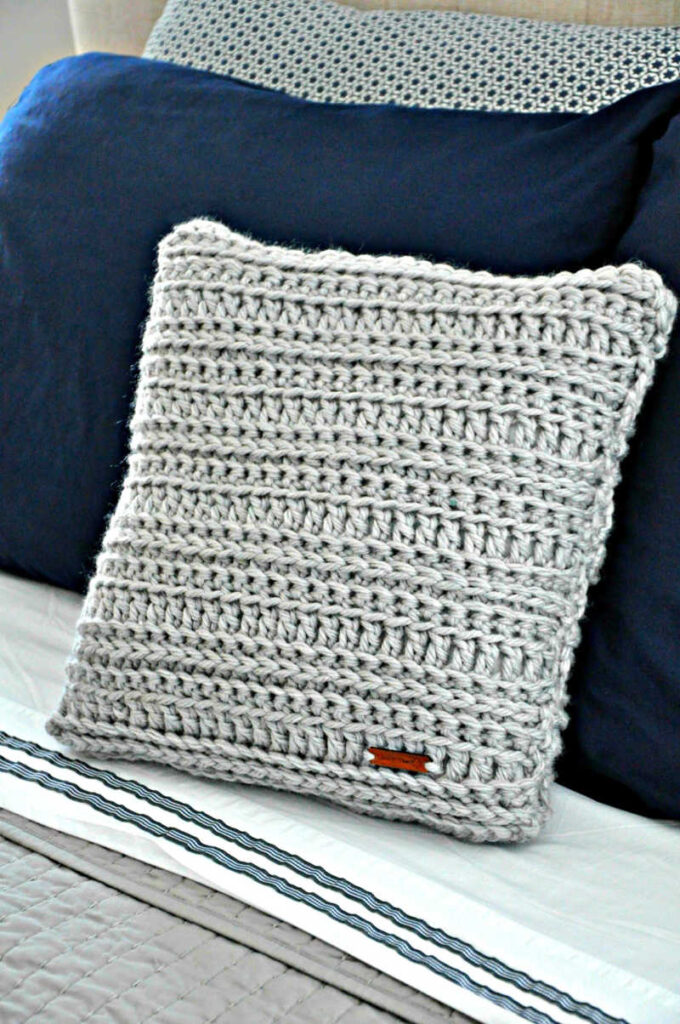 For the pink striped Danielle Pillow I used Red Heart Yarn Soft Essentials Stripes in the colorway Pixie Stripe. I loved the way the striping worked up, but felt that the yarn was too thin at this gauge. If you do use a #5 yarn instead of a #6, you may want to tighten up your stitches with a smaller hook and adjust your starting chain accordingly.
Ready to make your own? The instructions are below!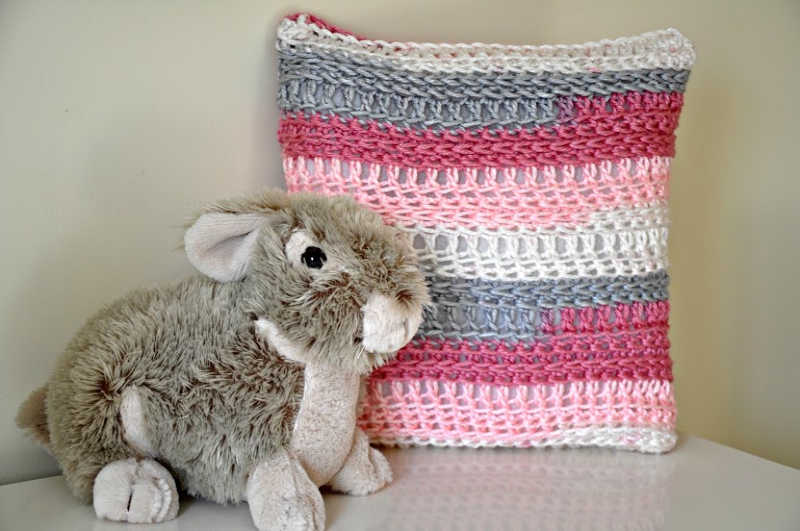 Danielle Pillow Crochet Pattern Instructions
Materials
Yarn: 222 yards of Super Bulky #6. Grey Sample made using Loops and Threads Woolzee
Tapestry Needle for weaving in ends.
Pattern Key (standard American terms)
ch: chain
st(s): stitch(es)
sk: skip
sp: space
slst: slip stich
sc: single crochet
hdc: half double crochet
dc: double crochet
FLO: front loop only
BLO: back loop only
W3L: work in 3rd loop only
Special Pattern Notes
This pattern is worked back and forth in Rows from the Button Band to the Button Hole Band. The Cover is then folded in thirds and sewed up the sides to close.
Experience Level
Easy
Gauge
9 hdc sts and 6 rows = 4"
Copyright Notice
You are free to sell what you make from this pattern, but you may not share, copy or reproduce this pattern in part or whole.
Photographs are also copyright protected and may not be used.
Please link back to one of my shops if selling your finished items online.
(c) Pam Dajczak 2017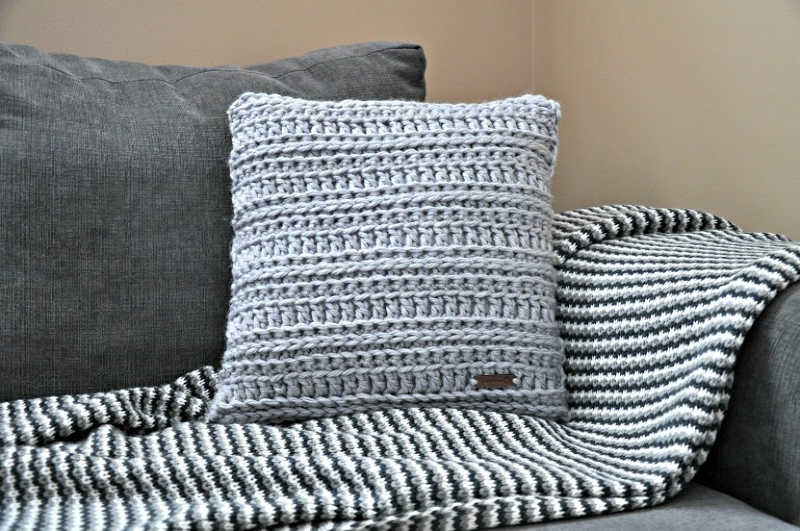 Pattern Instructions
1: Ch 28, sc in 2nd and across. (27 sts now and throughout)
2-4: Ch1, turn, sc across. (Button Band made)
5: Right Side, Ch3 (counts as dc), turn, BLO, dc across.
6: Ch1, turn, FLO, sc across.
7: Ch2, turn, BLO, hdc across.
*** Whenever working a sc row AFTER a hdc row, always work in the 3rd loop (W3L), which is now facing you. ***
8: Ch1, turn, W3L, sc across.
Repeat 5-8 ten more times.
9-10: Ch1, turn, sc across.
11: Ch1, turn, *sc 3, ch3, sk3sts*, repeat from * to * 3 times, sc in last 3.
12-13: Ch1, turn, sc across. (Button Hole Band made)
Fasten off and weave in ends.
Finishing
With Right Side facing up, fold the Button Hole Band half way up the Pillow Cover. Fold the Button Band half way up so that it overlaps the Button Hole Band. See the photo tutorial on Page 3 to see where to fold. Using a tapestry needle and yarn, sew up the sides the entire way. Turn the Cover Right Side out. Attach all 4 buttons, evenly spaced along the Button Band so that they line up evenly with the Button Holes.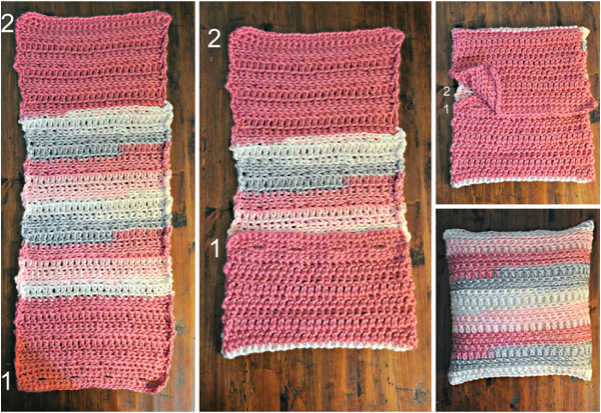 Don't forget to share your finished projects in my Facebook Group or Instagram using hashtag #SincerelyPamPattern.
If you enjoyed making the Danielle Pillow Crochet Pattern, you might want to check out my other Crochet Pillow Patterns too!