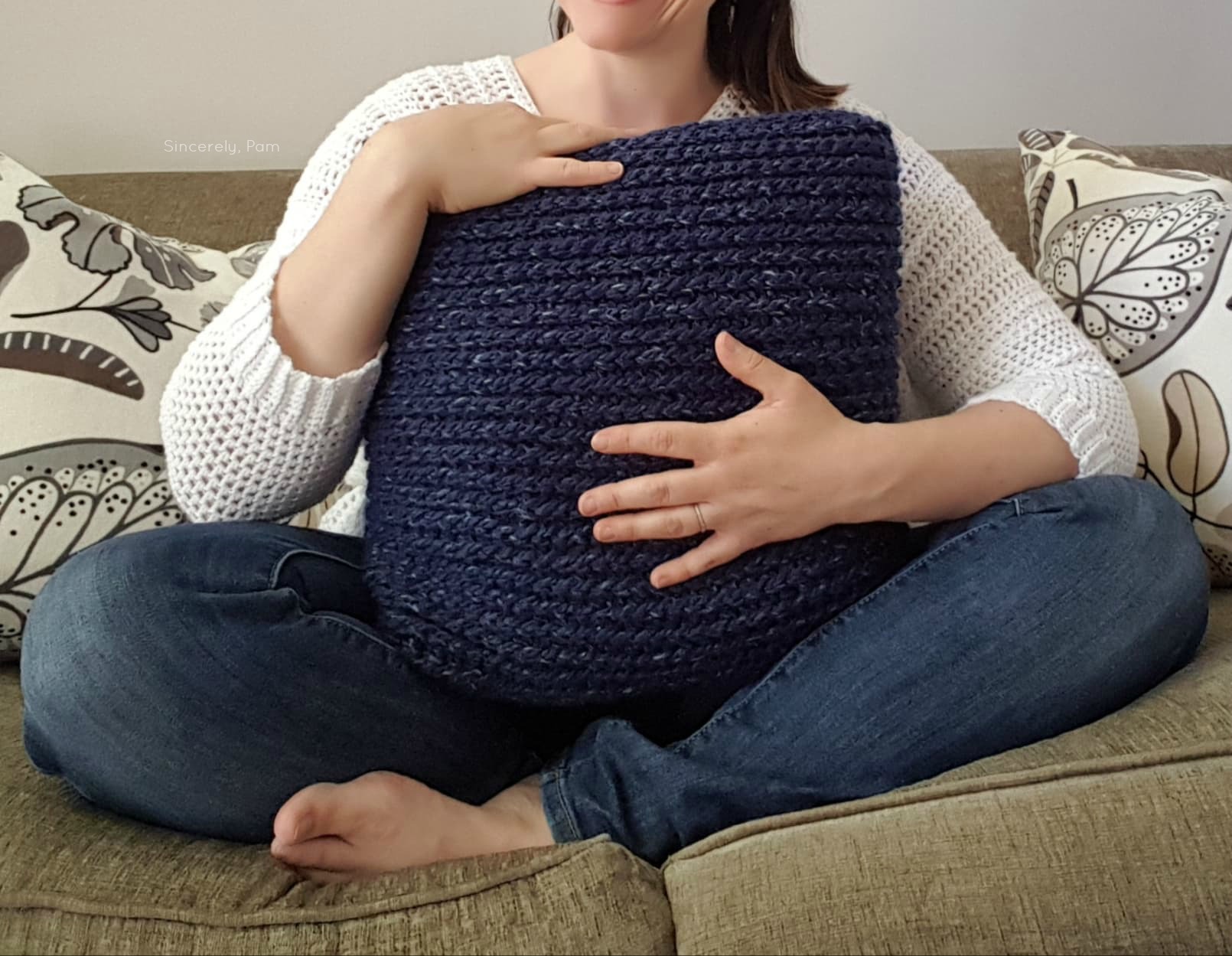 Fast. Simple. Texture. Three of my favorite words to use when talking about crochet projects. I love intricate lace, and funky cables, but my heart will always find such beauty and satisfaction when whipping up an entire project during a single episode of Scandal. You're with me on that, right?
>>> ADD IT TO YOUR RAVELRY FAVORITES <<<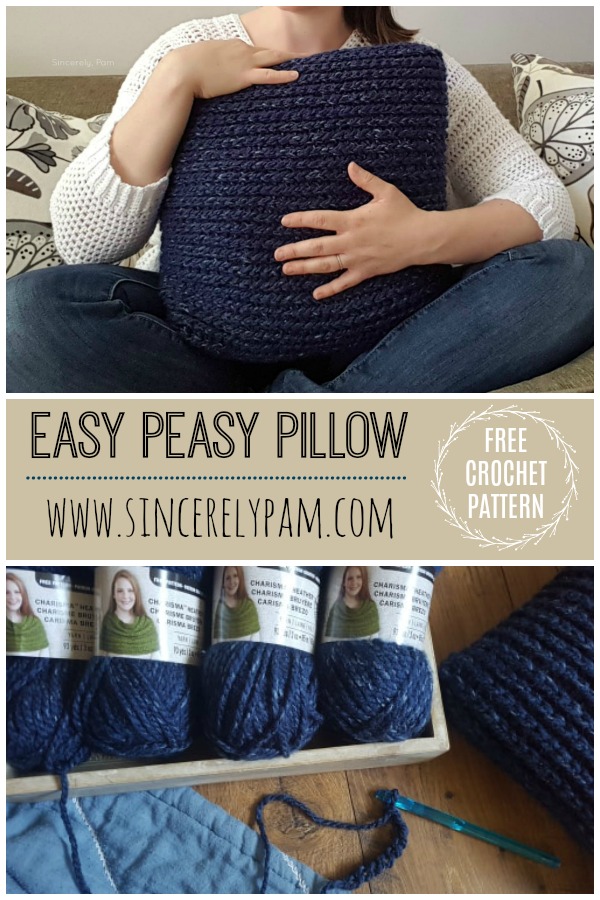 >>> CLICK HERE TO SIGN UP FOR THE SINCERELY, PAM WEEKLY NEWSLETTER! <<<
Well, today is the first official day of Summer. That means most people aren't working with bulky, or heavier weight yarns. This also means it's often on sale! When I was at Michaels a short while ago, they were having a huge sale on Loops & Threads Charisma yarn. It is the #5 yarn that I use most often. It's just so incredibly soft! So I grabbed several skeins, with no plans what to use it for.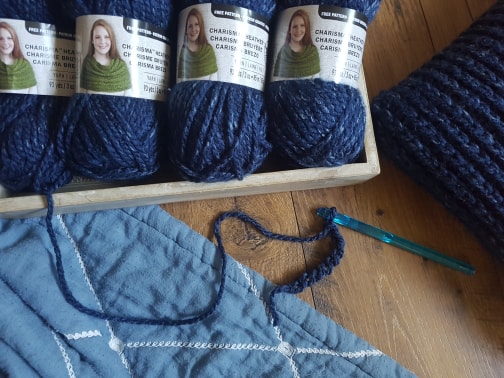 Then it hit me! I was cleaning out my office when I found several pillow forms and knew immediately what I wanted to do with them. Want to find out how complicated this pattern really is?
I basically chained the width of the pillow, and then I worked in a continuous round of 3rd loop hdc until I reached the height I needed. It was intense. Haha! But, honestly, are you ready for the pattern?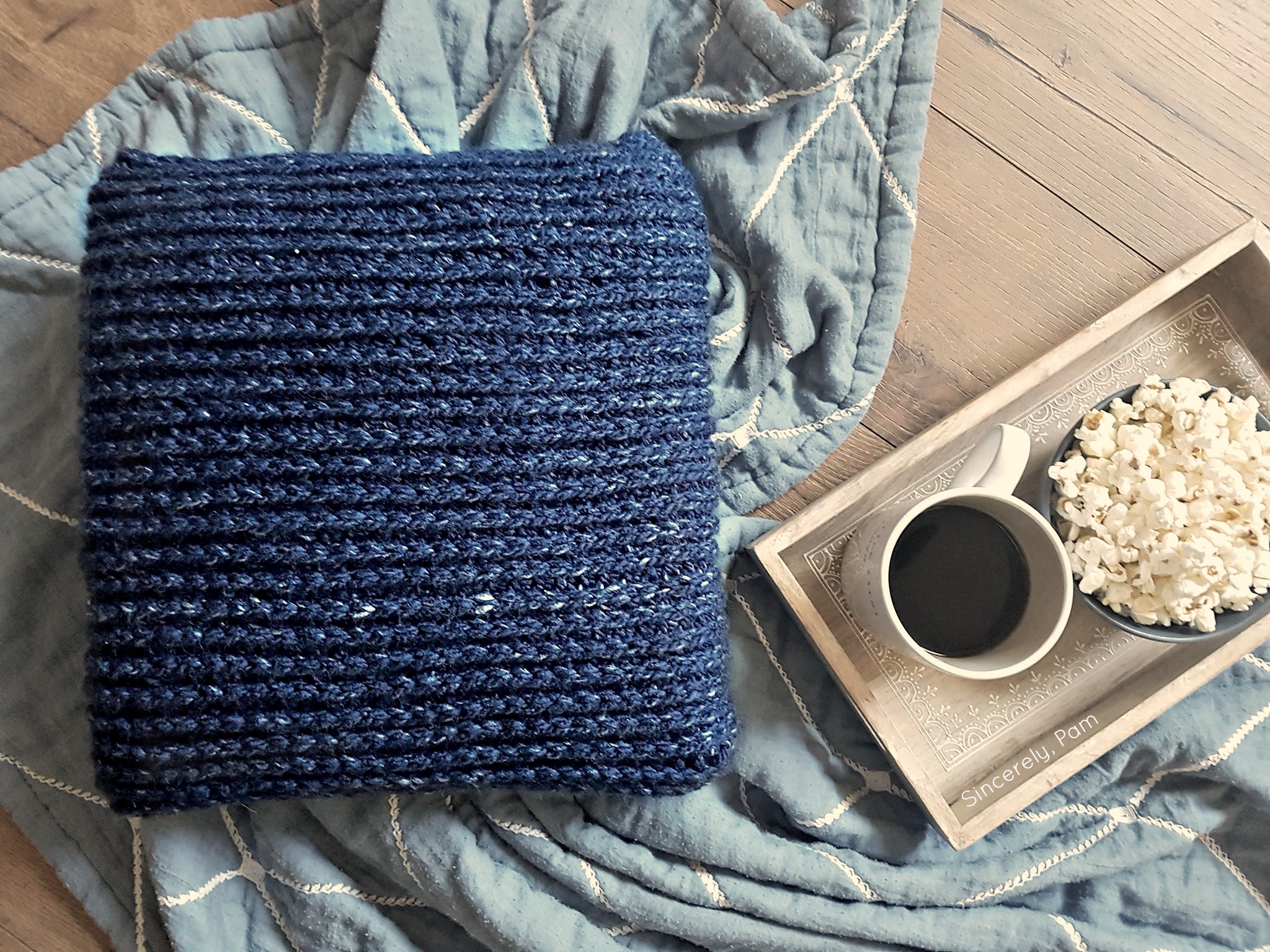 *** This post contains affiliate links***
Materials Needed:
244 yards (3 skeins) of Loops and Threads Charisma Heather in color Denim.
N (10.00 mm) hook.
Measuring tape.
Tapestry needle.
14″ x 14″ Pillow Form.
Gauge: 8 hdc x 8 rows = 4″ when worked in the 3rd loop.
Ch33, hdc in 2nd chain from hook and across. Turn to work in the remaining loops of the foundation chain, hdc across, do not join. (64)
Hdc in the 3rd loop of the next stitch.  See photo below. Each hdc stitch has 3 loops. The top two (front loop is closest to you, back loop is behind it) and then the 3rd loop makes a horizontal bar found at the back of the stitch. You will work in this stitch for the remainder of the project.
Without joining, continue to hdc in the 3rd loop all the way up until you reach 14″ in length, stopping so that your last stitch made is even with the bottom corner of the Pillow.
To join both sides of the pillow, join the front and back 3rd loop stitches using a slst, continue across.
Fasten off and weave in all ends.
The great thing about this pattern, is you can substitute any size yarn and hook, or even pillow size. Just chain the length of the pillow and follow the pattern as written, using the size of your pillow form as a guide.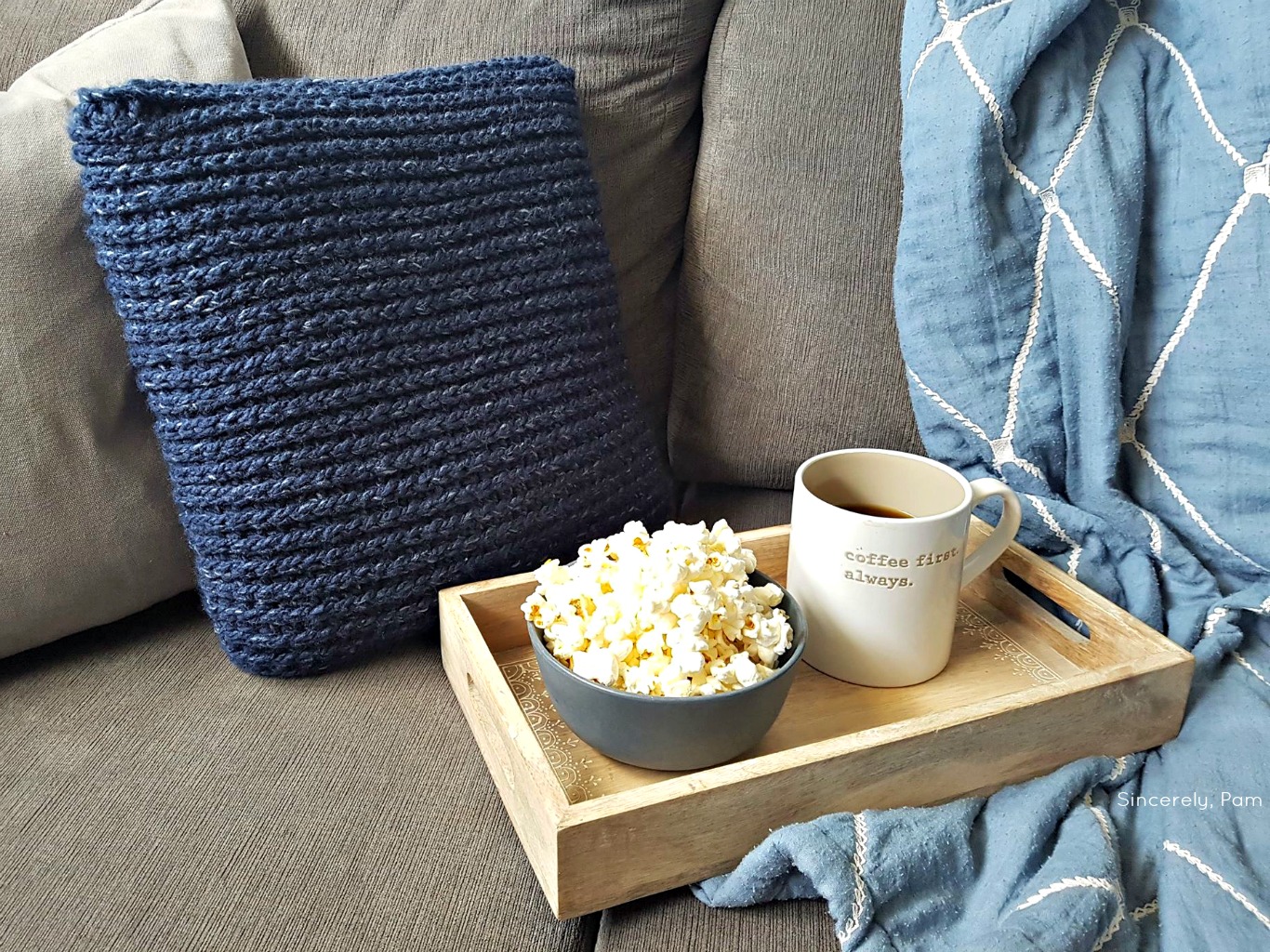 What do you think? Excited to make one for yourself or someone you know? I love how cozy this looks with my blanket and movie snacks! Yes. Coffee is an "anytime" drink. ?
Check out my other uses for Loops and Threads Charisma.
Sunday Sweater, Julie Basket, "Owl" Be Your Buddy, Danielle Pillow Pattern.