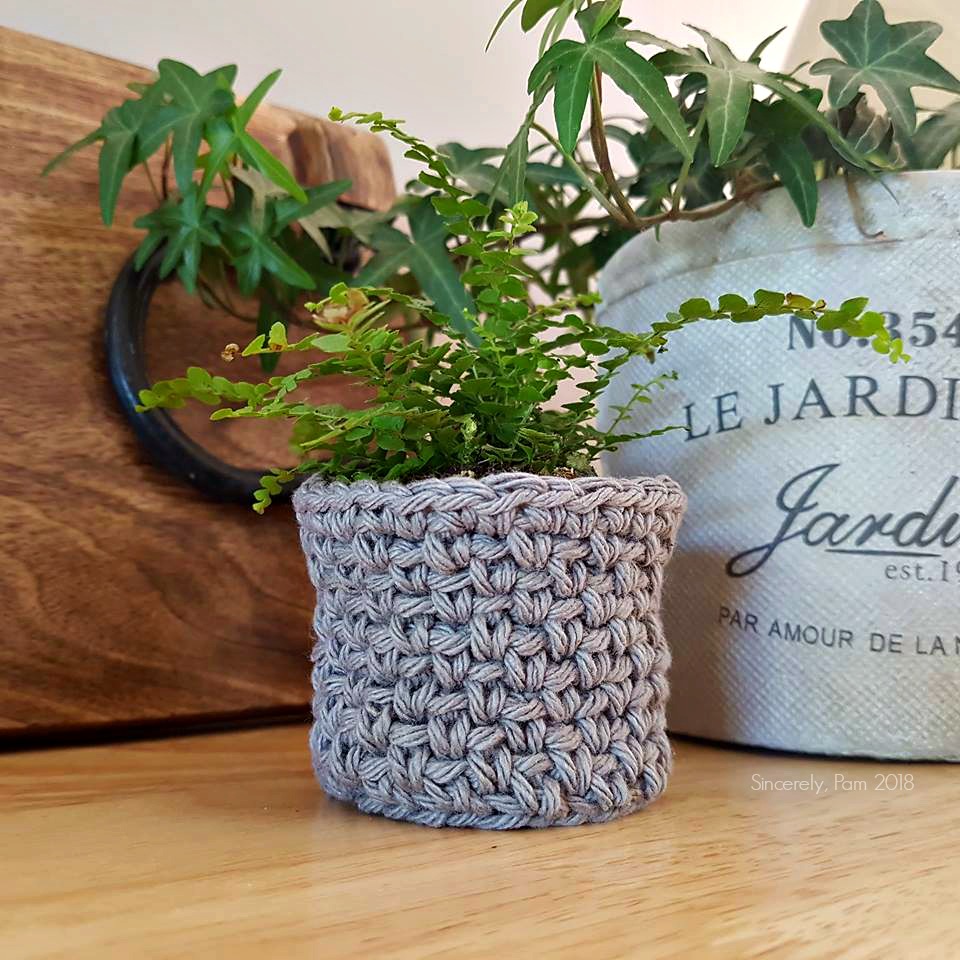 I know, I know. I said no more baskets. But I promise there is a REALLY good reason for this one! You see, I love nature. All things green and leafy make me happy. I feel peaceful and serene when I'm outside. Some people get giddy when the leaves change colors and everything is flavoured with a heavy dose of Pumpkin Spice. Not this girl. Give me Spring any day. Lilacs blooming, sun shining, bees buzzing and bright green leaves bursting from the treetops. Sounds great, right?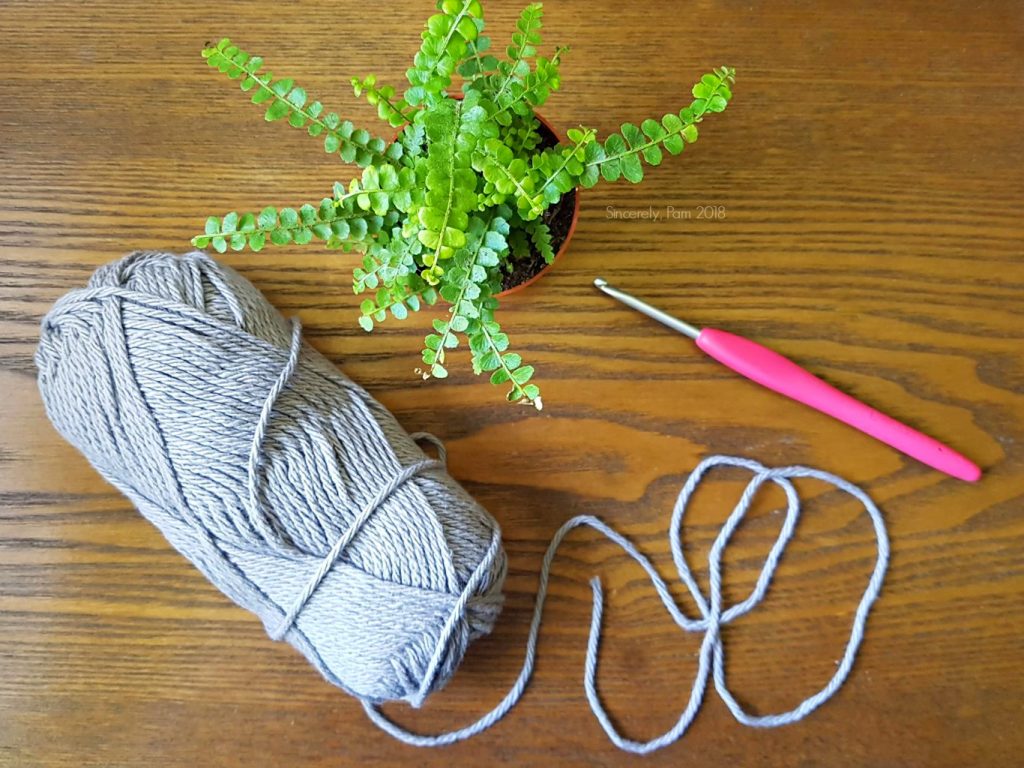 Unfortunately, for my entire adult life I was only able to enjoy greenery during the warmer months. My home was where living plants came to die. Sometime this year, things started to change. Instead of throwing away plants that died, I was needing to repot all of them because they actually grew! WHAT!? Who am I?? Brimming with new-found confidence, I have been unable to pass up an opportunity to add to my ever-growing collection of house plants. And with new plants, comes a need to cover the plastic pots.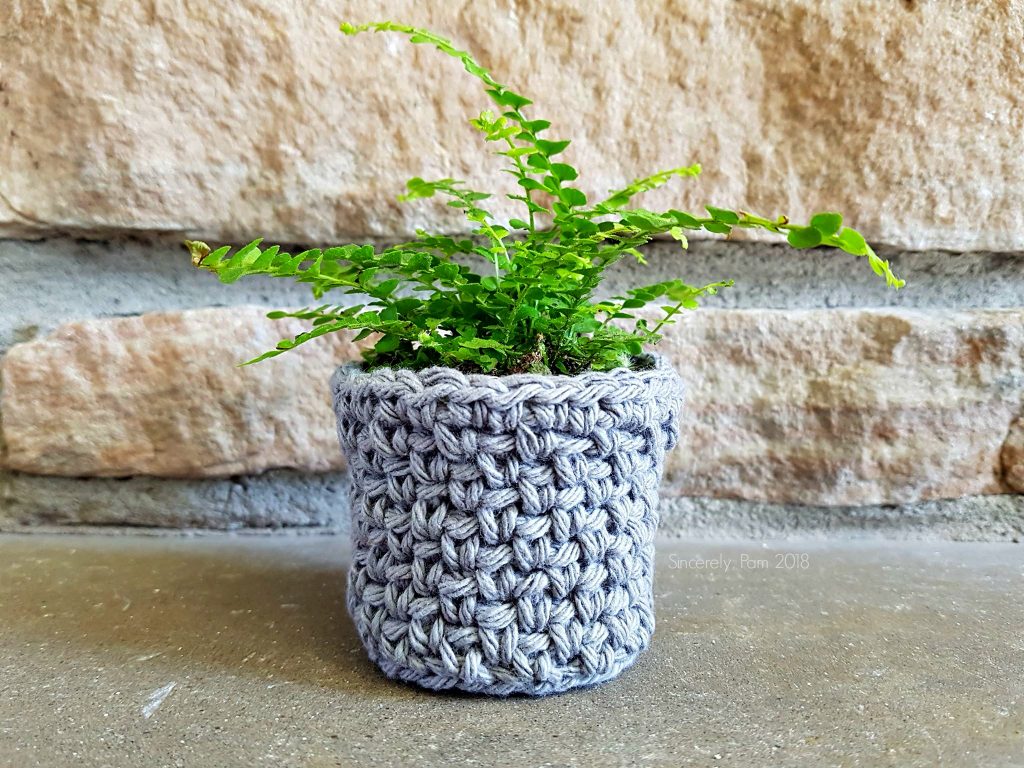 I would like you to meet Herb. He's my newest Housemate. At only 4″ tall from the bottom of the pot to the top leaf, I found his charming demeanour too irresistible to pass up. Why is my fern named Herb? Why give him a name at all? Well, since you asked, I found that giving my plants names helps me to remember that they are living things, with needs. I find it really hard to forget to feed and water my dog and children (all of which I've named) and the same seems to be holding true for Herb, Lucy, Ursula, Steve and Trixie! Unconventional, perhaps, but it works!
Ready for the pattern for Herb's jacket? I mean, basket? ?
Granite Stitch Mini Basket
***This post contains affiliate links***
Pattern Key:
ch: chain
st(s): stitch(es)
sk: skip
sp: space
slst: slip stitch
sc: single crochet
dc: double crochet
BLO: back loop only
Dimensions: Fits a 7.5" Circumference x 1.75" tall pot.
Materials Used:
Less than 1 skein worsted weight yarn of your choice, I used Bernat Handicrafter.
F (3.5 mm) hook.
Measuring tape.
Gauge: first 2 rounds = 3" diameter.
1: Starting with a Magic Circle, ch2, 15dc in circle, join. (15 dc)
2: Ch2, 2dc in each st around, join. (30 dc)
Want a bigger basket? Keep increasing until you get the circumference you want before moving on to the next step.
3: Ch1, working in the BLO, sc in first st, ch1, sk 1 st, *sc in next st, ch1, sk 1 st, repeat from * around, sc in the same st as beginning ch1, do not join. (16 sc)
4: Working in a continuous round without joining, *ch1, sc in next ch1 space, repeat from * around for 8 rounds, or until you reach your desired height.
5: Sc in each sc and ch1 space around, join to first sc. (31 sc)
Fasten off and weave in all ends.
Make sure to check out the other free Basket patterns I have in the Free Pattern section of my blog.