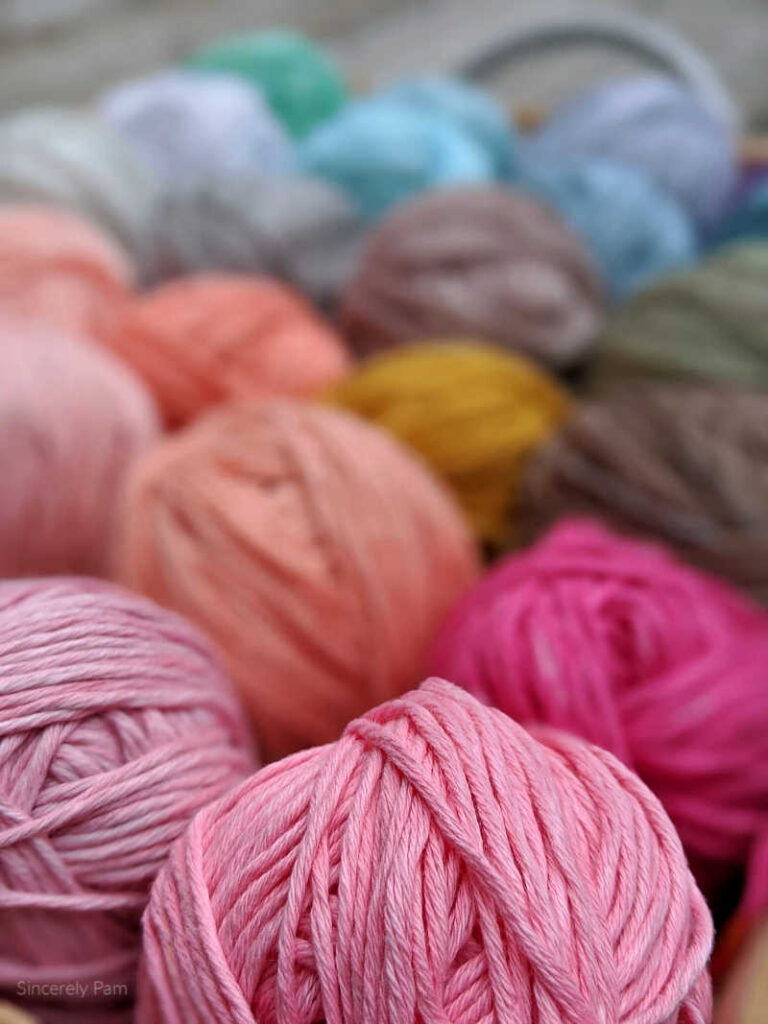 One of the BEST parts of any new project, is color selection! With an endless rainbow of colors at our disposal it can become quite overwhelming. Especially when needing to pair two or more colors together. So… where do you even start when it comes to combining yarn colors?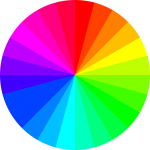 This post contains affiliate links to products we recommend. We may receive a commission for purchases made through these links.
Tools To Use
First of all, grab yourself a color wheel. I just did an internet search and there are many to choose from! You can have a basic one, or go all out fancy, whatever catches your eye will work. The Ultimate 3-in-1 Color Tool by WeCrochet looks perfect for this!
Color Basics
I'll talk about color basics real quick, just to make sure we are on the same page. First, there are 3 primary colors, Red, Blue and Yellow. All other colors are a combination of these 3. Next up are secondary colors. Red + Blue = Purple, Blue + Yellow = Green and Red + Yellow = Orange. After that, you mix one Primary and one secondary color together to get your Tertiary colors and it all gets more complex from there!
But let's get back on topic. We are here to talk about combining yarn colors for your next crochet or knit project, right?
Analogous Color Scheme
Well, there are four basic types of color schemes that you can choose from. The first is an Analogous Color Scheme. For this you need one main color paired with 2 colors directly beside it on the color wheel. Here I have a pretty spring green paired with a soft blue and tan. This is NOT a high contrast pairing. Instead, it's soft and subdued. I like to think of Autumn. Red, Yellow, Orange, Rust, all colors that go well together. Very soothing.
Monochromatic Color Scheme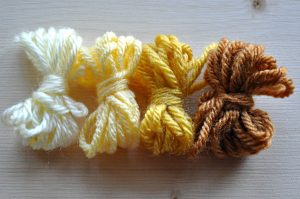 Next up is a Monochromatic Color Scheme. These are various shades and tints of one hue, or color. Think Ombre, or a paint chip. This is a very on trend color scheme that looks really clean. The yarn I selected isn't even all from the same brand. I have Lion Brand, Red Heart and Loops and Threads in there! Feel free to mix and match to get the colors you need. I will give you a tip for how to do this seamlessly at the end of the post.
Triadic Color Scheme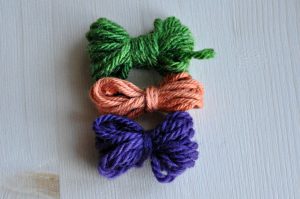 Here you see a Triadic Color Scheme. Looking at your trusty Color Wheel, you will see that Green, Orange and Purple are 3 colors that are equally spaced apart, just like Red, Blue and Yellow. This is a VERY high contrast scheme that has big impact on your projects! The colors I used as an example are pretty saturated, but you can mute them for a less bold look.
Complementary Color Scheme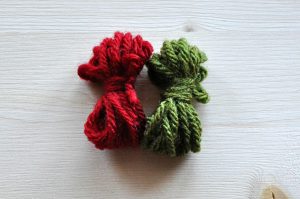 When I think of a Complementary Color Scheme I always think of Christmas! Red and Green are exact opposites on the Color Wheel and you can see right away what kind of impact they have! Blue and Orange, Yellow and Purple or even Lime and Magenta! You can see the punch this adds to your project. Add some white, cream or grey to add another dimension of color without taking away from the contrast.
Split Complementary Color Scheme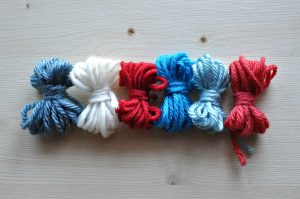 My favorite, and the trickiest to pull off, is the Split Complementary Color Scheme. This one is more subtle than the aforementioned Complementary Color Scheme. Instead of taking two colors that are exact opposites on the Color Wheel, you take one color and then the opposite color's neighbour. Here you can see that I took a few shade of blue; Dusty Blue, Turquoise and Seafoam, and paired it with Red and Salmon (and tossed in white for good measure). A beautiful palette of color!
Where to Start when Combining Yarn Colors!
Ultimately, when choosing colors to go together on a project, most yarn companies work really hard to ensure that each Line of yarn has colors that really work well together, which makes mixing and matching a lot of fun and virtually fool-proof! Some of my favorite brands for color matching are KnitPicks/WeCrochet Palette Yarn (150 colors to choose from!), Lion Brand Yarn Vanna's Choice (86 colors to choose from), and Cascade Ultra Pima (102 colors to choose from!). The colors are drool-worthy and the yarn itself is nice to work with. 
How to Mix Yarn Brands
Now, if you just can't find what you are looking for from one line of yarn, go ahead and mix it up. Rules are meant to be broken! All the examples I shared above are from several different brands. Keep in mind a couple things when doing this.
1) Not all weights are created equal. A worsted yarn is not always the same as every other worsted. Think Red Heart Yarns With Love and Caron Simply Soft. To make sure your gauge isn't going to be way off, check the yarn labels. Most manufacturers give you the gauge for that particular yarn along with the hook or needle size they used.
For example, if you choose Lion Brand Heartland, you will see that they recommend a J (6mm) hook and give a gauge of 12 sts = 4″. Lion Brand also has another worsted called 24/7 Cotton. This yarn recommends a G (4mm) hook and a gauge of 14 sts = 4″. Even though they are both worsted yarns, you may end up with a wonky looking finished item with multiple gauges or tensions throughout.
2) So, you matched the weight and gauge, but what about the fibre content? Not all fibres are created equal. Even if weight, hook size and gauge all match, if you start mixing cotton, wool, acrylic and blends, your item will not wash or wear evenly. It would be terrible if your beautiful garment washed up and parts shrunk while others stretched out. So just make sure to stick to one fibre to make sure this doesn't happen to you!
In Summary…
I hope this gives you a starting point when wanting to start combining yarn colors for your next crochet project! Just remember that it's always fun to break the rules, but first you need to know them! Mix up colors, change things around, but always trust your eye. It's always MOST important that your project brings you joy. That's what creating is all about.
If you want to learn about the fun you can have cutting up Self-Striping Yarn, please read my blog post Deconstructing Yarn Cakes!
​Happy Yarn Shopping!
Sincerely, Pam