Listen, self-striping yarn, it's not you, it's me. I can't be the only one who gets a little annoyed when I'm not completely in control of my projects, am I? Here's the thing.. there are many reasons why I really love self -striping yarn cakes, and there are certain things that I just can't get past. This is where deconstructing self-striping yarn cakes comes in handy. Let me tell you why.
This post contains affiliate links to products we recommend. We may receive a commission for purchases made through these links.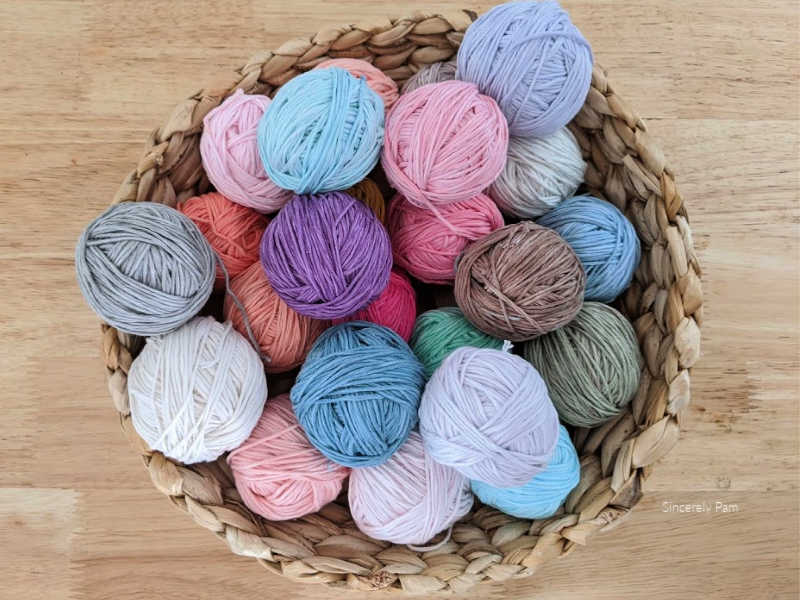 Self-Striping Yarn – Pros
A few years back, Caron Cakes hit the market and instantly crocheters and knitters everywhere couldn't wait to get their hands on them!
Who could blame them? These cakes are FUN! They come in long stripes of perfectly complimentary color palettes. Each cake is usually comprised of 3 or more colors that look absolutely stunning together. This takes the guesswork out of trying to mix and match a color palette on your own. Thanks to this fact, you will find that often you can save money using a self-striping yarn instead of purchasing mutiple solid color yarns individually.
Another attractive quality is that you get all these beautifully coordinated colors, without all the ends to weave in! Total bonus, right?
Although they were originally only available in worsted weight yarn, you can now get these types of cakes in almost any color combo and weight category you like! Acrylic, wool, polyester, and may other fibres now have self-striping options. I will list my favorites by weight, along with some recommended patterns later on in the blog post.
Self-Striping Yarn – Cons
Ok. Here's where my break up letter comes in. There are a few things about most self-striping yarns that irk me. But don't fret too much! I have a solution a little bit further down!
Let me preface this by saying, not all self-striping yarns have the issues we will discuss. There are yarns that have gradual color changes. Those yarns do not lend themselves to deconstruction since the changes are not noticeable unless you are really looking for them. I will list a selection of these yarns further down as well.
My number one biggest drawback for most of these yarns is the same one that many people have. The color changes are abrupt. Look at the photo below.
This is Red Heart Yarns With Love Stripes in the color Candy Stripe. Although very pretty and with fun, bright colors, the yarn switches colors so quickly. Therefore you will see exactly where the color changed, from one stitch to the next. This can happen anywhere in the project, and can therefore be very noticeable and distracting.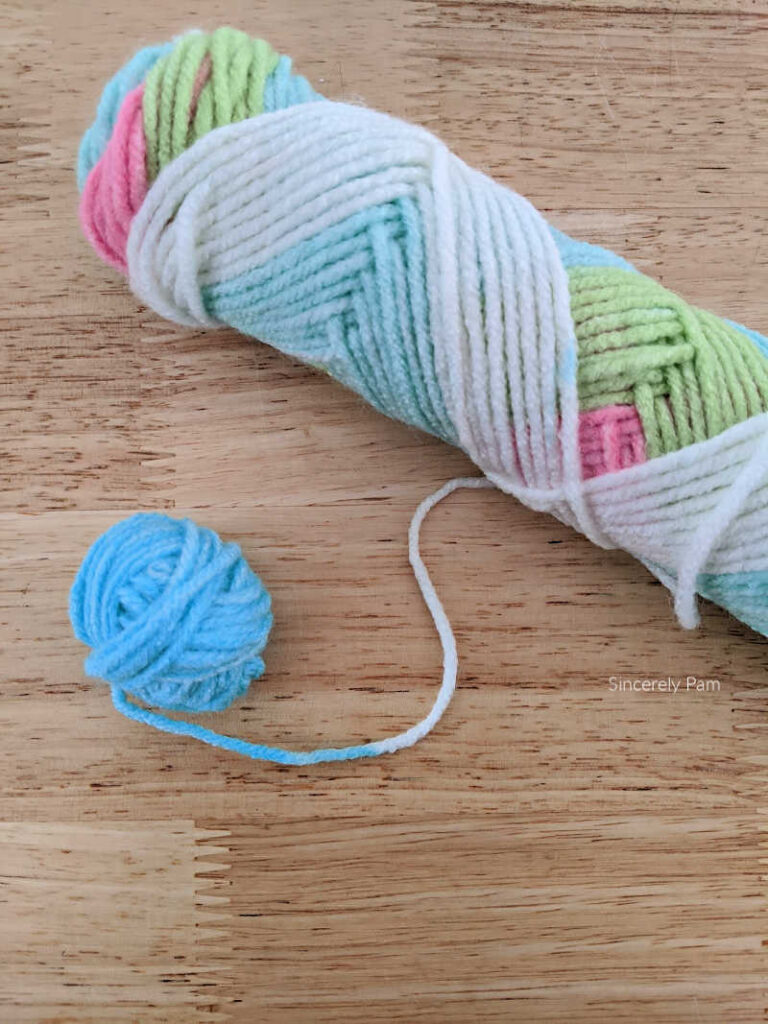 Another issue that may or may not bother you, is that you can't control the stripes. On an item that is the same width from the beginning of the project to the end, this may not be noticeable. But if you are using this for an item with shaping, your stripes will get wider as your project gets thinner.
It's also very likely that the striping won't match up on sleeves, or the front and back of a garment. Again, it's possible that this is a non-issue, and that's awesome! A "go with the flow" attitude really takes the stress out of crocheting and knitting, but, unfortunately for me, I just can't get past it. So, here's what I do…
Deconstructing Self-Striping Yarn Cakes
My favorite thing to do when I get some self-striping yarn, is to take it all apart. I know! It sounds so counter-intuative, but hear me out.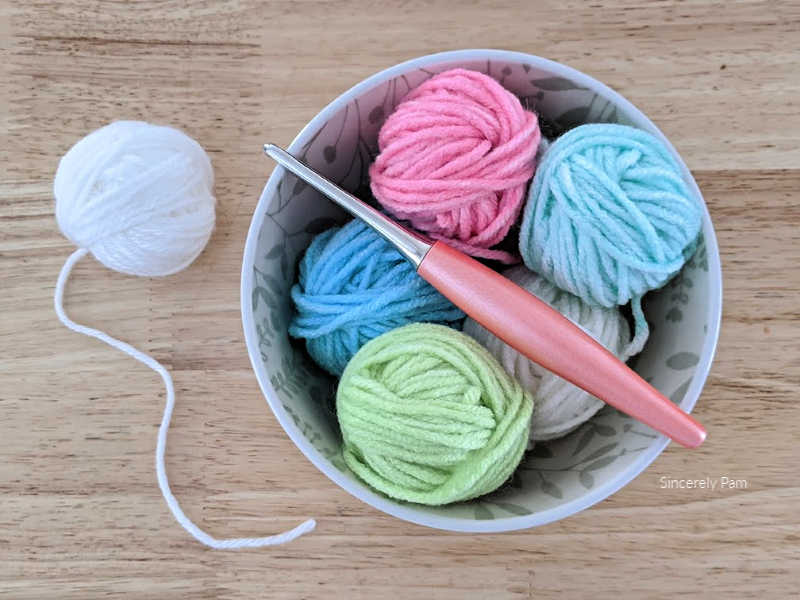 When you take apart the cake/skein/hank/ball and separate each color into it's own little ball, it puts YOU in charge of the color changes!
You now get to use all the pretty colors that came in that cake, but you pick when and where to switch out each color.
Yes, you're right. This results in more ends to weave in, but I promise it's totally worth it! You will be more than happy with how it looks when you're done.
But, I have another reason why this is so much fun!
Mixing Multiple Yarn Cakes
Ok, here's where things get really interesting. As cool as it is to deconstruct one cake, what's stopping you from doing this to two or more different colors of cakes?
In the photo below I have taken three different balls of Loops and Threads Cotton Colors for an upcoming project. I love this yarn because you get six colors in each ball! I used this yarn before for my Monogram Coasters crochet pattern so I already knew what to expect. In fact, if you scroll through that blog post, you can see that I did the same thing there that I am doing here.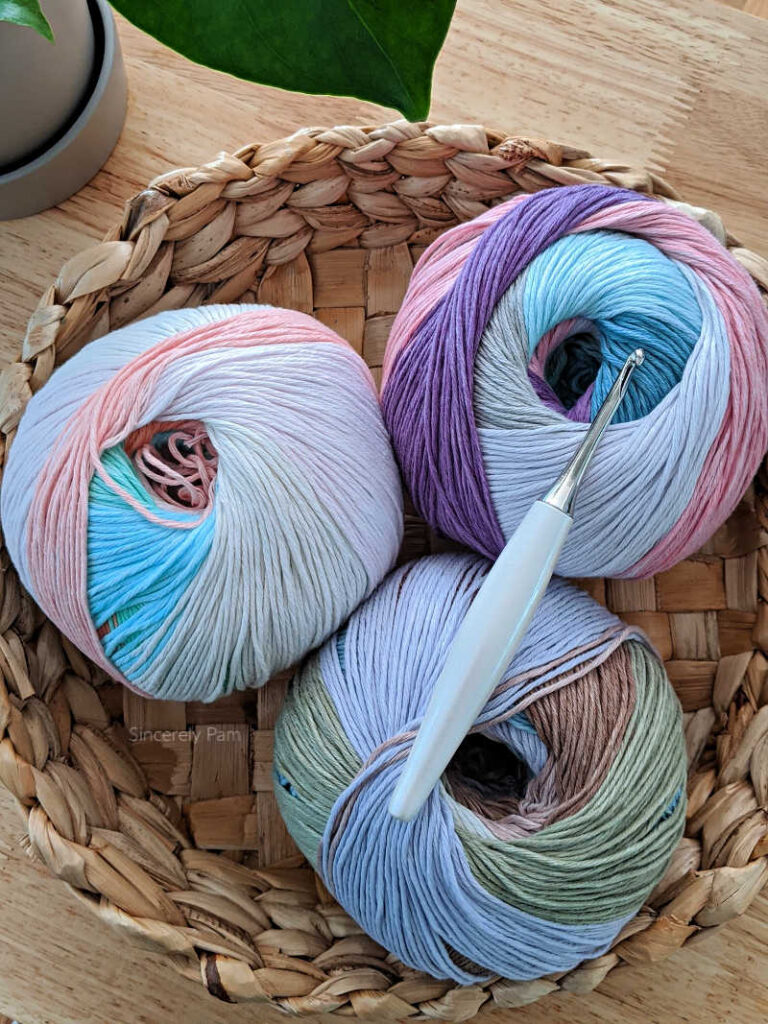 So, when I took these three balls apart, and added them to the original ball I had used, I ended up with 24 different colors of yarn. Woah! Can you imagine the cost savings if you don't need 24 full skeins of different colors? This is from just 4 balls of yarn.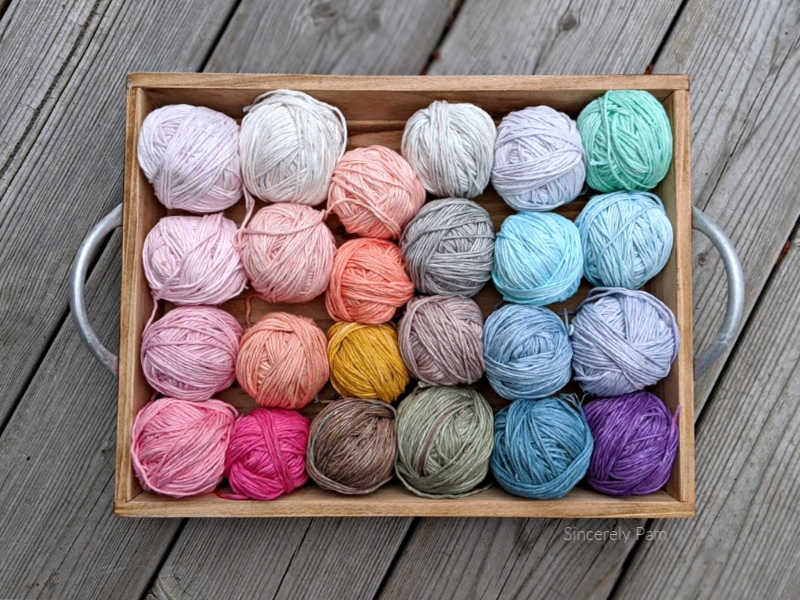 Here you can see that I played around with the different colors. I ended up really liking them graded from warm to cool tones. How would you do it?
Naturally, my dog Rigby had to do some quality control. She approved.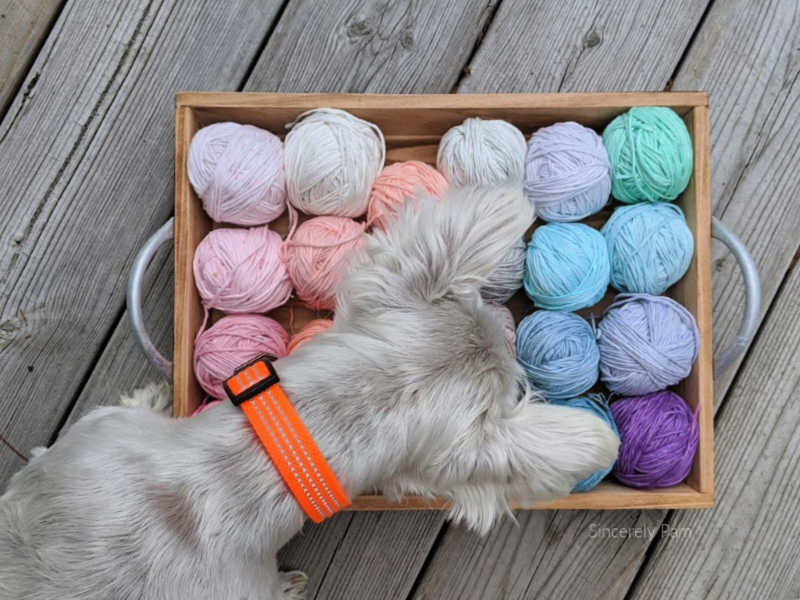 Try These Self-Striping Yarns (Including Gradual Color Changing Yarns)
Here are all the self-striping yarns I love.
Recommended Patterns
Although you could technically do this with any pattern you like, I put together a list of ones that work exceptionally well with this technique!
Here are a few patterns that worked out wonderfully using gradual color changing yarns.
Comment below with self-striping yarns that you use and love!