The Elmview Shawl crochet pattern was designed for the Scarf of the Month Club. This time of year is a bit tricky. I don't usually think of May as a time to wear scarves, but up here in Northern Ontario it can still get quite chilly. Actually, last week it even snowed. A shawl worn like a triangle scarf is the perfect solution!
Scarf of the Month Club
I am so happy to announce that I have been invited to participate in the annual Scarf of the Month Club. Each year Rhondda from Oombawka Design, and Amy from The Stitchin' Mommy host this event. Make sure get Rhondda's A Peaceful Moment Scarf, and Amy's Spring Tranquility Infinity Scarf crochet pattern too! You can also read this Intro Post for more details, as well as a list of all the previous designs.
New this year, the week following the Scarf of the Month, each designer will also be releasing a co-ordinating Hat of the Month! Make sure to sign up for the Newlsetter to get your reminder of these time-sensitive downloads.
I'm really excited to share the Elmview Shawl crochet pattern with you! You can also check out last year's design, the gorgeously drape-y Lansdowne Cowl.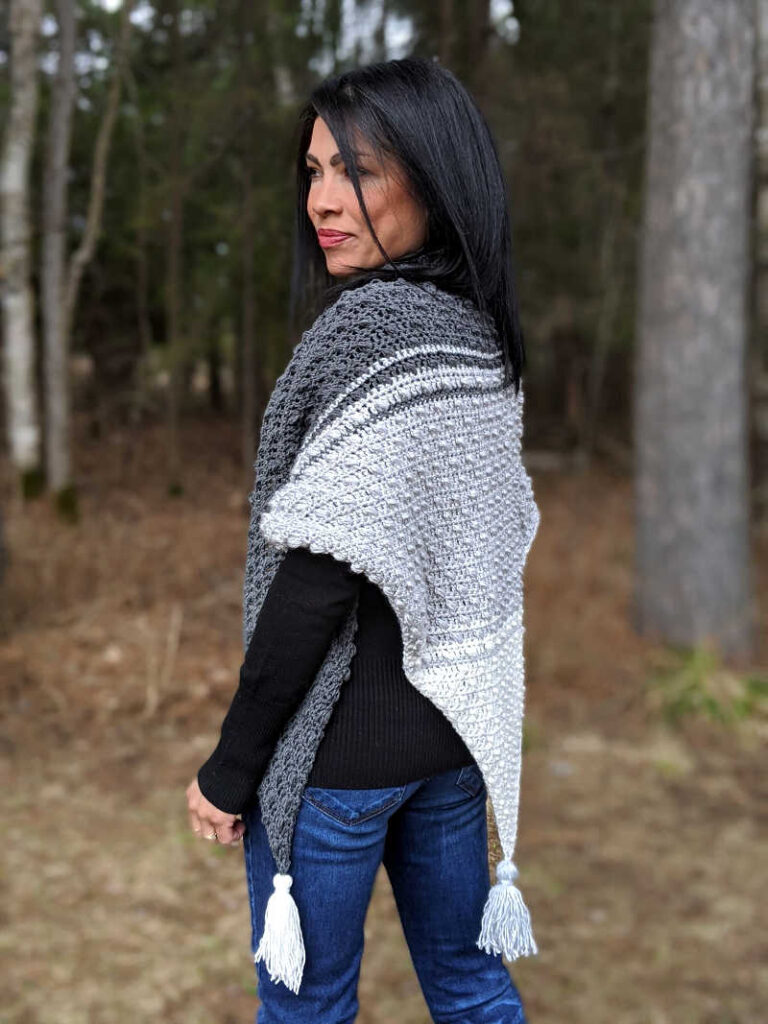 The Design
When thinking of a scarf that would bridge the gap between seasons, I immediately thought of a shawl. I love wearing them with the long point in the front like a triaingle scarf! It dresses up a simple t-shirt with little effort. When it gets chilly indoors they are awesome for wearing around the shoulders like a shawl. One item, lots of different looks!
This Elmview Shawl crochet pattern was written from the bottom up. The benefit of this type of design is that you can use any weight of yarn without worrying about gauge!
The pattern itself is a two row repeat. It couldn't be easier to memorize! Before you know it you can zoom through a shawl during your favorite movie!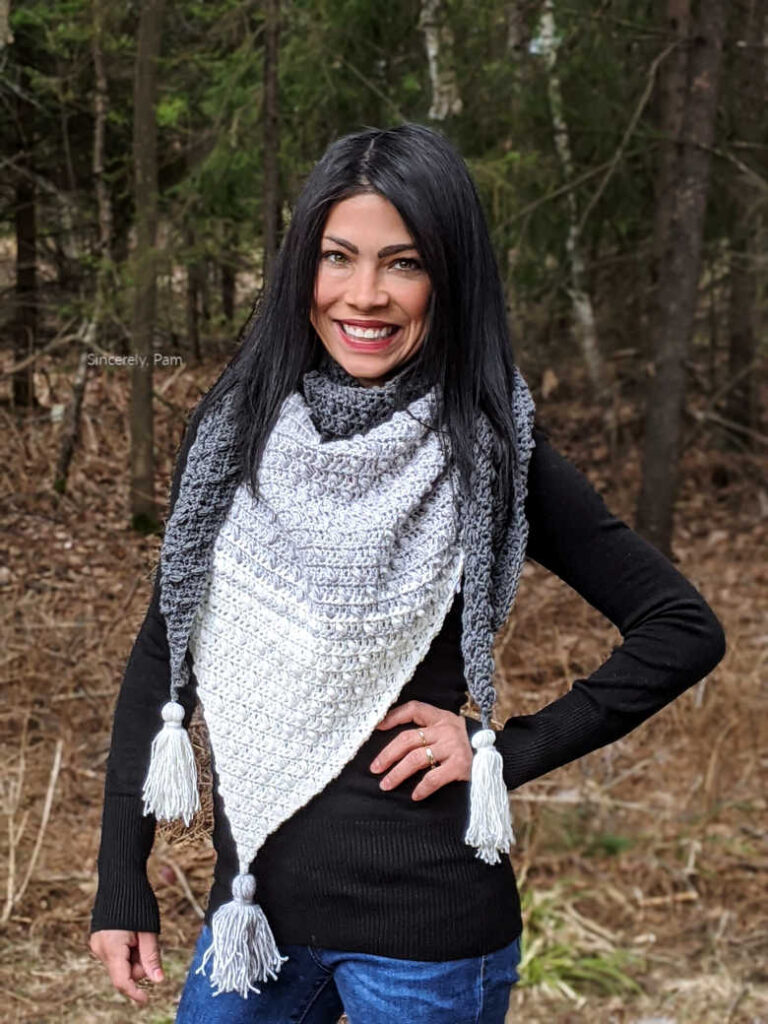 The Yarn
For the sample shown above, I wanted to work with what I already had in my stash. So, I grabbed a few balls of Premier Cotton Fair in White, Baby Blue, and Slate Grey. I often use Cotton Fair in my designs because I love the drape, the weight, the durability, and the cotton/acrylic blend. Sport and DK weights are my go-tos!
Ok… full disclosure. I started out making it in three colors of Cotton Fair. It wasn't until almost finished that I realized the Baby Blue yarn wasn't Cotton Fair… it was Joy DK. Yep. This is what happens when you lose the yarn label.
My testers used several different weights of yarn successfully for their Elmview Shawls! Everything from fingering weight (Loops and Threads Woolike), DK weight (We Are Knitters The Cotton), and worsted (Lion Brand Heartland).
You can absolutely use any weight yarn you like! Just use the hook size recommended on the yarn label. If you want some extra sweet drape, go up a hook size or two.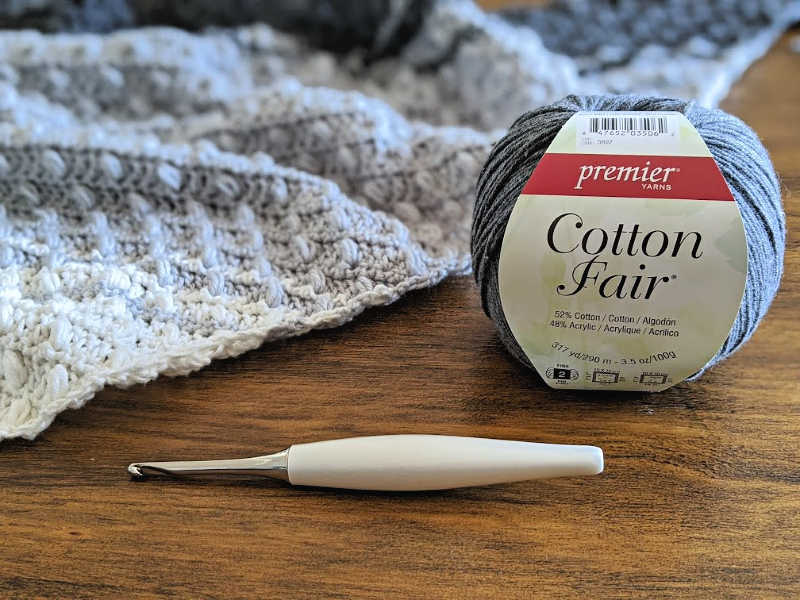 ELMVIEW SHAWL CROCHET PATTERN INSTRUCTIONS
This post contains affiliate links to products we recommend. We may receive a commission for purchases made through these links.
Materials
Yarn: Sport Weight #2 Premier Cotton Fair was used for the sample shown. See special notes for substitutions.
Hook: G(4.0mm). I used my Furls Odyssey.
Tapestry Needle for weaving in ends.

Pattern Key (Standard American terms)
ch: chain
beg: beginning
st(s): stitch(es)
sc: single crochet
dc: double crochet
FPpuff: puff stitch around the front post
Gauge
Not essential.This pattern uses measurements instead of gauge, allowing you to use any yarn you wish!
Experience Level
Special Pattern Notes
This pattern is worked in rows, starting at the bottom point of the Scarf. You can make the Scarf any width you like by adjusting the number of times you repeat Rows 4 and 5.
Beginning chain 1 does not count as a stitch throughout.
Beginning chain 3 counts as a dc stitch throughout.
Any yarn weight can be substituted, just use the suggested hook size for that particular yarn.
Although I worked this design in 3 solid colors, you can use as many/few as you wish.
Instructions for the stripes in the sample Shawl can be found after the pattern instructions.
Copyright Notice
You are free to sell what you make from this pattern, but you may not share, copy or reproduce this pattern in part or whole.
Photographs are also copyright protected and may not be used. Please link back to one of my shops if selling your finished items online.
© Pam Dajczak 2020
Special Stitch
FPpuff – Puff Stitch around the front post: [Yarn over, insert hook from right to left around the front post of the next st, pull up a loop] three times, yarn over, pull through six loops on hook, yarn over, pull through last two loops.
See the video tutorial below!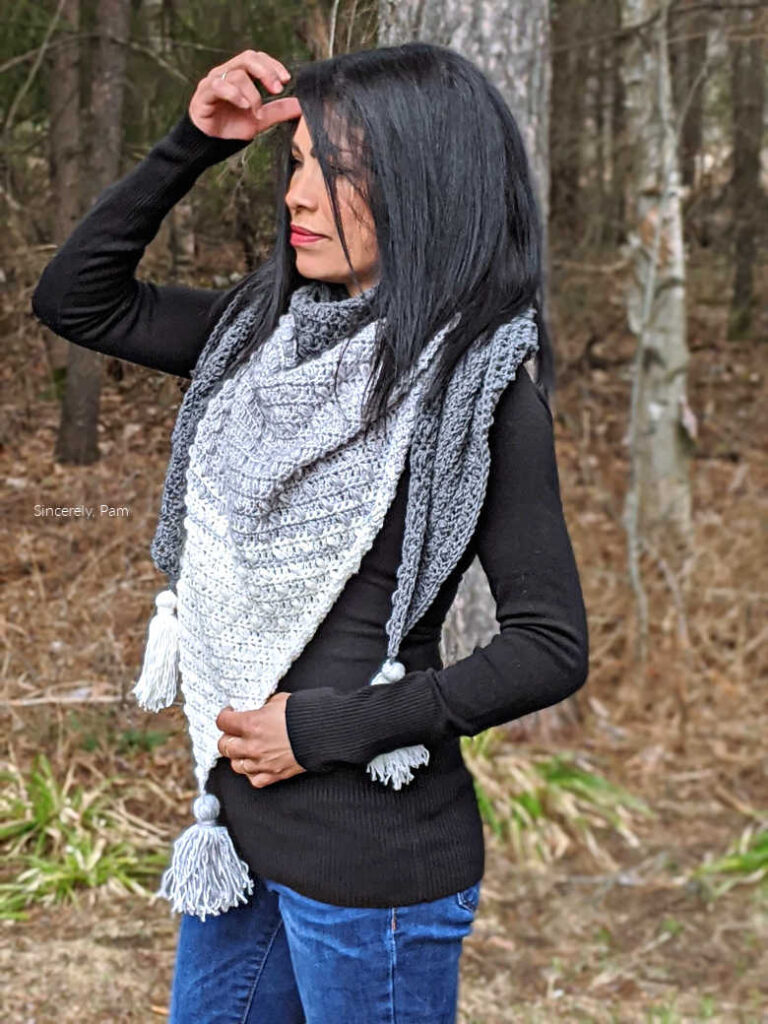 Pattern Instructions
For stripe suggestions, scroll to the section titled Elmview Shawl Stripes.
1: Ch4 (counts as ch1, dc), 2dc in last ch from hook. (3dc)
2: Ch1, turn, 2sc in first, sc in next, 2sc in last. (5 sc)
3: Ch3 (counts as dc), turn, dc in same as beg ch3, dc in next, FPpuff in next, dc in next, 2dc in last. (7 sts)
4: Ch1, turn, 2sc in first, sc to last st, 2sc in last. (9 sc)
5: Ch3 (counts as dc), turn, dc in same as beg ch3, dc in next, FPpuff in next, *dc in next 3, FPpuff in next, repeat from * across to last 2, dc in next, 2dc in last. (11 sts)
Repeat Rows 4 and 5 until you reach the desired width for your Shawl, using the chart below the materials list for guidance. End after a repeat of Row 4.
Fasten off and weave in all ends.
Add fringe, tassels, or pompoms to complete the look!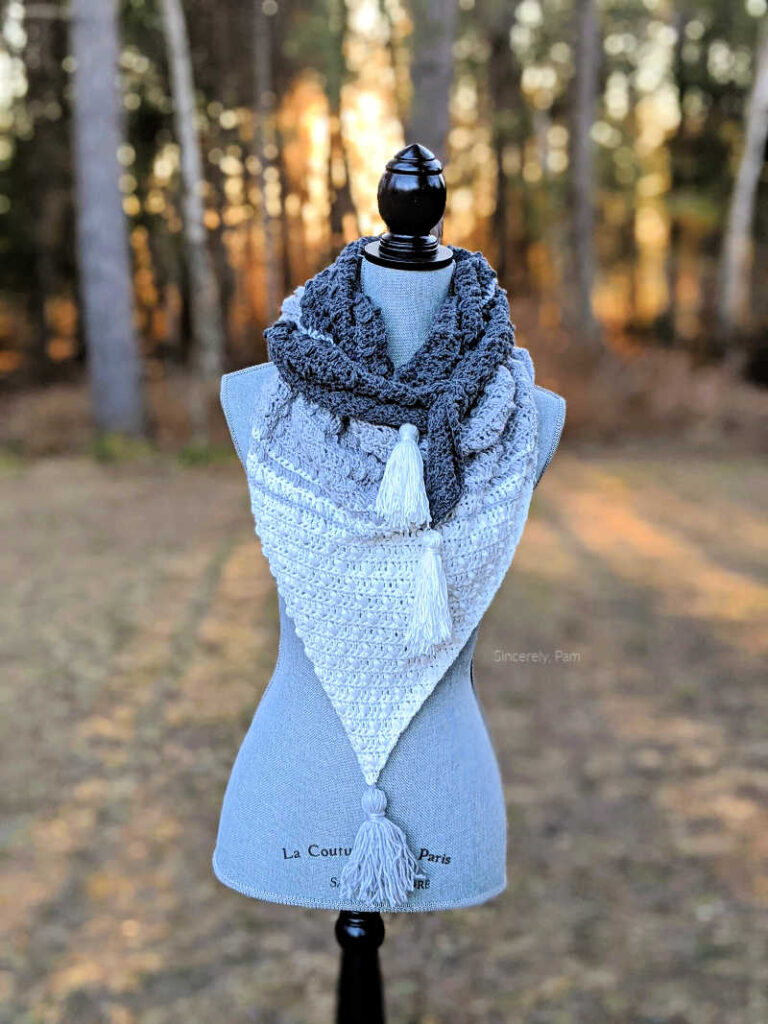 Elmview Shawl Stripes
For the stripes in the sample shawl:
31 rows of white
1 row of baby blue
2 rows of white
1 row of baby blue
1 row of white
27 rows of baby blue
1 row of slate grey
2 rows of baby blue
1 row of slate grey
1 row of baby blue
28 rows of slate grey