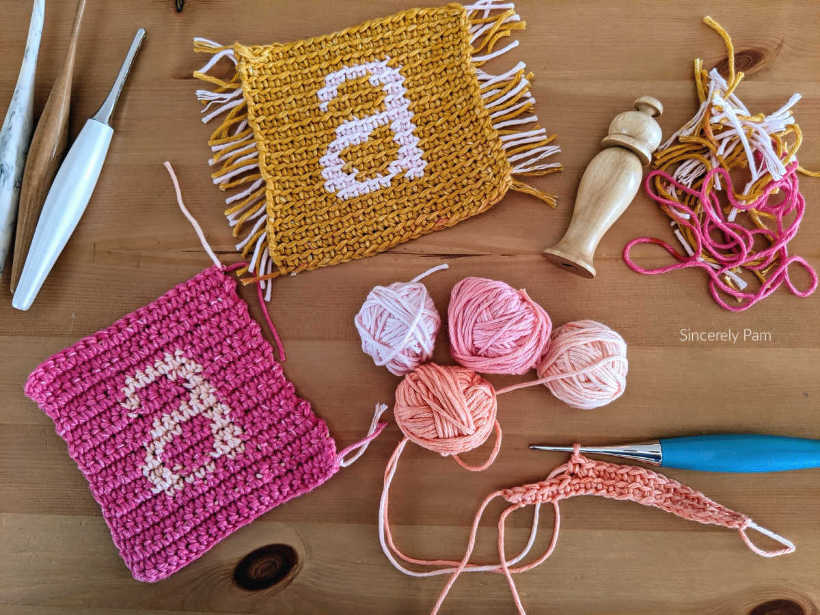 The Monogram Coasters crochet pattern was designed with summer barbeques and get-togethers in mind! Such a fun way to not only keep water rings off your tables, but to keep track of who has which drink!
The coasters (or mug rugs if you're using them for hot drinks!) are designed using tapestry crochet. If you aren't familiar with reading graphs, or are nervous about changing colors mid-row, I've got you covered!
This blog post not only teaches how to read graphed patterns, but also includes a video tutorial showing how to easily change colors.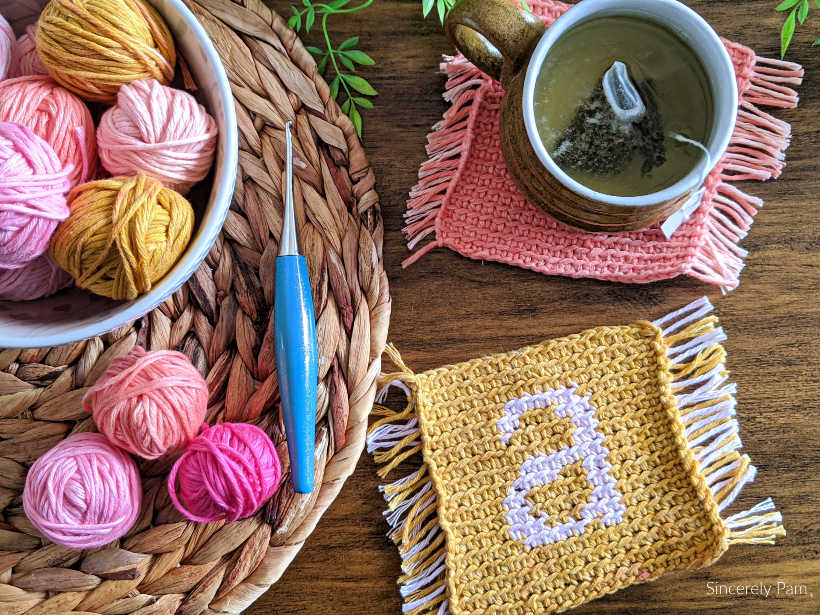 Sun At Home Event
This design is part of the Sun At Home Event brought to you by the wonderful Sara and Helen of Sunflower Cottage Crochet. Each day you will have the chance to download one pdf.
Make sure to check out Sunflower Cottage Crochet for the coupon code to get the pattern for free!
The Monogram Coasters crochet pattern might not be available as a free download anymore, but you can always view the pattern for free right here!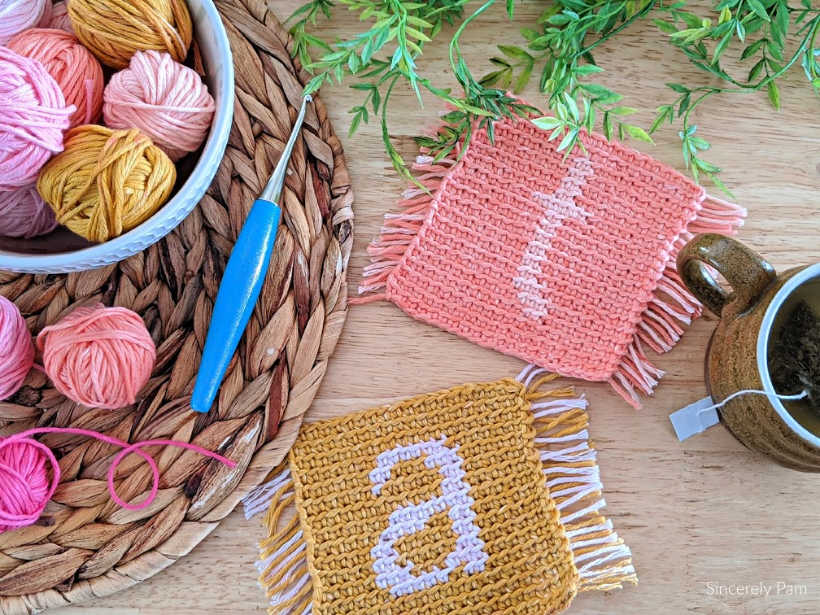 How To Tapestry Crochet
I'm a HUGE fan of this technique. I love how you can easily create images in your work with simple single crochet stitches and different colors of yarn. Once you discover how easy it really is, you will start to create your own graphs to express your individuality! Although I wrote an entire blog post on Tapestry Crochet already, I included another quick step-by-step below.
For this tutorial, as well as for the Monogram Coasters crochet pattern, the pattern will be worked in single crochet (sc) stitches in the back loop only. You will crochet over the yarn you are not using through the entire pattern, including rows that do not call for any color changes. This will keep an even thickness and tension throughout your work.
You will fasten off at the end of each row and reattach in the first st to begin the next row. Yes, this does create a lot of ends. But the good news is that fringe on mug rugs and coasters is super trendy! So fasten off and worry not. Having your ends showing is totally acceptable!
There is a video tutorial!
To watch the video tutorial I made, please scroll down below this section. Otherwise, check out the quick tutorial below!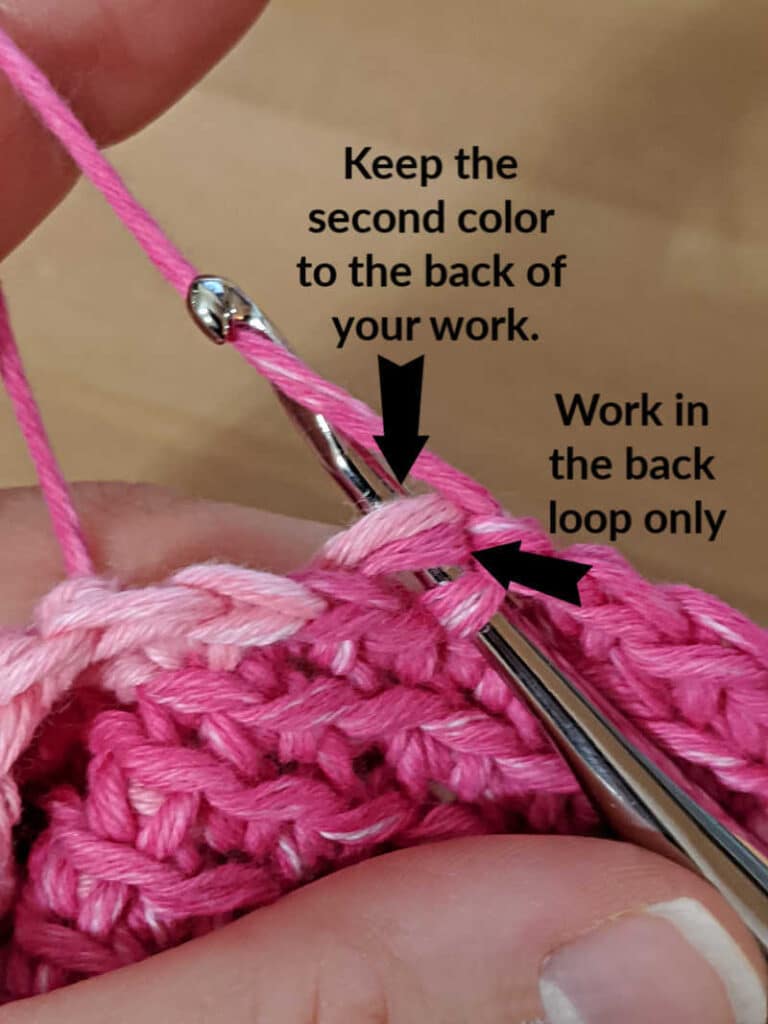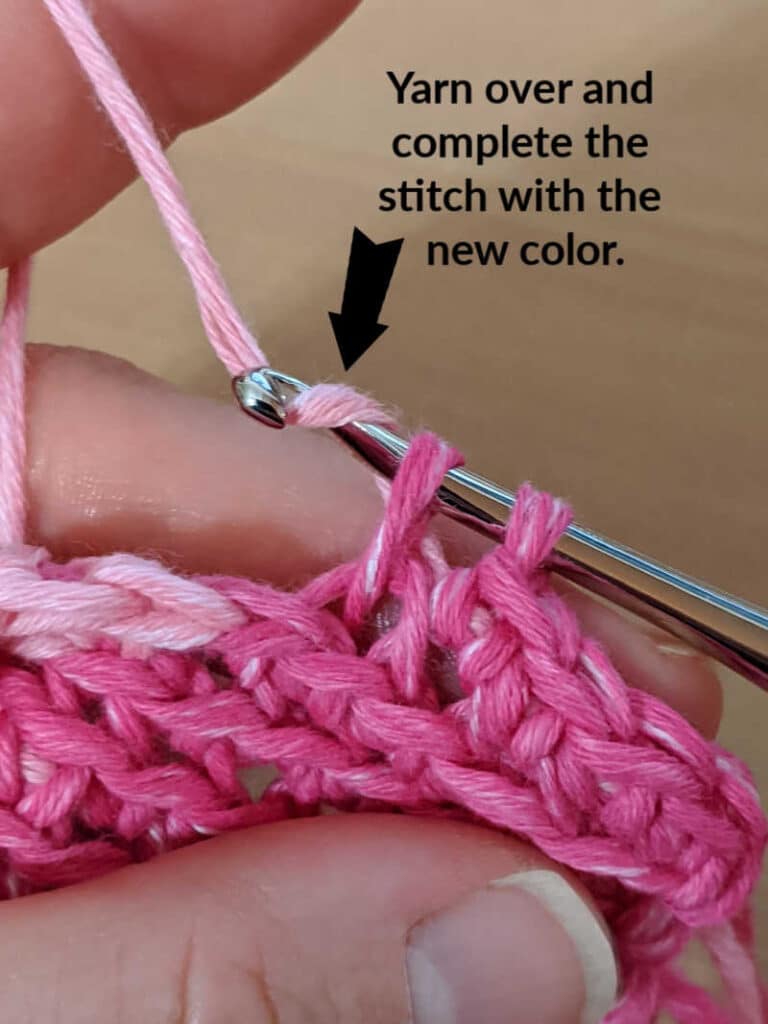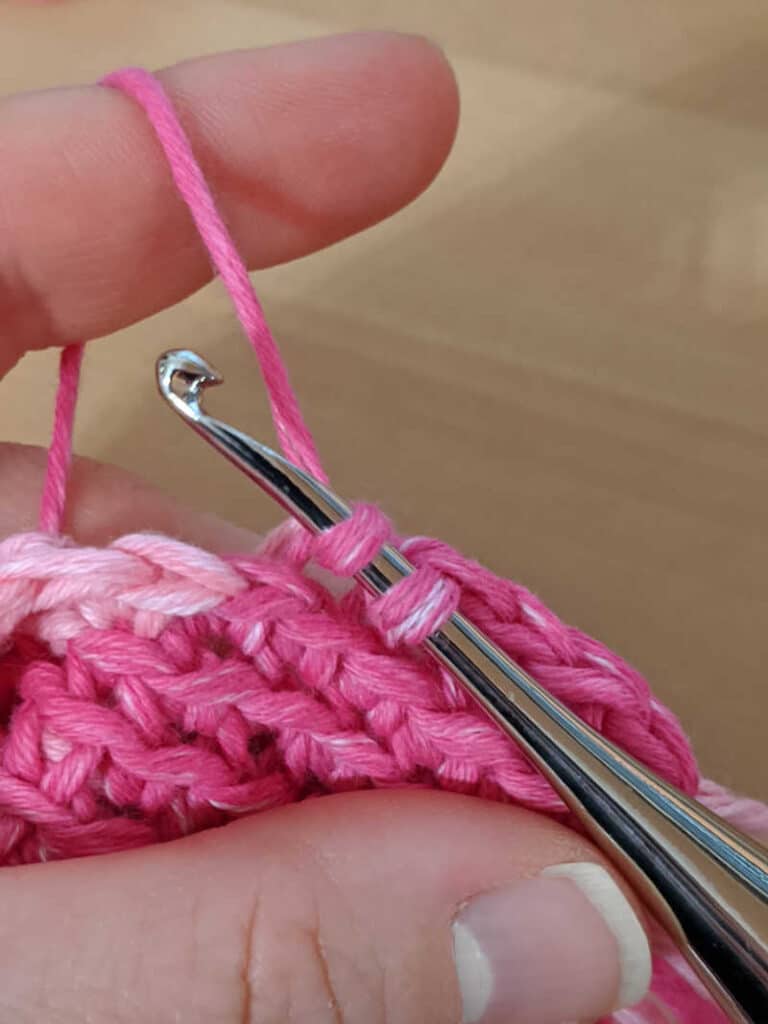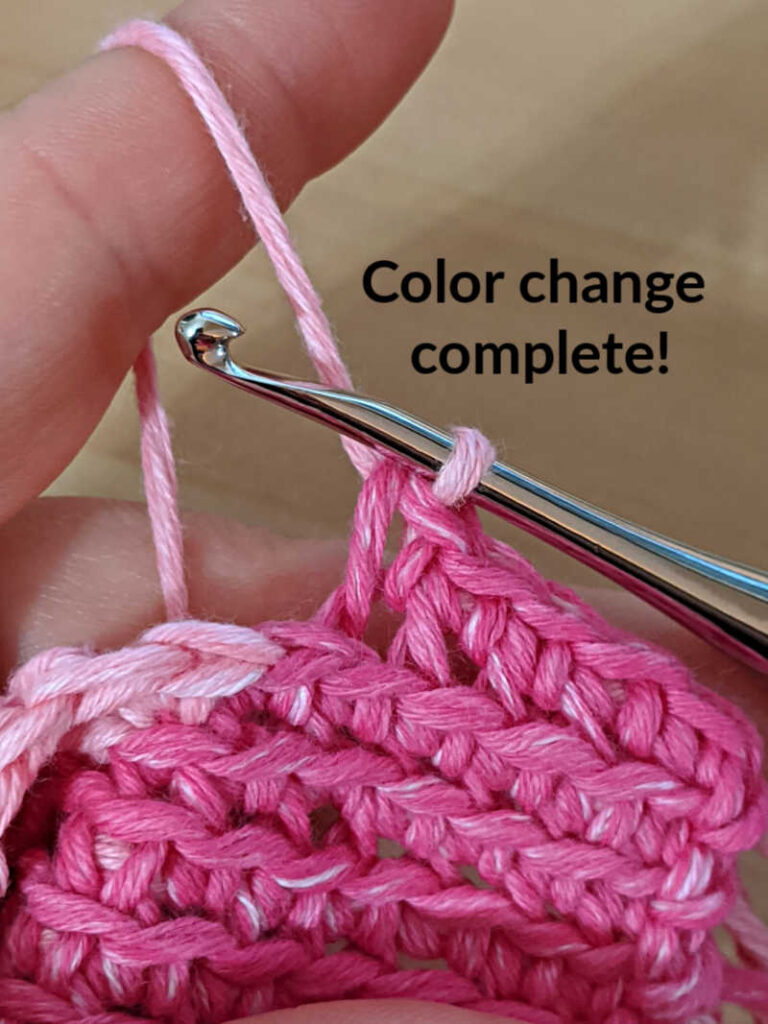 Again, if you would prefer to see a video tutorial, watch this video!
How To Read A Crochet Graph
It can be intimidating to read a graph if you haven't done it before. But let me tell you, once you start, a whole new world of crochet opportunities can open up! So let's start with a super simple graph just to go over the basics.
As you can see below, I have made a graph of a simple square. This pattern is worked in single crochet (sc) stitches in the back loop only. You will also be using two different colors.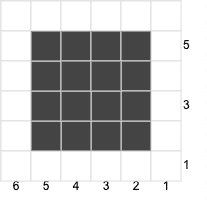 Tips For Reading A Crochet Graph
Crochet graphs are read from the bottom row up, and from right to left for right-handed crocheters. Left-handed crocheters will read from the bottom up, but from left to right.
Each square in a graph represents one stitch.
For this example, the graph is 6 squares across, and 6 squares high. This means you will work 6 stitches in each row, for 6 rows total.
For a starting chain, you will need the 6 sc stitches in the graph, plus one. Ch7, sc in 2nd chain from hook and across.
That means the graph above would be read like this:
1: Starting with the main color, ch7, sc in second ch from hook and across.
2-5: Ch1, sc first st in main color, sc next 4 in accent color, sc last st in main color.
6: Ch1, sc across using the main color.
Simple, right? Great! Keep reading for the instructions for the Monogram Coaster Crochet Pattern!
This post contains affiliate links. If you purchase something from one of these links, I will receive a small commission at no extra cost to you.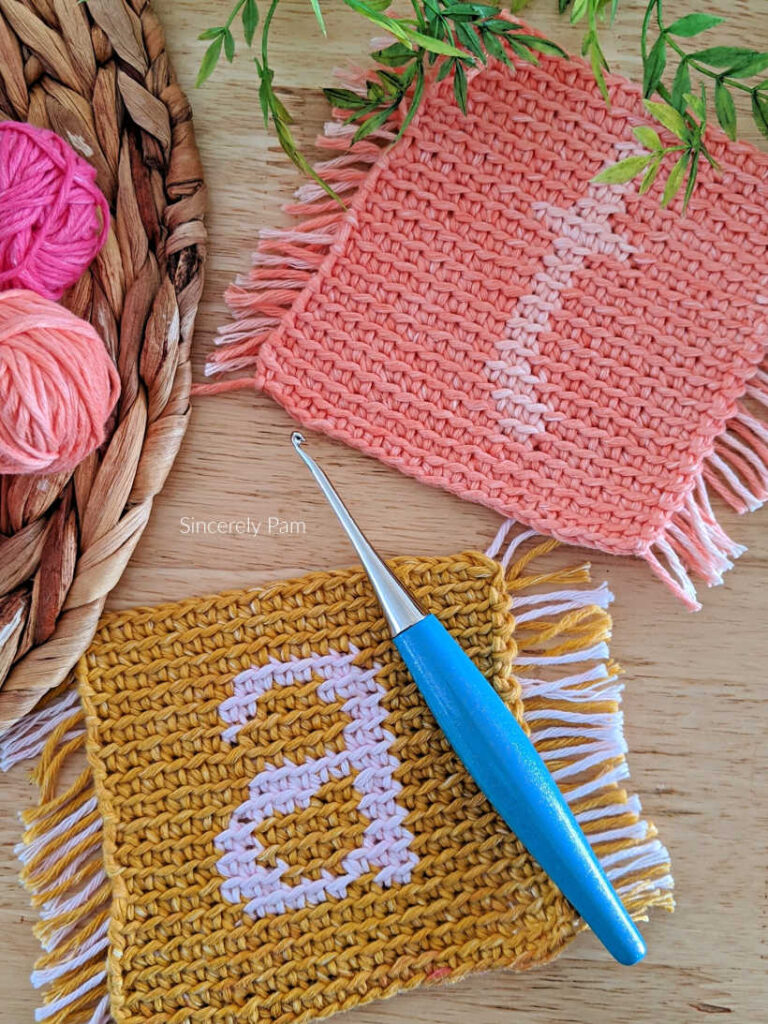 MONOGRAM COASTER CROCHET PATTERN
Materials
Worsted Weight #4 cotton yarn. I used Loops and Threads Cotton Colors
E (3.5mm) hook. I use a Furls Odyssey.
Tapestry needle for weaving in ends.
Gauge
20 sc in blo x 20 rows = 4″x4″
Gauge is not essential. Use a hook size that is smaller than what is recommended on the yarn sleeve. This will ensure your stitches are tight enough to not show the second color through
Pattern Key
ch: chain
st(s): stitch(es)
sc: single crochet
BLO: back loop only
Special Pattern Notes
These coasters are worked in Rows from the bottom up.
This entire pattern is worked in the BLO (back loops only). Reattaching at the beginning of a Row with a slst is always worked into both loops.
Always work the first st of each Row in the same as the ch1.
Each coaster begins with a ch21.
Rows 2-20 begin by reattaching the main color yarn to the first st of the previous Row.
Each Row ends by fastening off both colors.
If you do not wish to crochet over the color you are not using, you can float the color behind your work. See my previous Tapestry Crochet tutorial for instructions.
Monogram Coaster Graphs
To select the graph you would like to make, please click on the letter below.
"a" "b" "c" "d" "e" "f" "g" "h" "i" "j" "k" "l" "m" "n" "o" "p" "q" "r" "s" "t" "u" "v" "w" "x" "y" "z"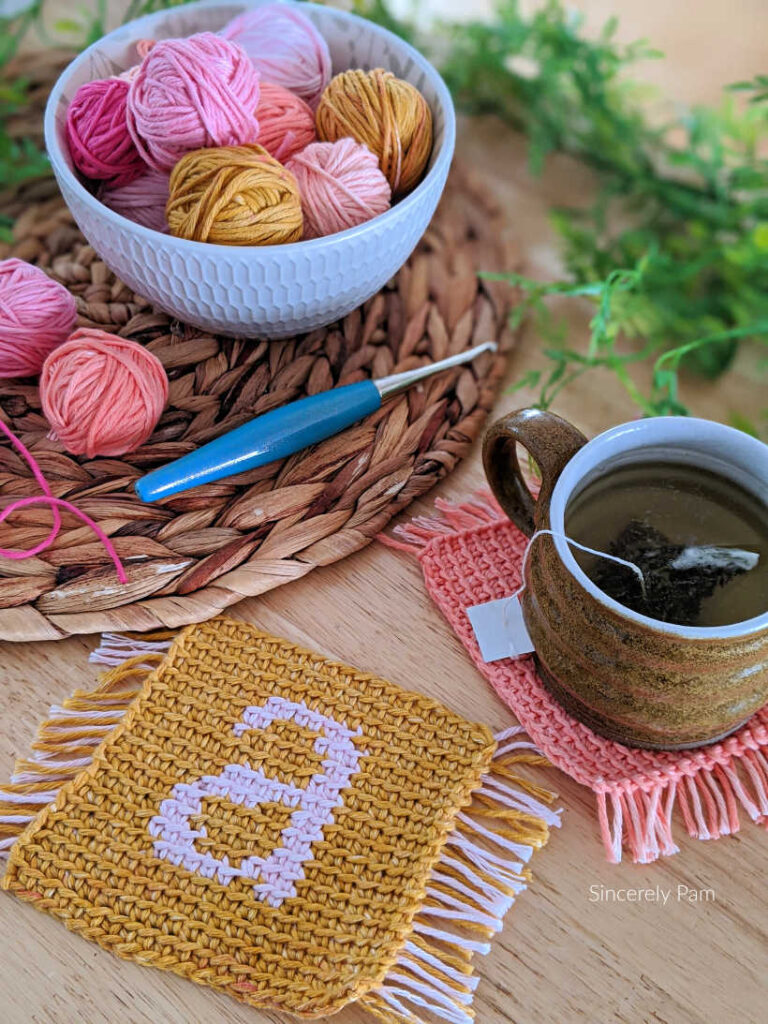 Copyright Notice
You are free to sell what you make from this pattern, but you may not share, copy or reproduce this pattern in part or whole.
Photographs are also copyright protected and may not be used. Please link back to one of my shops if selling your finished items online.
(c) Pam Dajczak 2020
Sincerely, Pam