The Marielle Lace Shawl crochet pattern was designed for the Scarf of the Month Club. Yep! I'm back again with another beautiful (and super fast!) shawl design.
Last month I had designed the Elmview Shawl for this event. It used sport weight yarn and was a great Spring-Summer transition piece.
This time around, with the weather topping well over 30C most days, I went for a MUCH lacier design. Something really pretty that will be a soft and light topper to any summer dress or tank.
Scarf of the Month Club
I am so happy to announce that I have been invited to participate in the annual Scarf of the Month Club. Each year Rhondda from Oombawka Design, and Amy from The Stitchin' Mommy host this event. Make sure get Rhondda's Windy Day Head Scarf, and Amy's Rainbow Love Cowl crochet pattern too! You can also read this Intro Post for more details, as well as a list of all the previous designs.
Something to note that is different this year!
The week following the Scarf of the Month, each designer will also be releasing a co-ordinating Hat of the Month! Make sure to sign up for the Newlsetter to get your reminder of these time-sensitive downloads.
I'm really excited to share the Marielle Lace crochet pattern with you! You can also check out last year's design, the gorgeously drape-y Lansdowne Cowl.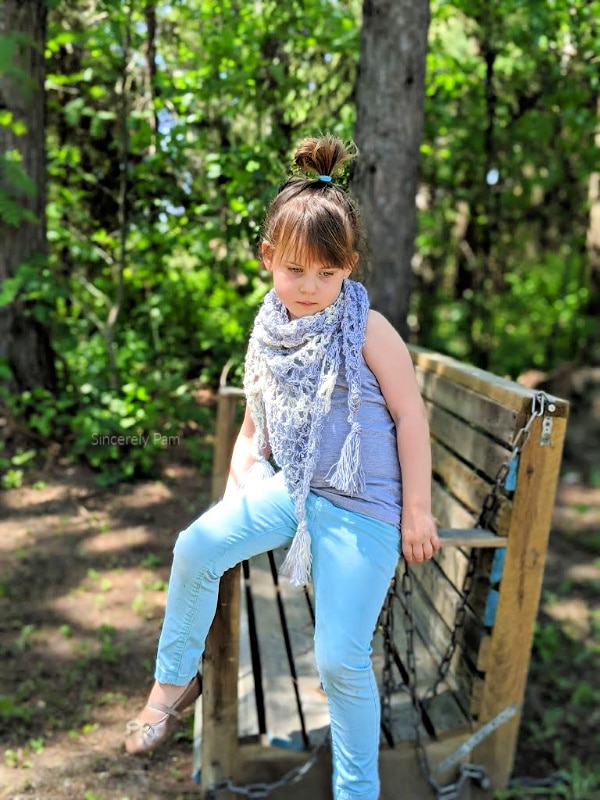 The Design
This design is so pretty. I enjoyed it when I made the original sample using Coastal Cotton in stripes, but when I made another for my daughter in the Galaxy DK, I immediately fell in love with the beauty of these stitches.
I can't help but picture this lacy shawl worn around shoulders to a summer wedding. Especially with the glittering sequins in the Galaxy yarn!
Or maybe even done in black yarn, and worn casually with jeans and a tshirt! Needless to say, this is a very versitile piece!
This Marielle Lace Shawl crochet pattern was written from the longest width, down to the point.
The pattern itself is a one row repeat. It couldn't be easier to memorize! Before you know it you can zoom through a shawl during your favorite movie!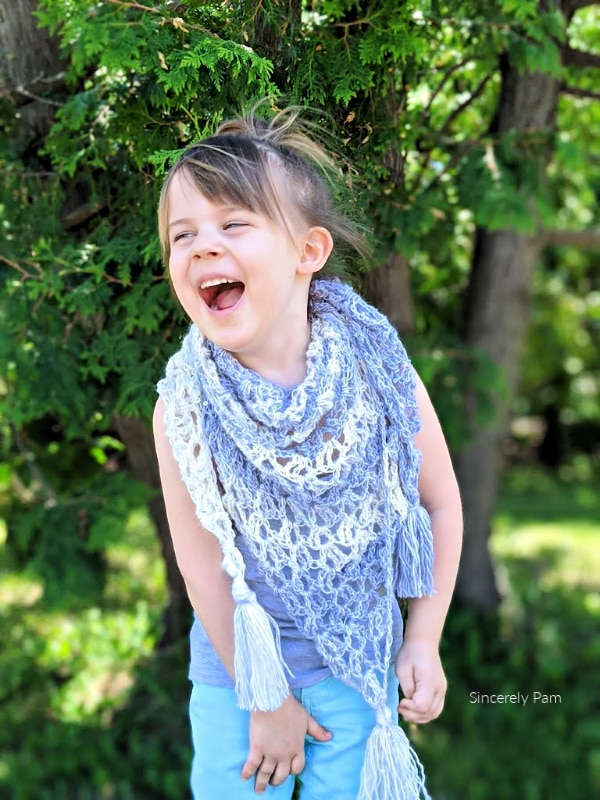 The Yarns
For this design I actually used two different yarns. For the ladies size, I used Loops and Threads Coastal Cotton in four different colors. This yarn was fun to use because the cotton makes it a great pick for summer, and the added acrylic keeps it nice and light.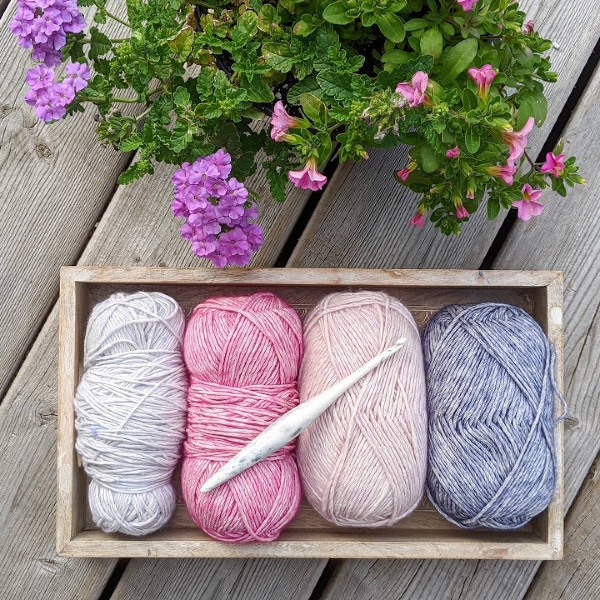 For the child size, I used King Cole Galaxy DK. This is a yarn I had received as a gift a few years ago and kept waiting for the perfect project. The acrylic/wool/ blend has gorgeous sequins scattered throughout the yarn. This is naturally why my daughter insisted on it for her shawl. It makes her feel like a princess!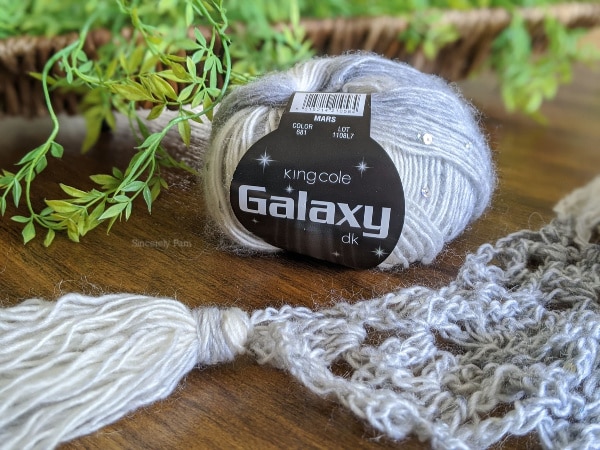 You can absolutely use either DK or a light worsted weight yarn for this. Just make sure to check your gauge to make sure you will end up with the correct dimensions when you are finished.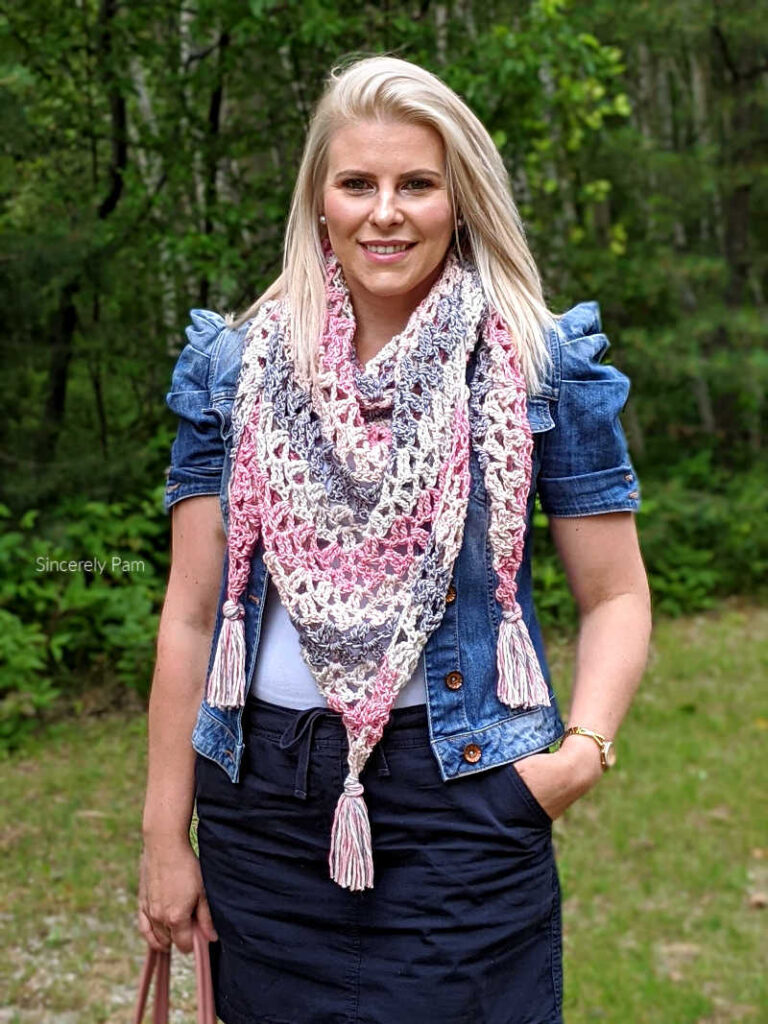 MARIELLE LACE SHAWL CROCHET PATTERN INSTRUCTIONS
This post contains affiliate links to products we recommend. We may receive a commission for purchases made through these links.
Materials

Pattern Key (Standard American terms)
ch: chain
beg: beginning
st(s): stitch(es)
sc: single crochet
dc: double crochet
tr: treble (triple) crochet
Gauge
2 Marielle sts and 5 rows in 4" square.
Experience Level
Special Pattern Notes
This pattern is worked back and forth in rows starting at the top.
Beginning chain 4 counts as a tr stitch throughout.
When following the instructions, the numbers in parenthesis are in numerical order according to size. Ex (toddler, child, adult).
I changed colors every second row when making the Adult size.
Special Stitch
Marielle – (2tr, ch2, dc) in designated stitch or chain space.
Copyright Notice
You are free to sell what you make from this pattern, but you may not share, copy or reproduce this pattern in part or whole.
Photographs are also copyright protected and may not be used. Please link back to one of my shops if selling your finished items online.
© Pam Dajczak 2020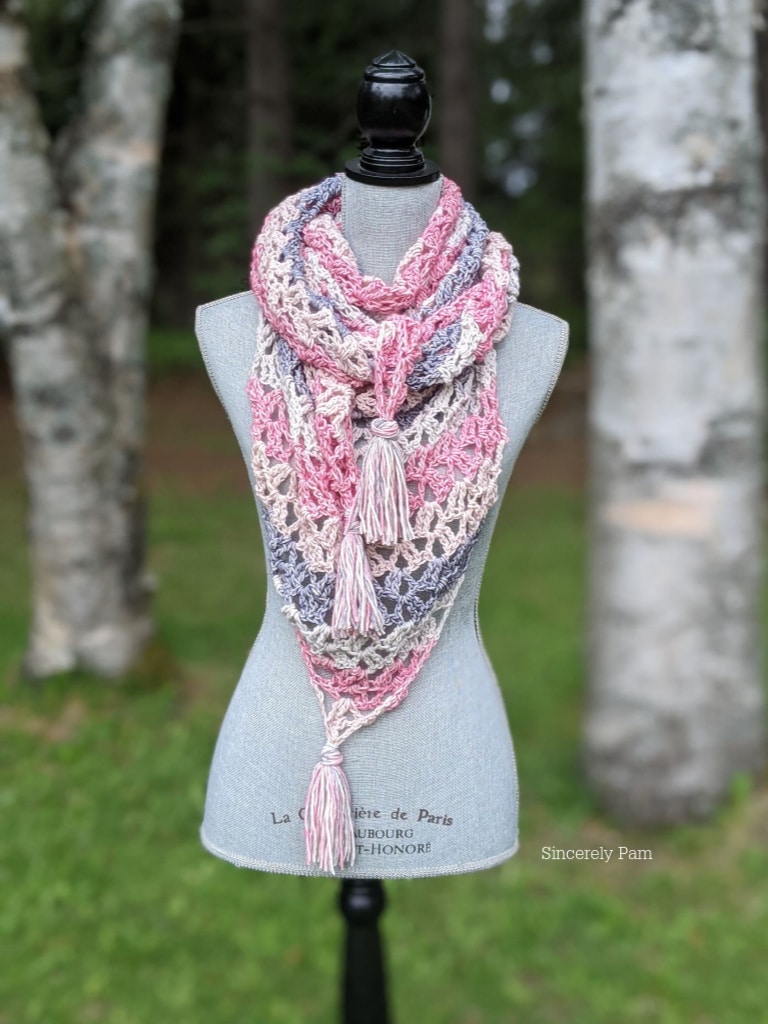 Pattern Instructions
Row 1: Foundation sc (105, 121, 149). OR, ch (106, 122, 150), sc in 2nd chain from hook and across. Your Row 1 should equal approximately the final width of your Shawl.
Row 2: Ch4, turn, sk 1 st, *Marielle, sk 3 sts, repeat from * across to last 3 sts, tr, sk 1 st, tr in last. (25, 29, 36 Marielle sts)
Row 3: Ch4, turn, Marielle in each ch2 space across to last ch2 space, tr in last ch2 space, tr in top of beginning ch4. (24, 28, 35 Marielle sts)
Repeat Row 3 until you have reached the point where you only have one Marielle st left.
Row 4: Ch4, turn, tr in ch2 space, tr in beginning ch4.
Fasten off and weave in all ends. (3 tr)
Add fringe, tassels, or pompoms to complete the look!
If you enjoyed the Marielle Lace Shawl crochet pattern, make sure you check back next week when I release the matching beanie pattern!
Check out these other free crochet patterns….