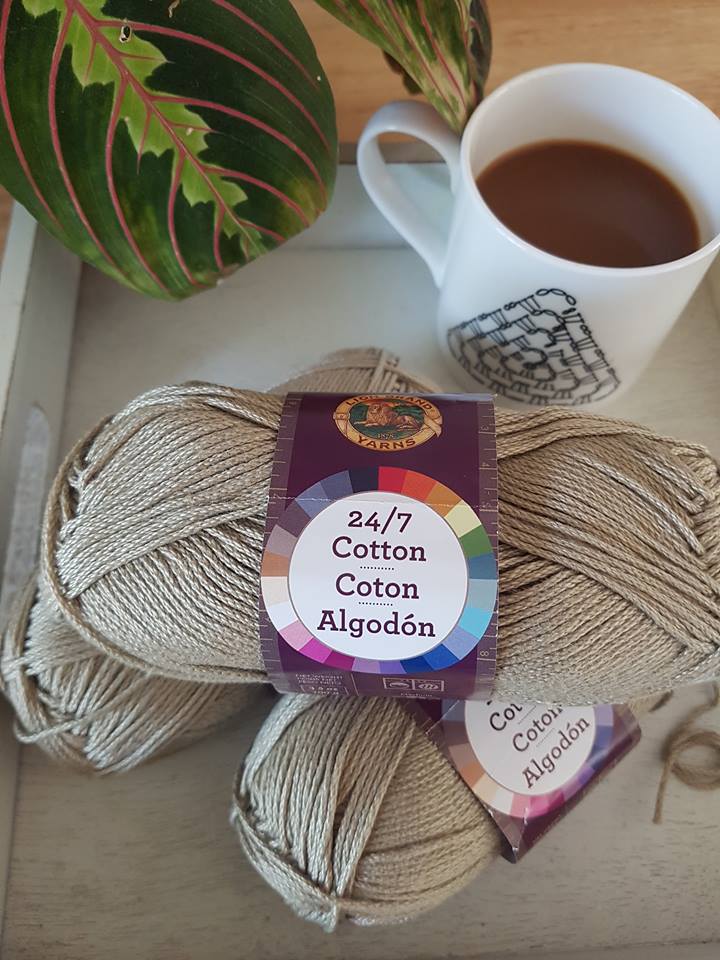 Here is another "Oldie But Goodie" blog post! I wrote this yarn review a few years back. 24/7 Cotton was fairly new on the scene, and I was so pumped to get some on my hook for a couple of reasons. Firstly, the only cotton yarn I had tried at that point was Bernat Handicrafter. Great for dishcloths, but definitely has a stiff, squeaky texture that made me hesitant to use it for any larger projects. Secondly, I had a design idea that needed yarn like this for a LONG time! Well, the stars finally aligned and everything worked out! First a little about the yarn….
Lion Brand 24/7 Cotton is unlike most of the cotton yarns I have used. I tried my best to get photos that really show off the shine of this product. It's incredible! Although the yarn is plied, it honestly looks and feels like a cord. I literally split the end myself just to be sure. This yarn is most definitely a workhorse. 24/7 is a 100% mercerized worsted weight cotton, although it feels lighter, almost like a DK weight. Mercerisation is a sodium hydroxide treatment given to cotton threads. Although it increases the likelihood to lint, it also increases lustre, strength, affinity to dye, and resistance to mildew! 24/7 Cotton comes in 24 beautiful shades and is completely machine washable and dryer safe. When deciding on which yarn I wanted to use for this particular design, I knew right away that I wanted a cotton yarn and this one did not disappoint! I found this yarn very easy to work with. It didn't split or tangle. The center-pull worked really well for me and I didn't find any knots or snags. Did I mention the feel? I would not want to forget to tell you that 24/7 is soft. Like, so soft you want to make all the things with it. All of them. In 24 different colors.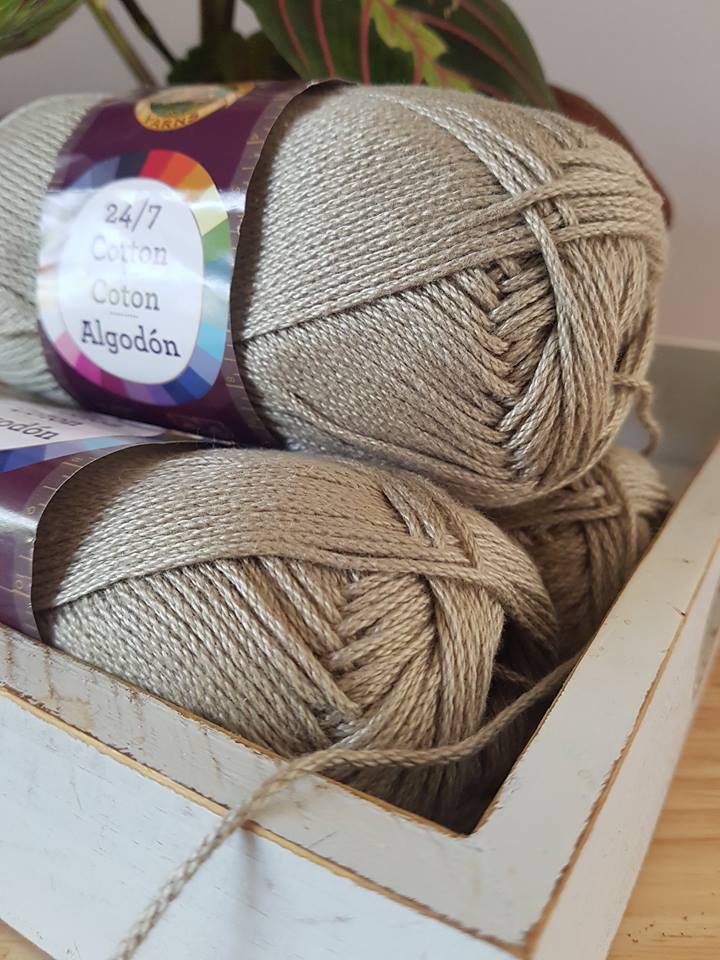 So, you might be wondering which design I have been talking about this whole time, am I right? Well, it is the Penny Purse. I really wanted to make a purse that was more structured than a lot of crochet bags that are typically available. I wanted one that would stand up to some regular wear and is roomy enough to carry around all my things, plus extras that I usually cart around for the kids. I also wanted pockets! I love being organized and wanted to make sure that I had somewhere to keep my phone and keys where they wouldn't get lost in the bottom of my bag.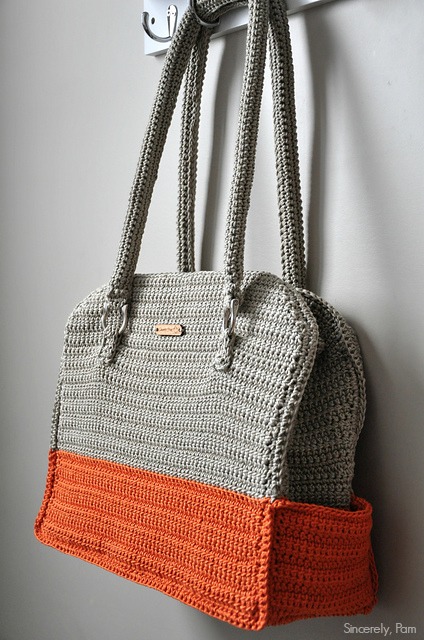 The Penny Purse is a fun project that works up fairly quickly! The front, back and bottom panels are all double layered with a sheet of plastic canvas in between to give it more structure. I have added a side pocket that you see in the photo above, as well as an outer zipper pocket on the back, and some extra pockets inside! The Bag Handle Loops attached to the Handles and Base Nails on the bottom give this Purse a real polished look. The Handles were created using 2 lengths of rope and some yarn, but you could easily substitute ready-made Handles as well. At a finished size of 14″ wide x 11″ tall, you will have plenty of room for everything you need to take with you!

This pattern is rated Intermediate, but I have included plenty of step by step instructions and photo tutorials to help you along! Which colors will you use for your Penny Purse?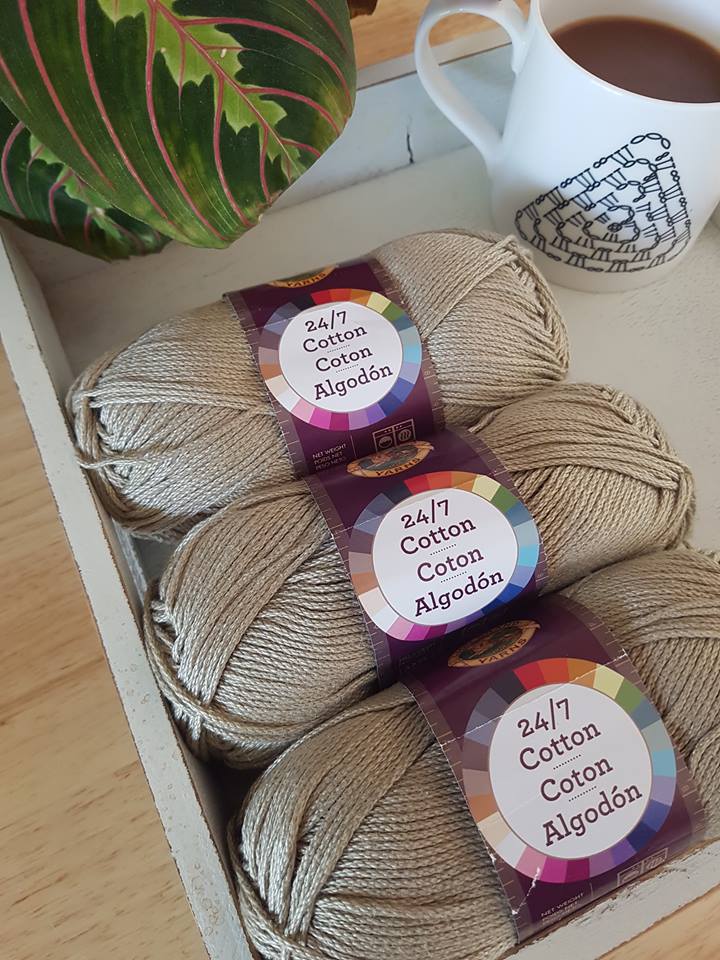 Want some more 24/7 Cotton inspiration? Check out what some of my Designer Friends have made! Click the photos to go to their pattern listings.