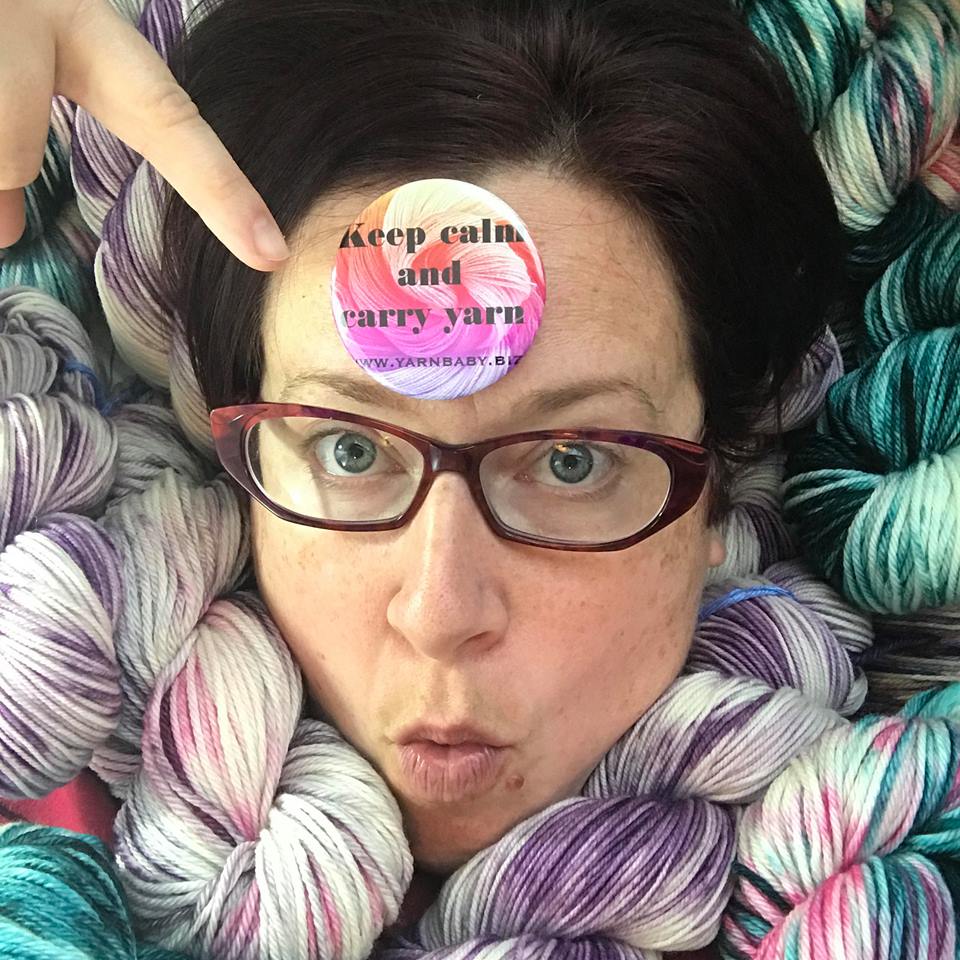 This interview was one of the very first that I dreamed up when deciding to begin the
Maker Mavens
series over here on the blog. My friend, and Indie Dyer, Shannon is one of those people who has a kind heart, beautiful spirit and contagious personality. Seriously, just look at her profile pic! I first met Shannon from
Yarn Baby
several years ago, before I even began designing patterns, and I have eagerly followed her career ever since. I also love using hand dyed yarn. The look is unlike anything you can find in store, and the quality of materials is unparalleled. Knowing that each hank was lovingly crafted and meticulously formulated means that you are using a one-of-a-kind piece of art. The fact that you are also supporting a fellow Maker is just icing on the yarn cake. (See what I did there!?)
Want to catch up on the other Maker Mavens interviews? Click
HERE
.
To read Shannon's interview, continue on below. But first, let's take a moment to drool over some
Yarn Babies
from my personal stash below!!!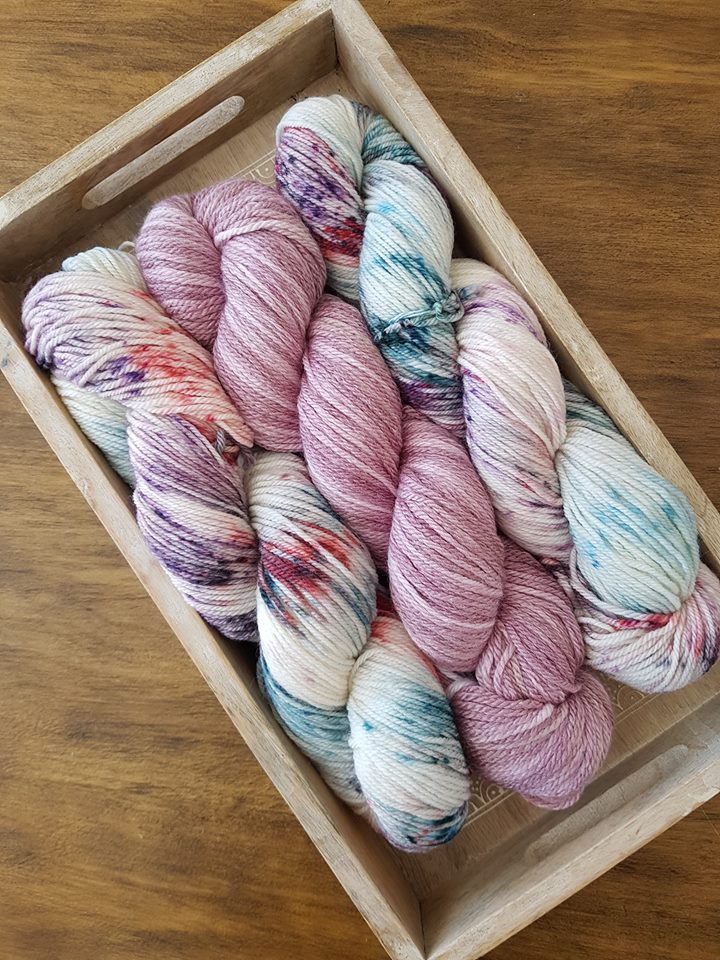 Pam: Alright, Shannon! Let's start with an easy one. What is your official job title?
Shannon: Indie Dyer, Fiber Artist.
P: What were you doing before you became an Indie Dyer?
S: I was a teacher. I taught music in our public schools for ten years. I have taught literally every grade Kindergarten thru high school+ but spent most of those years as an elementary music specialist.
P: Oh, wow! I have such fond memories of music classes growing up. I played clarinet and bass guitar. Both horribly. So, how did you decide to take the leap from "regular" day job to Indie Dyer?
S: When my second child was born, trying to pay daycare for two kids, and driving 100 miles a day to my job just was not cost effective. My husband and I decided I'd stay home and that is when I really hit the ground running. Crochet was first. Then spinning, dyeing roving, dyeing yarn, and lastly, knitting.
.
Check out Shannon's Top Picks! You can purchase these yarns and more directly from her Store. These are in stock as of August 9th, but are subject to availability.
P: What are the major components of your job on a daily basis?
S: On a typical week I dye yarn on

Monday

, then throughout the week I photograph and list the yarn I just dyed. I also have to buy undyed yarn, mail orders, make things for crochet classes I teach at a LYS, teach classes, *try* to find time and motivation to SPIN YARN (I haven't in such a long time!) and still take time to crochet/knit for myself.
P: Your days are really full! What do you enjoy the most about this job?
S: The days I dye yarn. Playing with colors and experimenting with mixing different colors is my absolute favorite!
P: That sounds like so much fun! What do you like least about your job?
S: Getting orders ready to mail…making labels for the yarn, twisting the hanks into skeins, etc.
P: Mailing orders was my least favorite thing to do when I was selling finished items. I totally get that.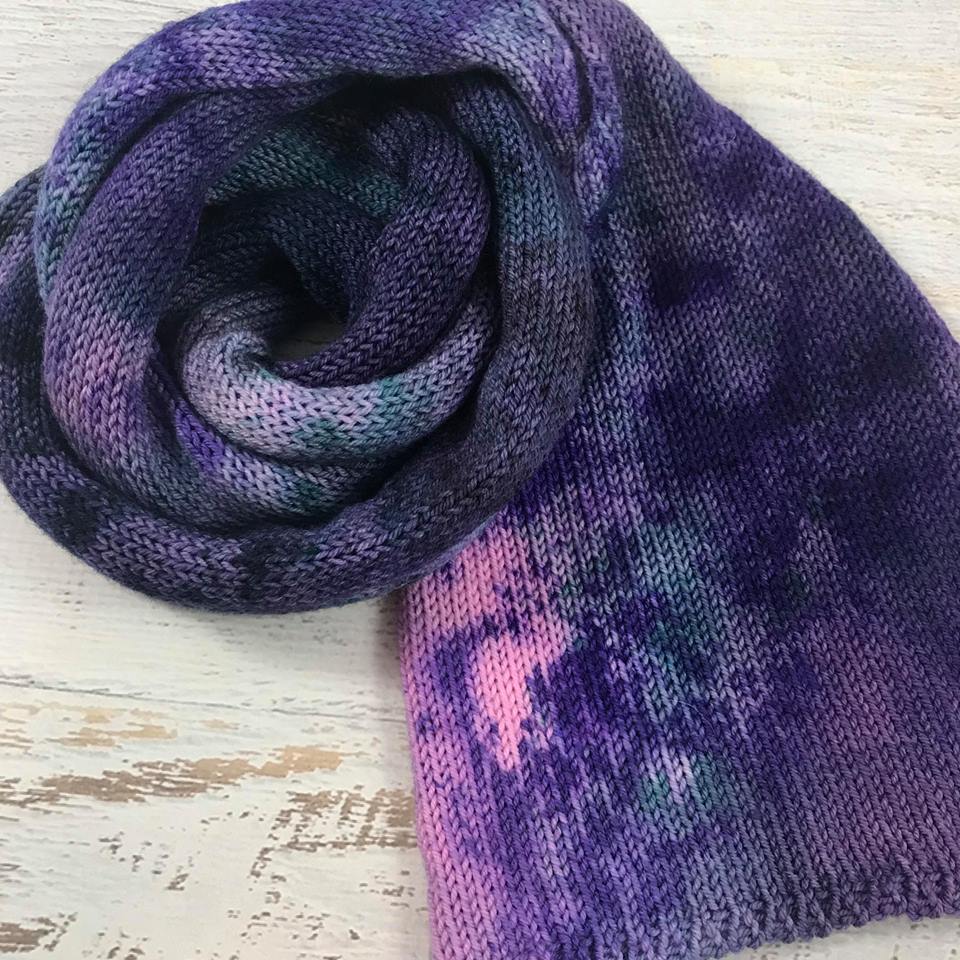 P: How do you see this job changing in the next 10 years?
S: I'm sure different techniques will become popular. Right now speckled yarn is pretty popular. I *hope* to get my yarn in a few more LYS and to get more designers to use my yarn.
P: I can't see that being a problem for you, your yarn is GORGEOUS! And I know I have so much fun using it.
If you could go back and do anything differently on this career path, what would you do?
S: Don't stress over slow sale weeks! It's going to happen. Not every week is going to have tons of sales and don't beat yourself up about it! Just keep swimming.
P: That advice is so meaningful to all different aspects of life.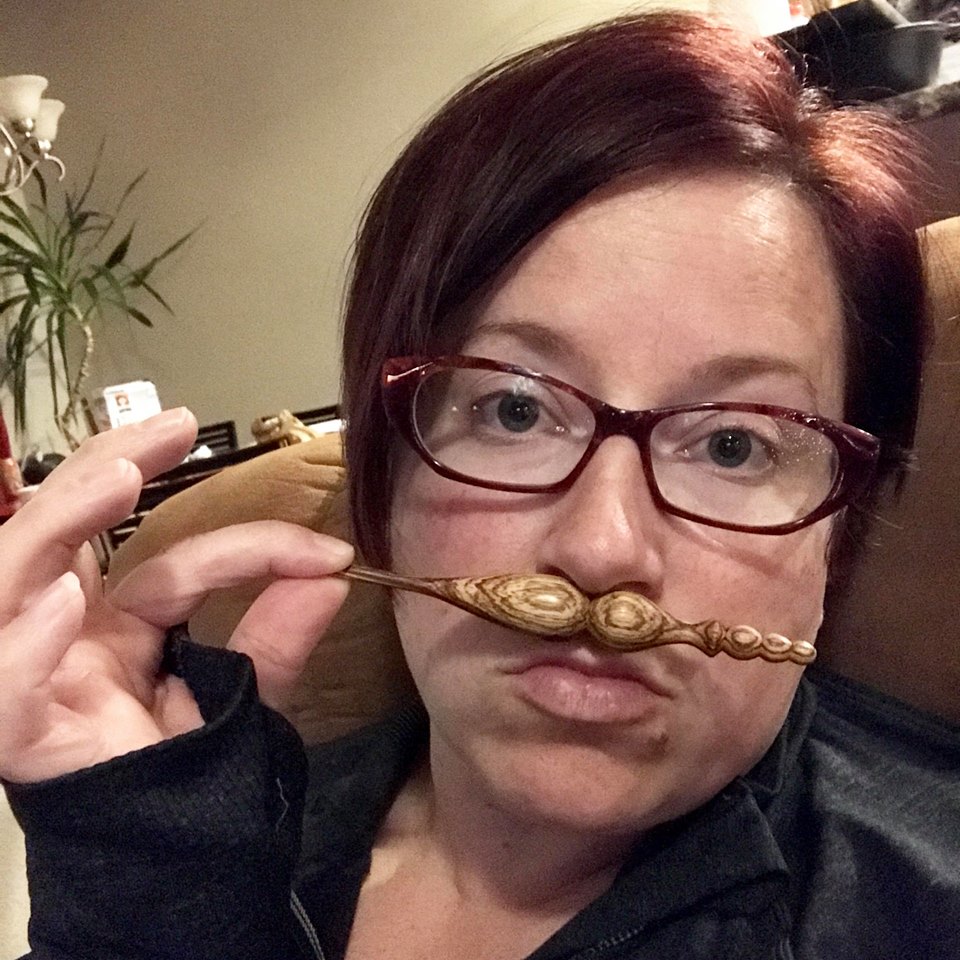 P: Tell me about a project or accomplishment that you consider to be the most significant in your career.
S: Learning to knit was a pretty big deal. Now I am comfortable answering customers questions about needle size and other knitting related things where I really didn't have any clue for so many years! (I've only been knitting 1.5 years)
P: Did you know my Facebook Page started because I wanted to show my family my knitting projects? They were awful. I'm a terrible knitter. Crochet was most definitely my calling haha! Shannon, what is the one thing you wish your customers knew about what you do?
S: Hmmm…I'm not sure. I'm a pretty forward person who doesn't keep much inside so I probably just blab everything to everyone. LOL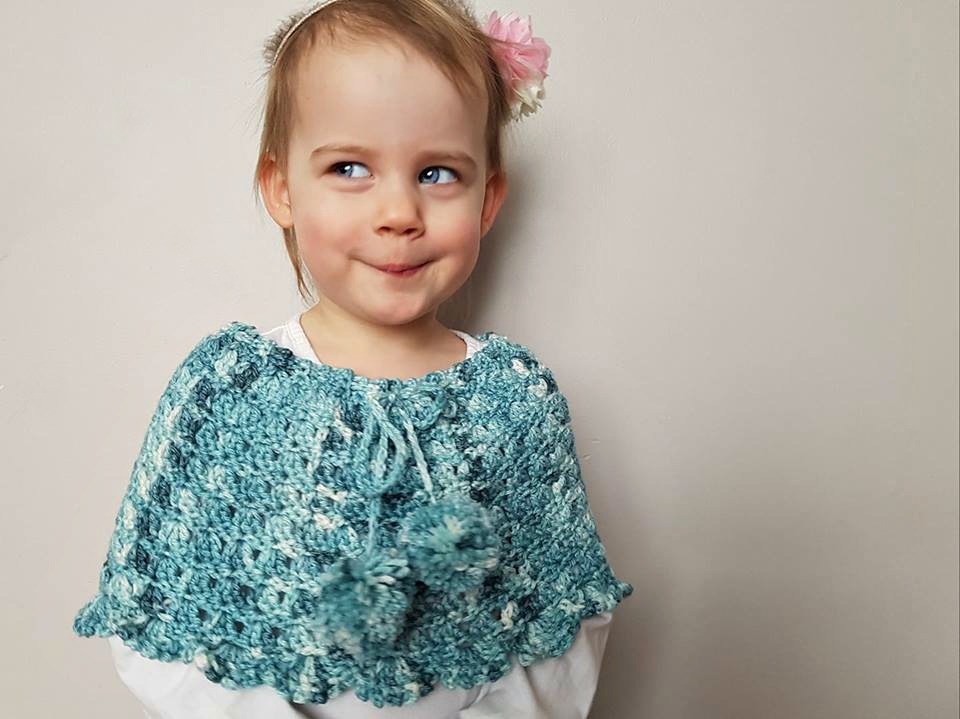 BONUS QUESTION: What's your superpower, or what's your spirit animal?
S: I turn strings into things. That's your superpower, too!
P: Shannon, thank you so much for taking the time to do this interview. I know how incredibly busy you are.
In case any of you were wondering what Shannon's yarns would look like worked into a crochet pattern, you can check out the
Brooke Ponchette
I made for my daughter in the photo above, and the
Cambridge Cardigan
and
Yorkton Beach Dress
that Michelle made below. All patterns are available in my Ravelry Shop!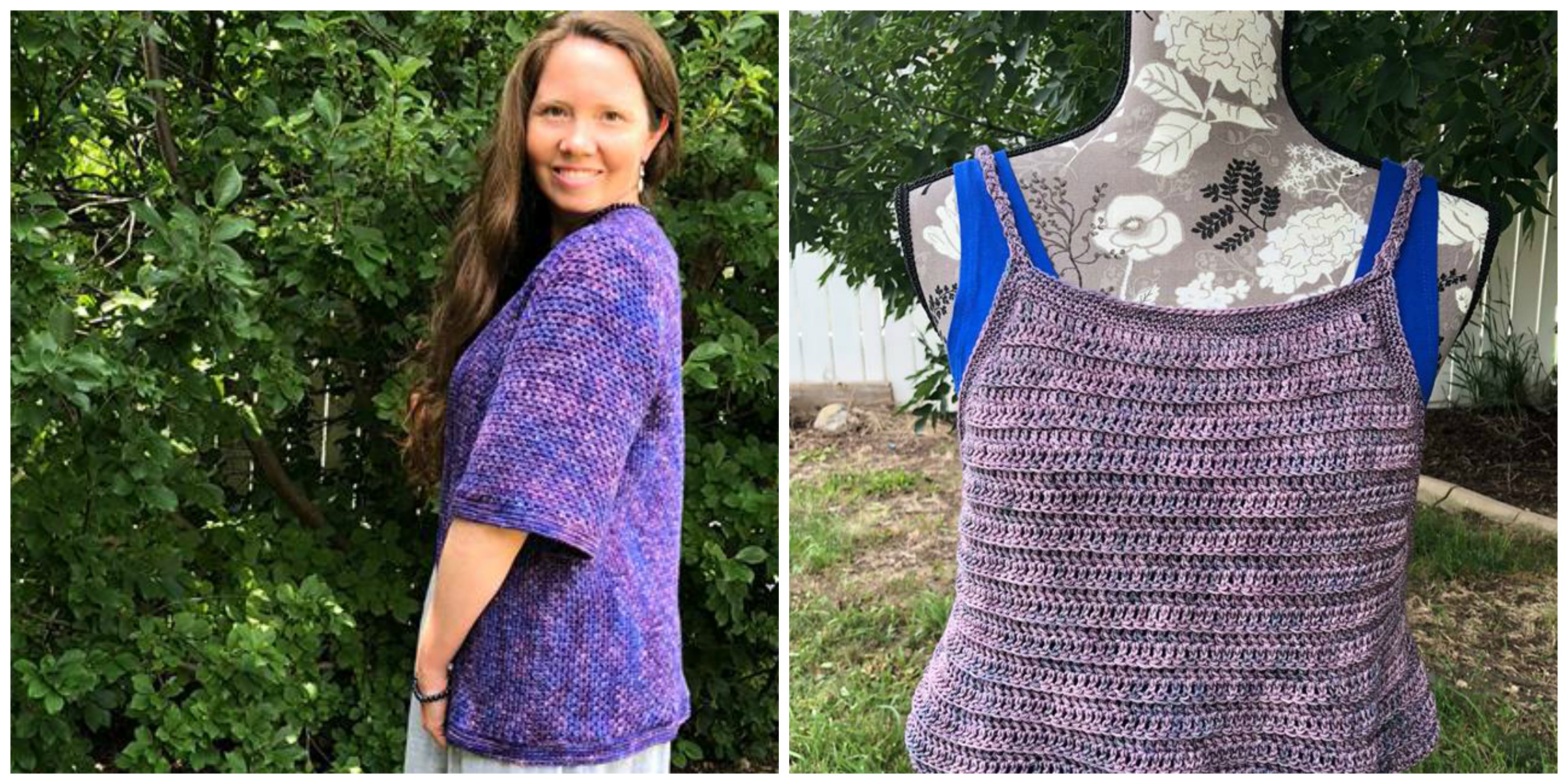 Want more Yarn Baby info? Here is where you can find Shannon: