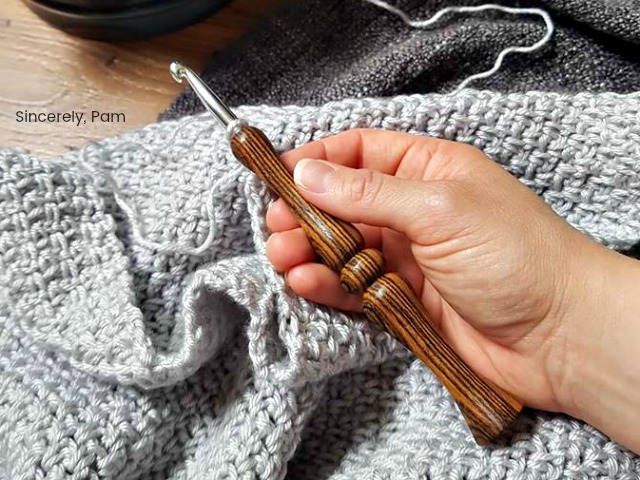 Eric and Ashley Leither are the dynamic husband and wife duo behind Leither Co. Ashley started designing crochet patterns in 2012. She has over 250 designs, with a focus on patterns for children and the home. When Ashley sustained an injury earlier this year, her husband came up with the sweetest solution. He set to work, creating Ashley a hook that allowed her to continue to pursue her dream. Everyone sighing with me?
>> Click HERE to sign up to receive our Newsletter! <<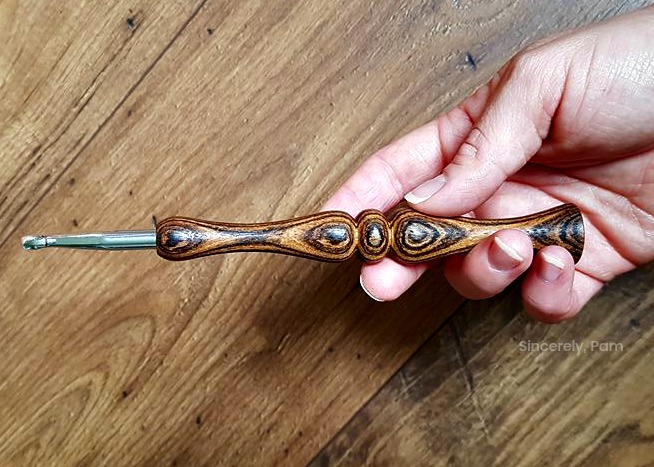 A few weeks ago Ashley contacted me and asked if I would be interested in testing out one of Eric's hooks. I have always loved the look of wooden hooks, so I immediately jumped at the chance! It arrived safely in a beautiful turquoise box and when I opened it I was not disappointed.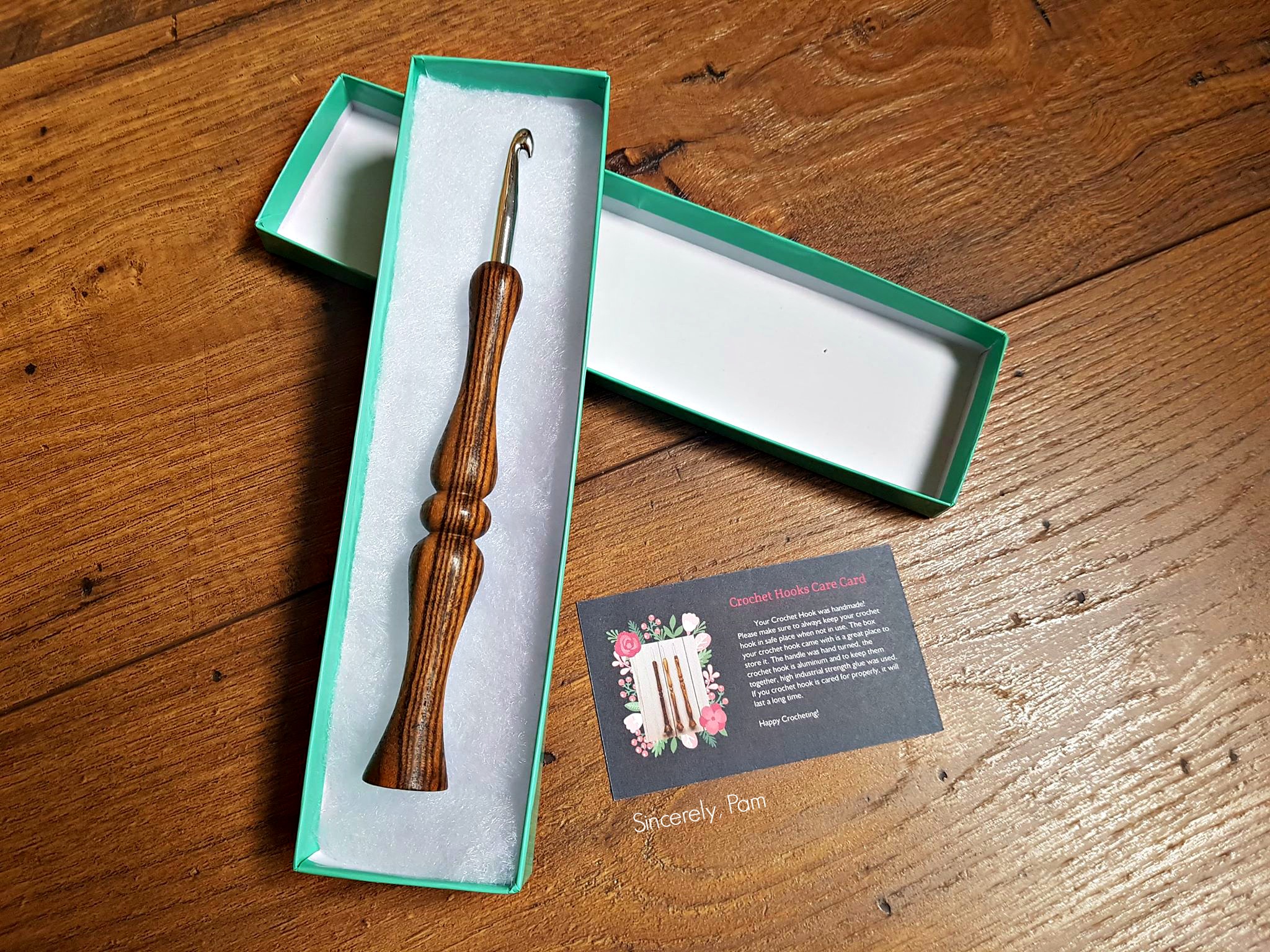 I also took advantage of this gift by asking the Leithers if they would be willing to be the first Makers to participate in my Maker Maven series! If you haven't yet, please read the interview HERE. Don't forget to come back! There is a giveaway after the review. Eek!
>>> Pin It for later! <<<
So, let's dive in. The Leithers have about 5 different species of wood that they really love and use frequently but they are always trying something new. They offer just about every size of hook, the largest so far is 10mm. You can get Boye, Bates and Clover hooks in your wooden handle. Check out their full line of hooks HERE.
The hook is extremely smooth and light in hand. The curves conform really well to my grip, although I typically choke up on my hooks, so it did take a little practice to get used to it. I have a knife grip and I wonder if that plays into at all? The wood itself is stunning. The grain is beautiful and if you spend as much time as I do trying to get the perfect IG photo, you know just how much that can impact a purchasing decision, am I right? Oh! Have several and need to find the size you are looking for? The size letter of each hook is stamped on the bottom to take out all the guess work. Such a smart touch!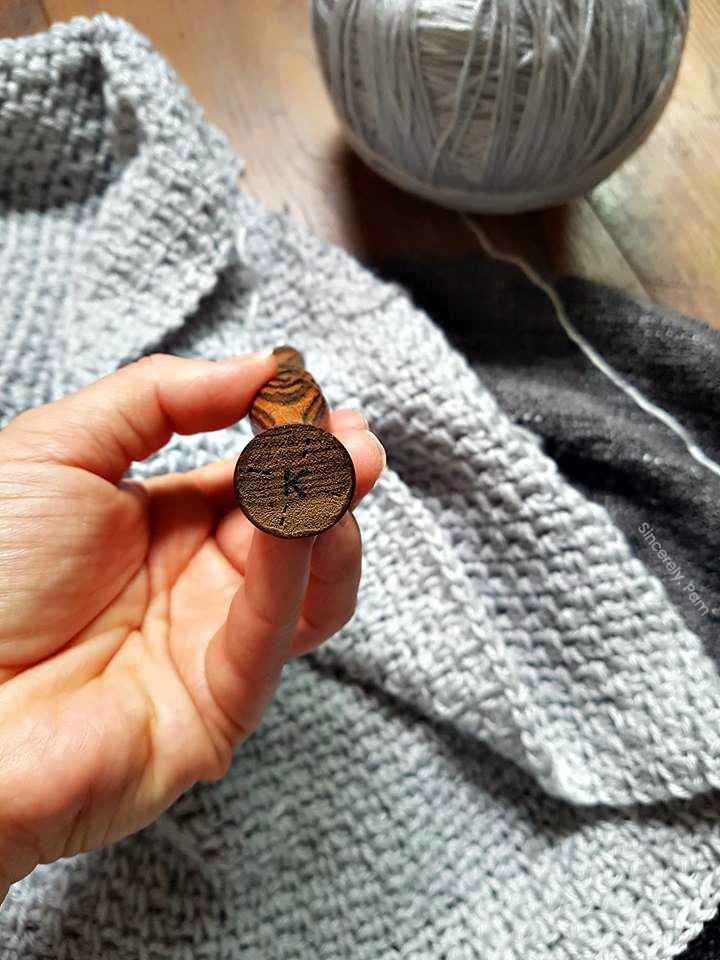 When I started to use the hook, I noticed that I had to concentrate a lot more to get my usual rhythm. Not surprising since this is a completely different style than I use on a daily basis. To see just how different, I made 2 gauge swatches. One with the Boye K hook I usually use, and the other with the Boye Wooden handle hook. Exact same yarn. Both done one after the other. You can see my results below.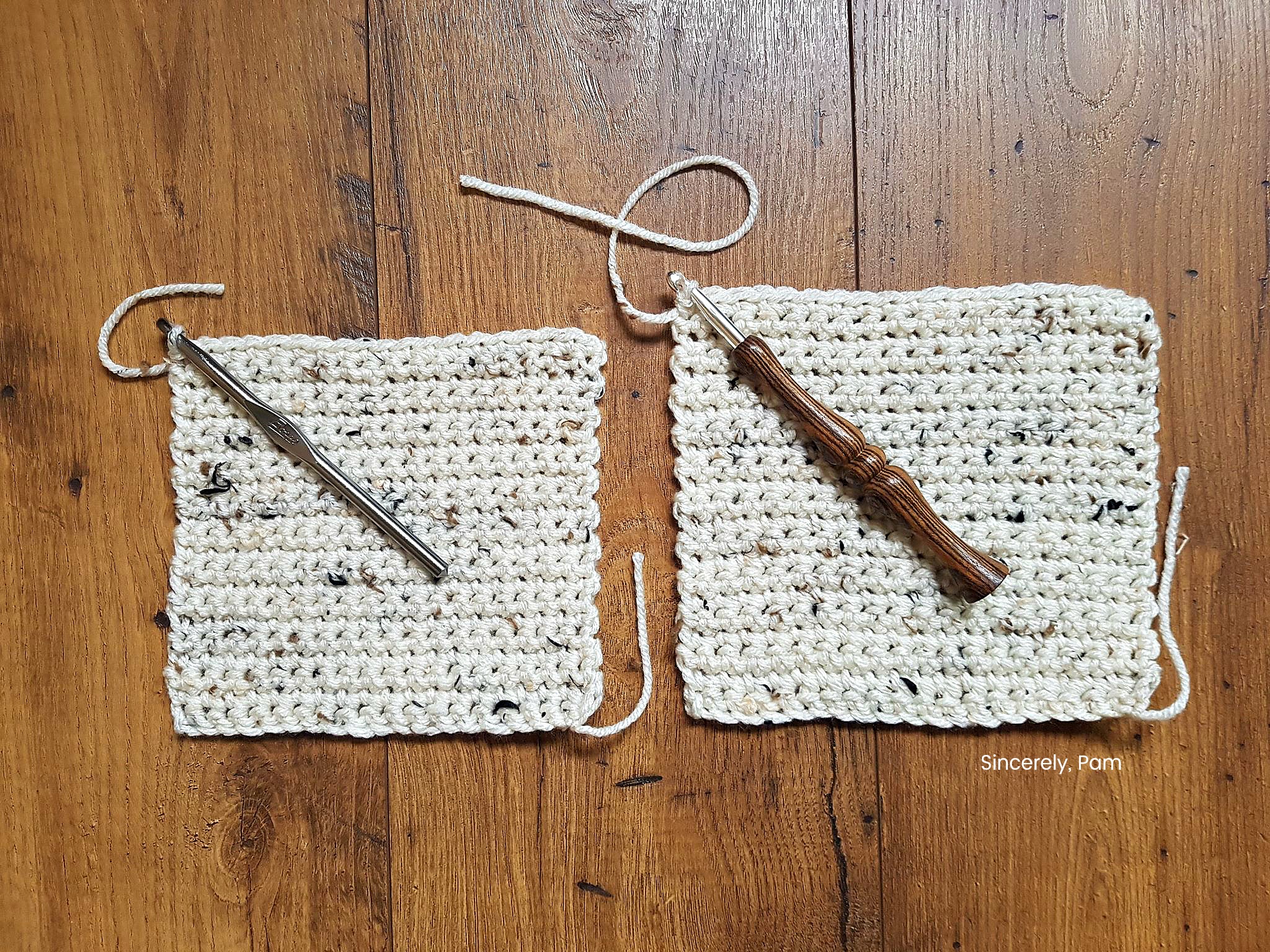 The good news, half way through the swatch, I found my rhythm with the wooden hook. I got my groove and had so much fun using this new tool. I mostly wanted to point out, that even when using the same type of hook, with the same yarn, you NEED to check your gauge! Every time. Still don't believe me? Check out THIS blog post which really shares the importance of checking gauge. Every. Time.
In summary, these hooks really are everything they are cracked up to be. Light, smooth, ergonomic and beautiful. Will I be getting more? Absolutely. You should too. ?
To help start your collection, Ashley and Eric are offering all SP Blog Readers 10% off their Shop with code SINCERELYPAM! Say what?! Please take a look. You won't be disappointed!
Want to win one? Enter the Rafflecopter Giveaway below. Open worldwide. Winner must choose a hook that is Ready To Ship.
Until next time, Friends!