The Spring 2021 digital issue of Crochet Foundry is finally here, and that means my Riviera Tee crochet pattern can now have its full reveal!
This issue marks a full year of Crochet Foundry Magazine. If you haven't heard of us before, each issue of the eMagazine brings you seven size-inclusive designs using the best yarns provided by WeCrochet!
Read on to learn about the Riviera Tee crochet pattern than I designed using the gorgeous Galileo Sport weight yarn.
This post contains affiliate links to products we recommend. We may receive a commission for purchases made through these links.
FULL VIDEO TUTORIAL
I won't go into too much detail about the actual magazine since we have an awesomely gorgeous website for you to check out, but I did want to give you the highlights.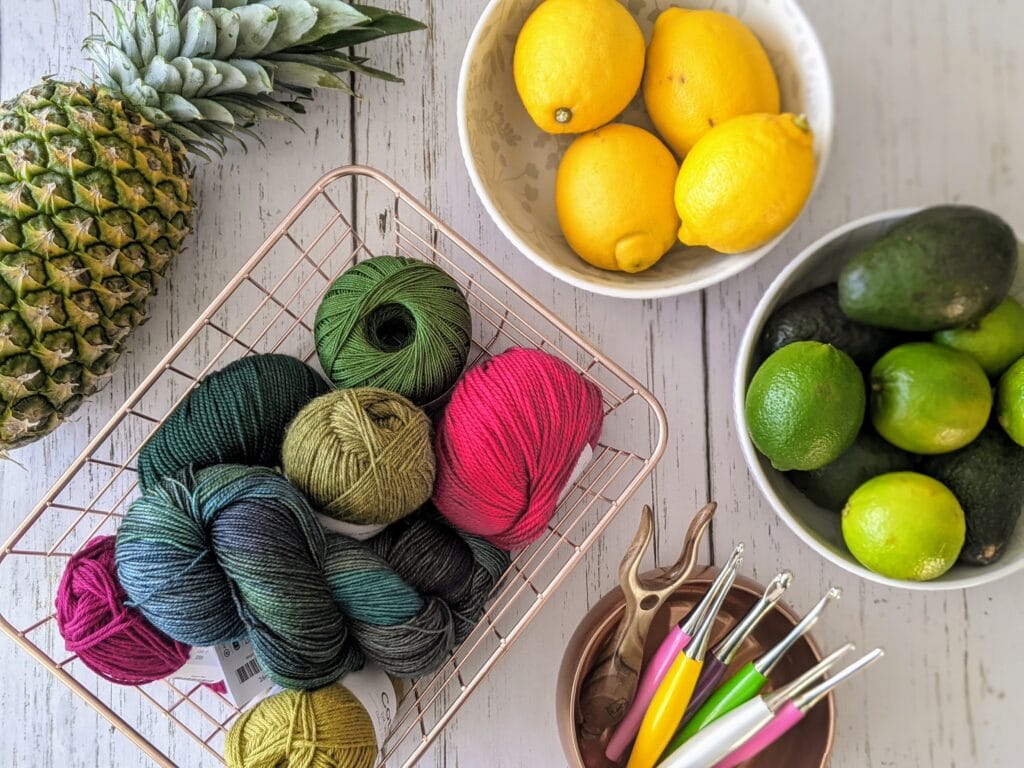 The Yarn
A big thank you to our friends at WeCrochet. We have only used their yarn since the beginning, and it continues to be the yarn I reach for first!
For the Spring 2021 digital issue, we felt like warming things up. After spending so much time indoors, and at home, we felt like a virtual tropical vacation was what we needed!
On that note, we pulled a palette of lush greens, and hot pinks. Like a gorgeous hibiscus!
Hawthorne Multi, CotLin, Galileo, Paragon, Curio, Comfy Worsted, and Stroll were all used in creating these seven size-inclusive designs.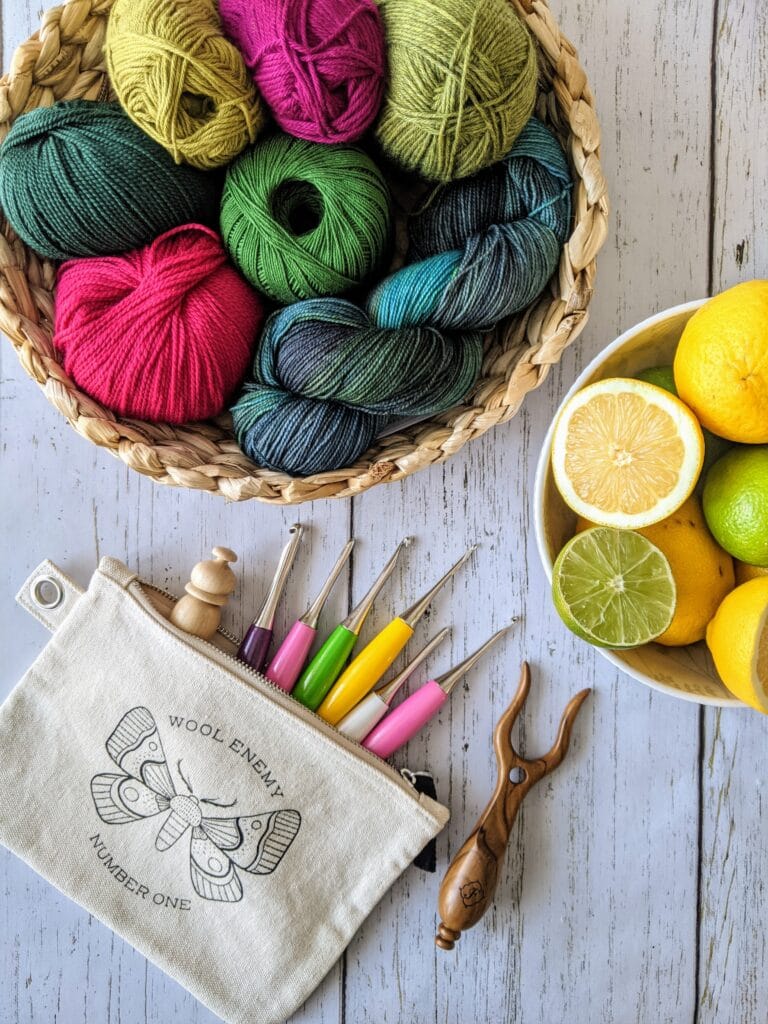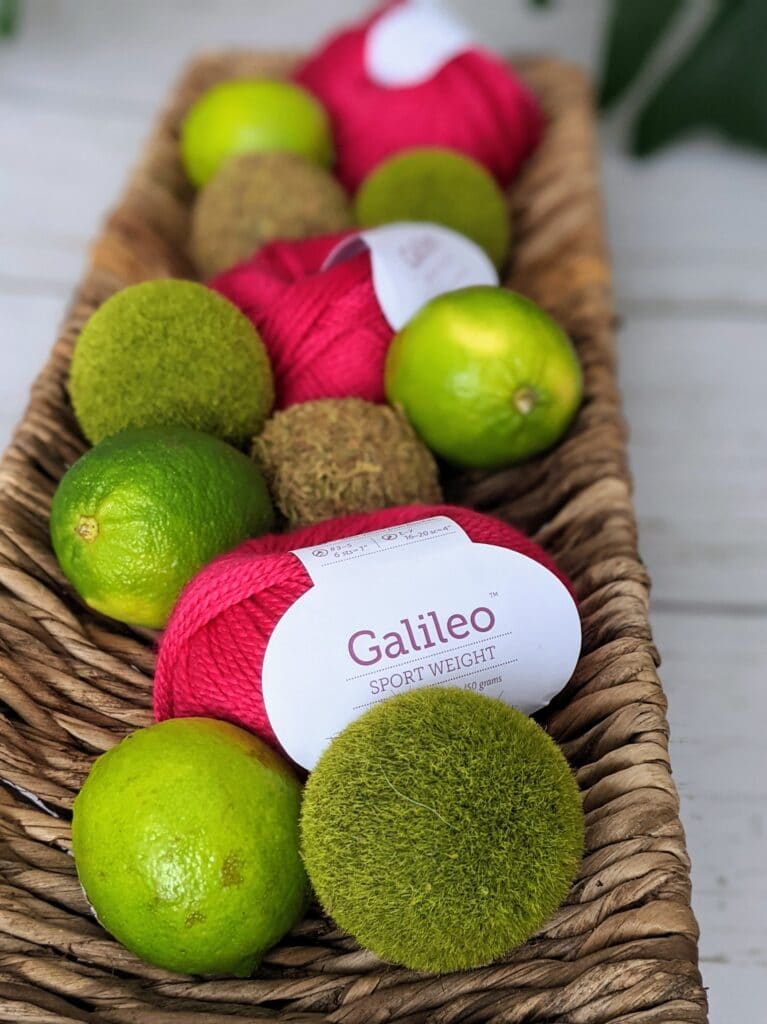 The Hook
Our friends at Furls Crochet have done it again! We have been so grateful to partner with them for each issue as well. We used the Odyssey crochet hooks when creating our Spring designs.
Also, how can we have a tropical staycation themed issue and not use these saturated colors?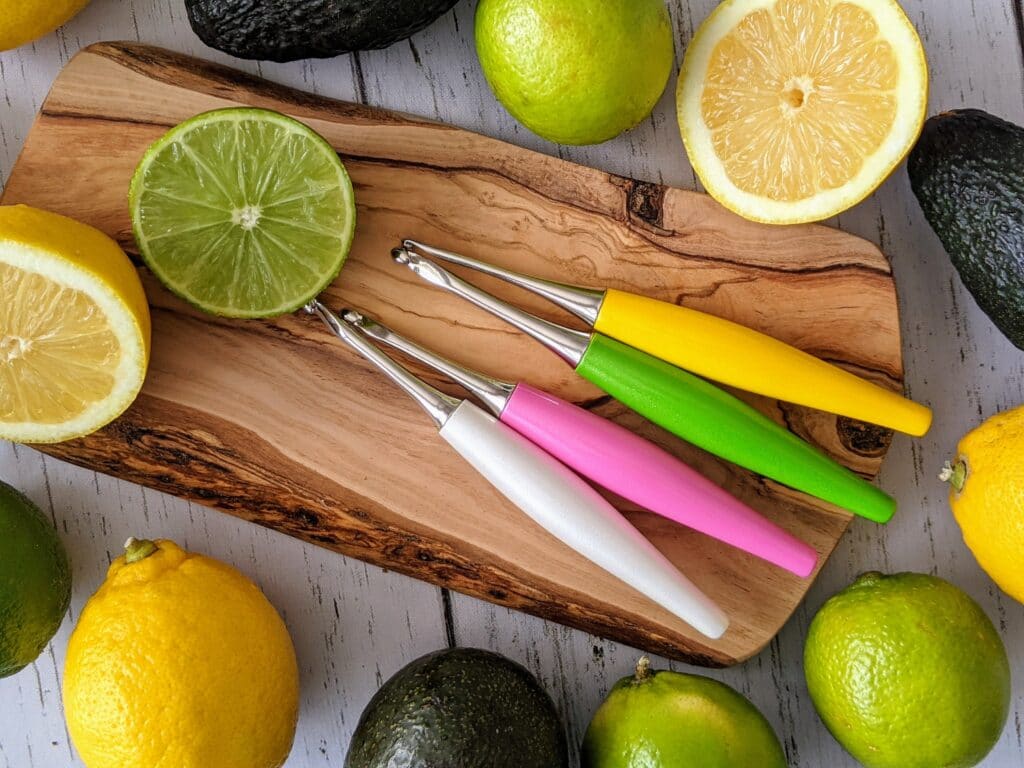 The Designs
This is what you've been waiting for, right? For the Spring 2021 digital issue, we have 7 stunning designs for you. The Baham Blouse by Breann Maudlin, the Riviera Tee by Pamela Stark, the Bay Breeze Cocktail Dress by Lorene Eppolite, the Bora Bora Sleevless Cardigan by Michelle Moore, the Key Largo Top by Briana Kepner, the Tobago Sun Dress by April Gopwani, and the Verona Tee by Hannah Cross.

My Design – Riviera Tee Crochet Pattern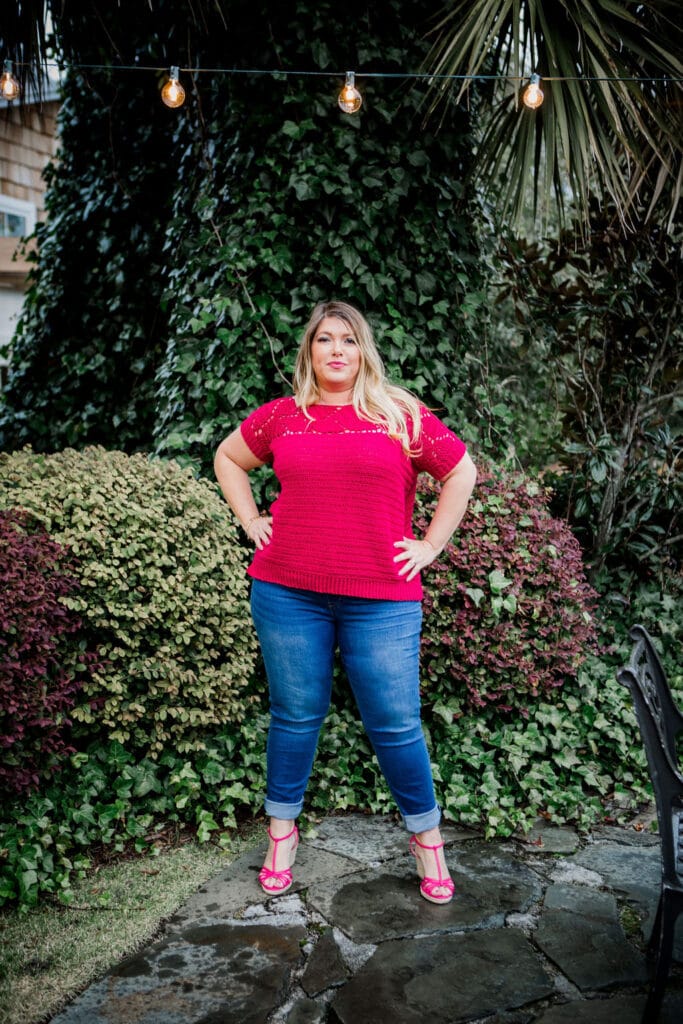 I designed the Riviera Tee with Galileo yarn in the color Calliope.
The Riviera Tee is a loose, drapey tee that doesn't skimp on style. The gorgeous leaf pattern on the yoke reminds me of a breezy day on the coast.
The construction of this tee is super simple too. First, begin with the yoke. Working from one side to the other, you will stop the pattern repeat when you have reached your desired width. Next, turn, and work a simple dc stitch until you reach your final length. Repeat this for a second panel and seam together. Finally, work some simple cuffs around the arm opening, and you are done! The best part of the design is how little you need to really think about it while crocheting. It is astonishingly easy to customize, and so much fun to wear!
Are you a fan of Mommy and Me sets? I have also written a pattern for child sizes 2-10! Check it out on my daughter below.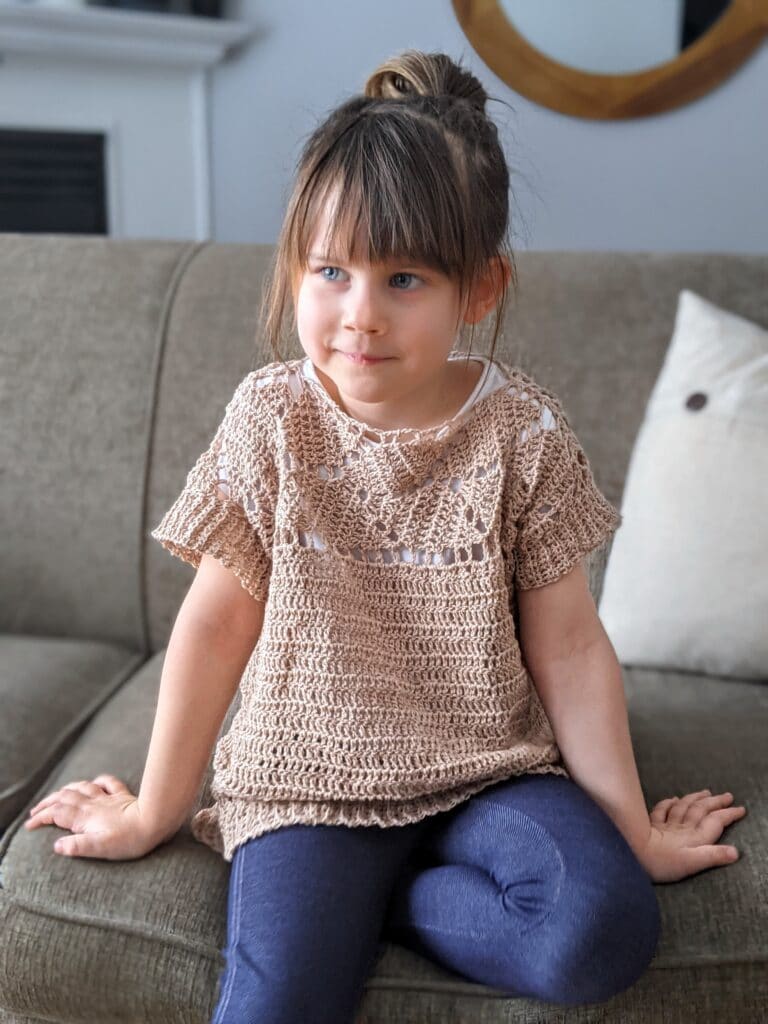 Prefer a video tutorial? I have uploaded one on YouTube! Follow along, and work the Riviera Tee crochet pattern with me!
For a full description of each Crochet Foundry Design in the Spring 2021 digital issue, along with the details to purchase, you can check out the Crochet Foundry Spring 2021 Blog Post.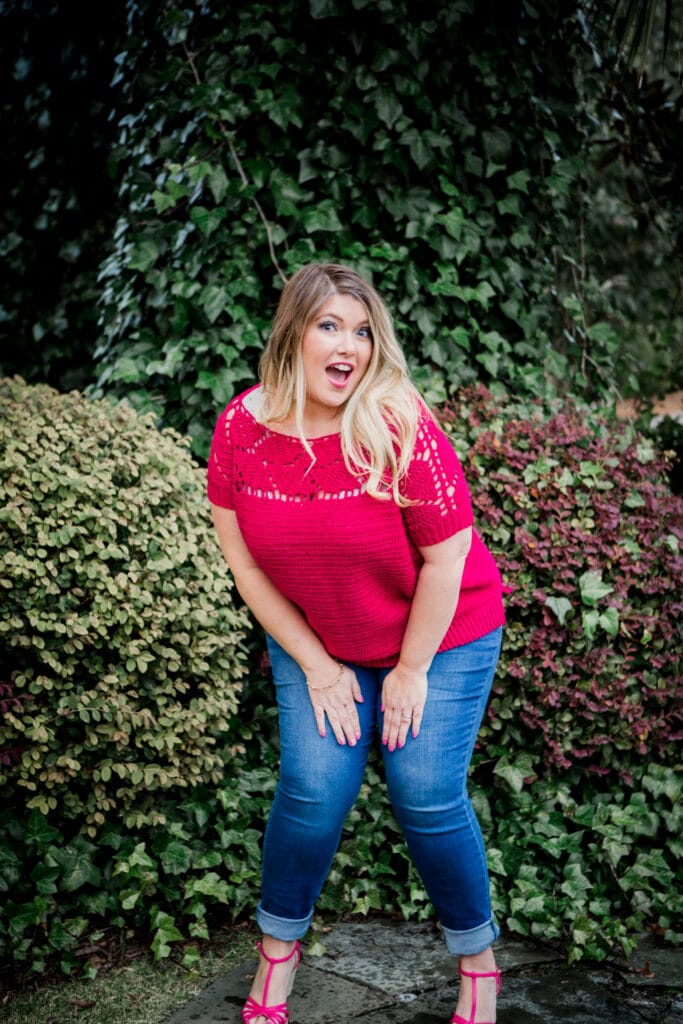 Win A Copy!
Interested in winning a digital copy of the magazine?
You can win a copy of the Spring 2021 Digital Issue of Crochet Foundry Magazine! Winner will be randomly selected March 9th, 2020.
Each designer is giving away one digital copy. Make sure you check everyone's social media for how to enter theirs!
a Rafflecopter giveaway