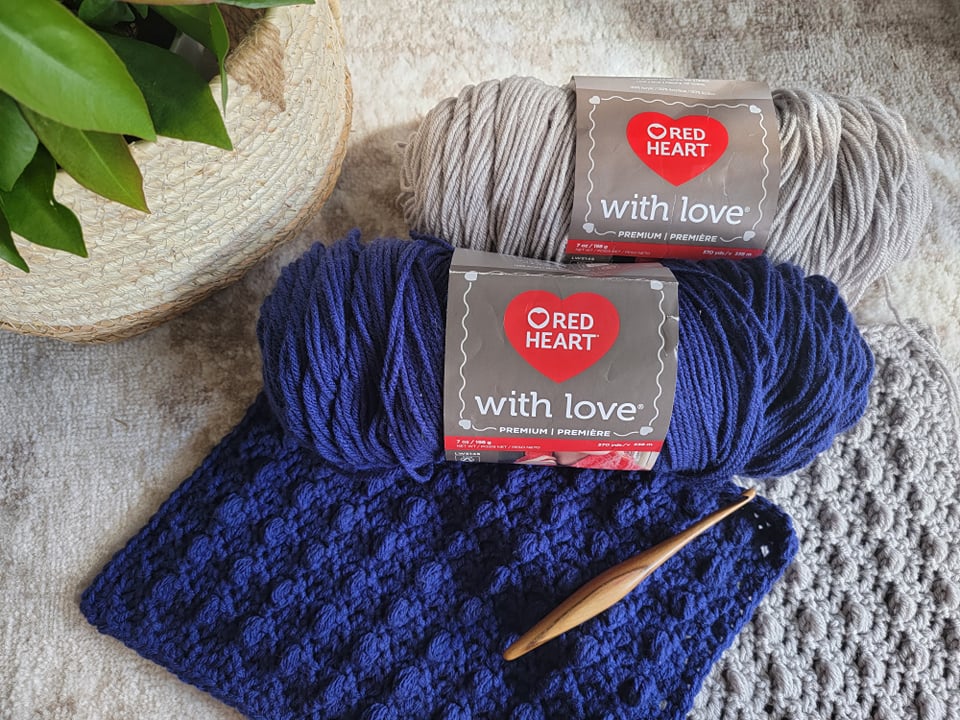 The Elmview Afghan Square crochet pattern is a quick and easy square that is worked on the bias, meaning you can easily customize this afghan square to be whatever size you like, without having to alter the pattern!
Elmview Afghan Square Crochet Pattern
I am so excited to be a part of the Moogly Afghan CAL 2021. This is my first year participating, and I loved the challenge. I usually think of designing in terms of garments, or sometimes accessories. So thinking of designs in terms of a 12×12 square was difficult!
This design was created using the stitch pattern of the Elmview Shawl crochet pattern. The simple stitches, easy increases, and fun puff stitches are still a favorite of mine!
I had created the original using sport weight yarn for a lightweight fabric, but the stitch pattern easily works with any yarn you would like to use!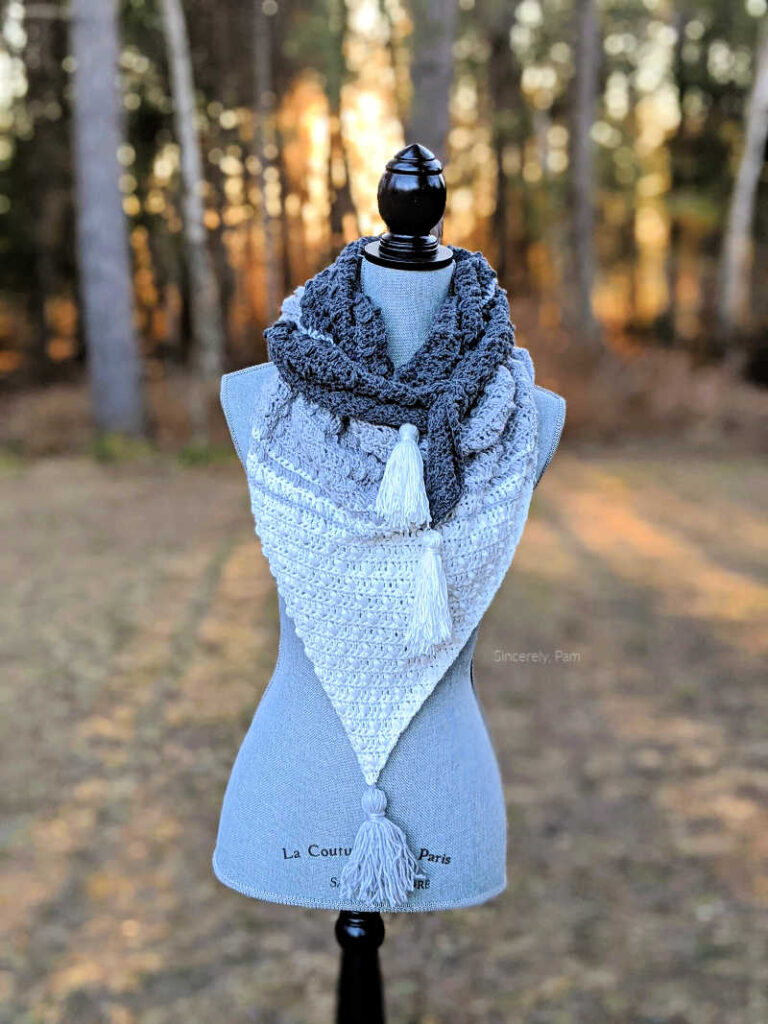 This post contains affiliate links to products we recommend. We may receive a commission for purchases made through these links.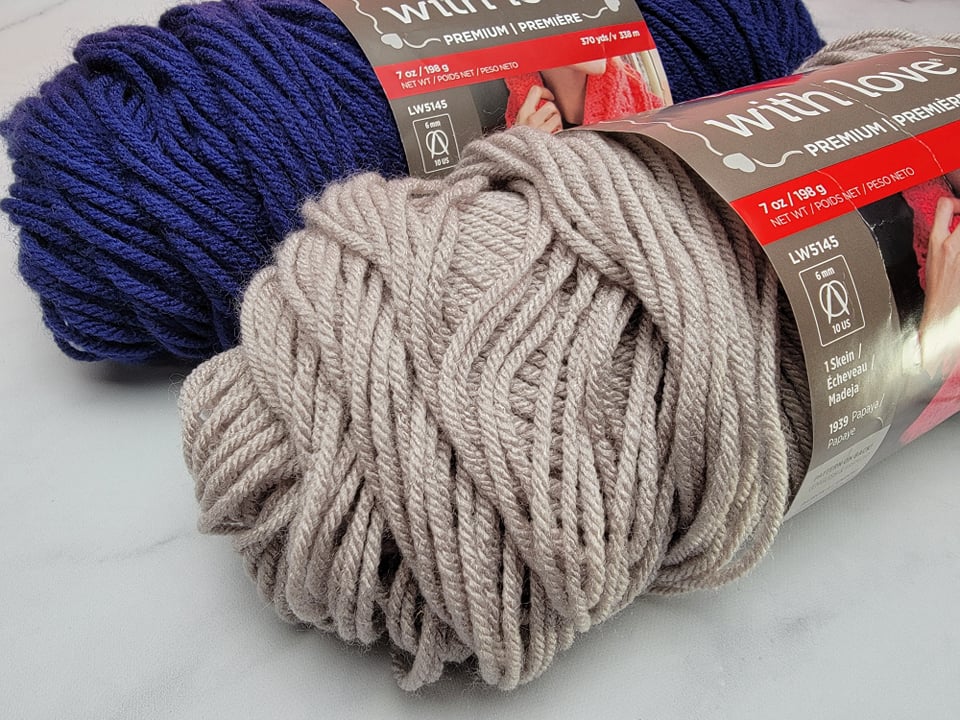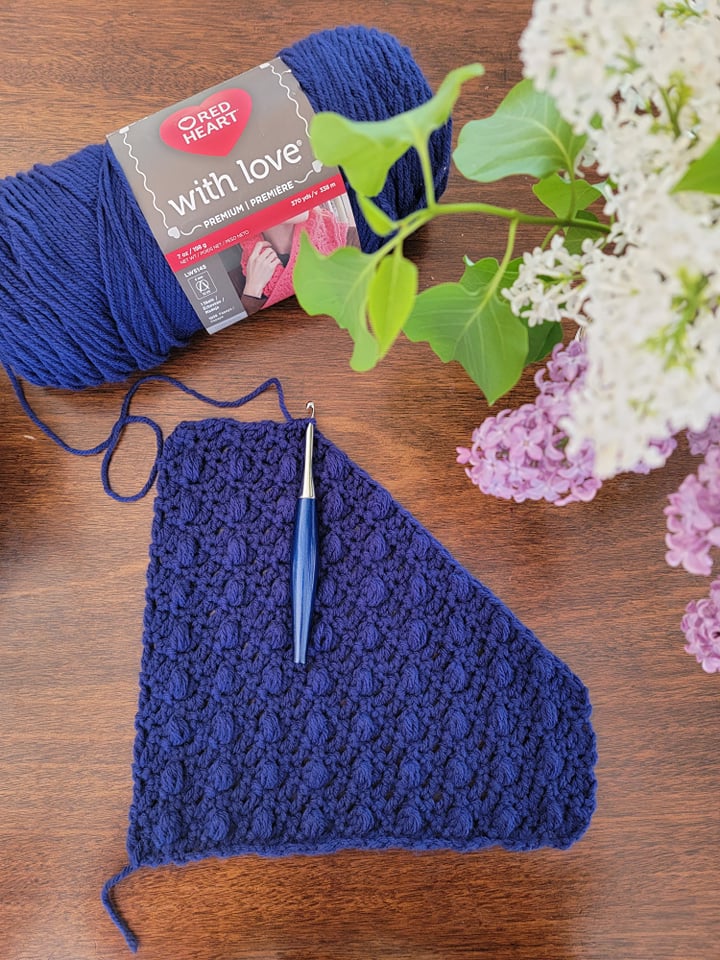 MATERIALS
Yarn: Worsted Weight #4. Sample made in With Love by Red Heart yarns.
Hook: I used my Furls Crochet hook in J (6.00 mm). 
Tapestry Needle for weaving in ends.
PATTERN KEY
beg: beginning
ch: chain
dc: double crochet
dc2tog: double crochet two stitches together
st(s): stitch(es)
slst: slip stich
sc: single crochet
sc2tog: single crochet two stitches together
sc3tog: single crochet three stitches together
FPpuff: front post puff stitch (see description under Special Stitches)
RS: right side
EXPERIENCE LEVEL
Intermediate
GAUGE
Not essential for this pattern. You will use measurements instead of gauge, allowing you to use any yarn weight you wish!
SPECIAL PATTERN NOTES
This pattern is worked in rows, starting at the bottom point of the Square. You can make the Square any width you like by adjusting the number of times you repeat Rows 4 and 5.
Beginning chain 1 and beginning chain 2 do not count as a stitch throughout.
Beginning chain 3 counts as a dc stitch throughout.
Any yarn weight can be substituted, just use the suggested hook size for that particular yarn.
Want to use more than one color? Check out the square below where I used a second color for the puff stitches! Please note that this method creates a lot of ends to weave in.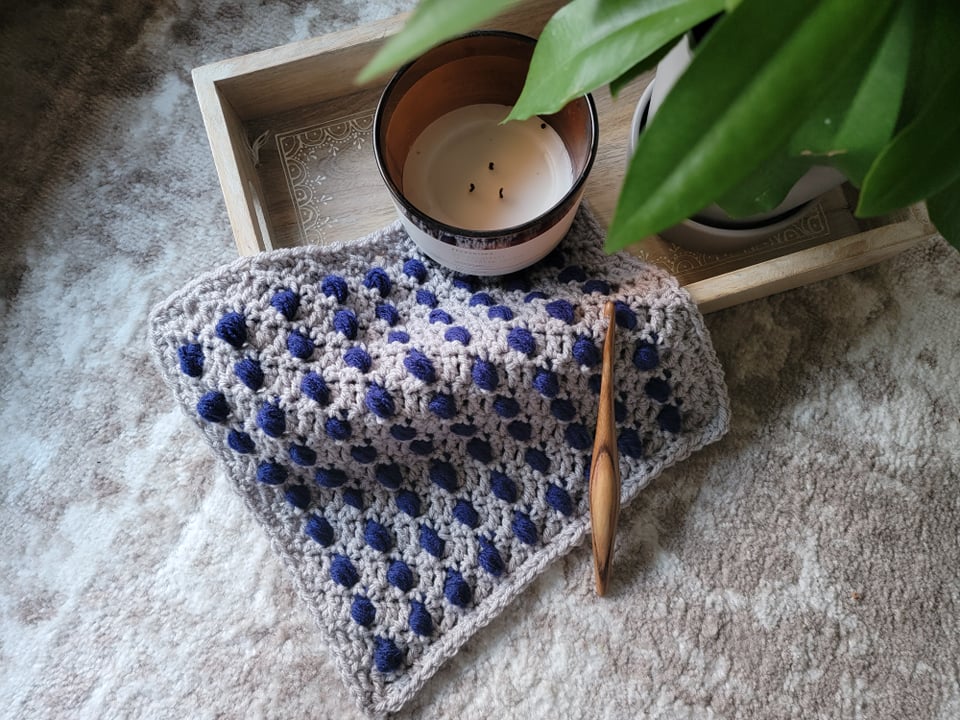 The square will look a little wonky, but will straighten out with some good blocking. If you haven't wet blocked before, you can use my WET BLOCKING TUTORIAL.
SPECIAL STITCHES
FPpuff – Puff Stitch around the front post: [Yarn over, insert hook from right to left around the front post of the next st, pull up a loop] three times, yarn over, pull through six loops on hook, yarn over, pull through last two loops.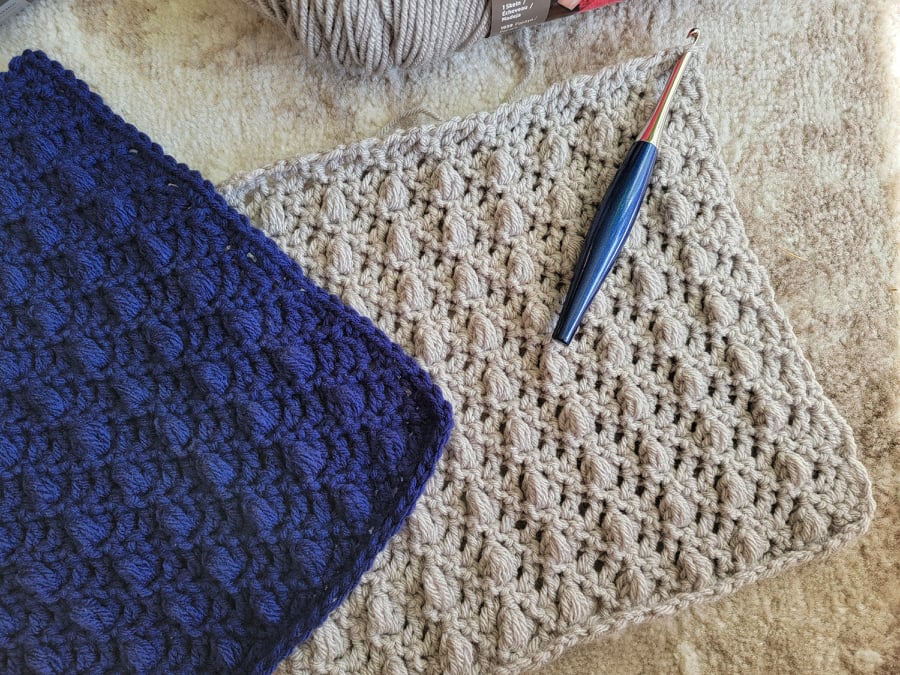 ELMVIEW AFGHAN SQUARE CROCHET PATTERN INSTRUCTIONS
1: Ch4 (counts as ch1, dc), 2dc in last ch from hook. (3dc)
2: Ch1, turn, 2sc in first, sc in next, 2sc in last. (5 sc)
3: Ch3 (counts as dc), turn, (this is the RS), dc in same as beg ch3, dc in next, FPpuff in next, dc in next, 2dc in last. (7 sts)
4: Ch1, turn, 2sc in first, sc to last st, 2sc in last. (9 sc)
5: Ch3 (counts as dc), turn, dc in same as beg ch3, dc in next, FPpuff in next, *dc in next 3, FPpuff in next, repeat from * across to last 2, dc in next, 2dc in last. (11 sts)
Repeat Rows 4 and 5 until you reach 11.5" wide (or the desired width for your Square) ending after a repeat of Row 5.
6. Ch1, turn, sc2tog, sc across to last 2 sts, sc2tog.
7. Ch2, turn, dc2tog, dc next 2 sts, FPpuff in next, *dc in next 3, FPpuff in next, repeat from * across to last 4 sts, dc in next 2, dc2tog.
Repeat Rows 6 and 7 until you have 5 sts left.
8: Ch2, turn, dc2tog, dc in next, dc2tog. (3)
9: Ch1, turn, sc3tog. (1)
10: Working around the RS of the square, ch1, sc evenly around the outside of the square, placing 3sc in each corner.
Fasten off and weave in all ends.
Block if desired.
Did you enjoy the Elmview Afghan Square crochet pattern?
Here are some more Sincerely Pam patterns!