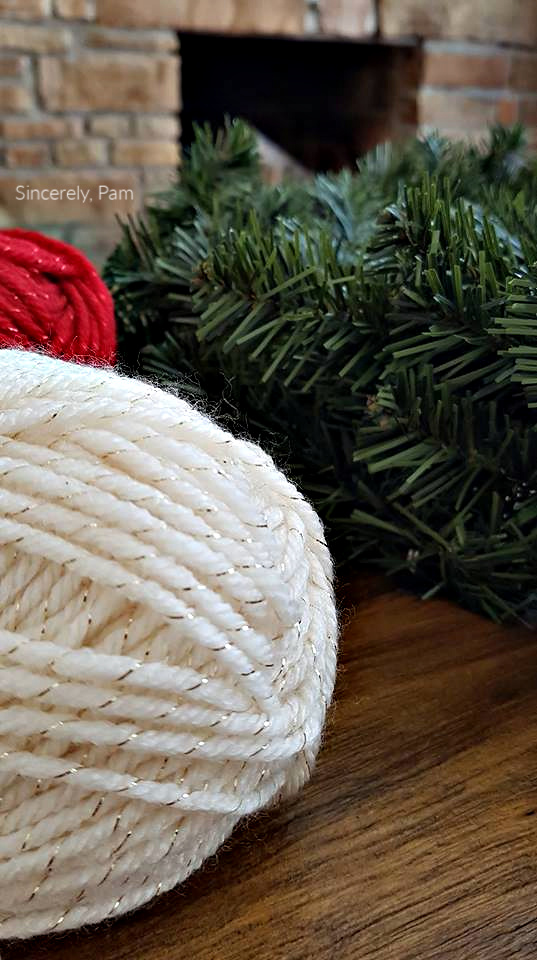 12 Weeks of Christmas Crochet Along NOEL Wreath pattern sponsored by Red Heart Yarns.
Did anyone else feel like it was Summer just last week? We are knee deep in snow (literally) and we had green grass just a few days ago. Winter is NOT messing around! As soon as those first few flakes started to fall Christmas fever hit us hard! The first decoration to go up in our home is always the wreath on our front door.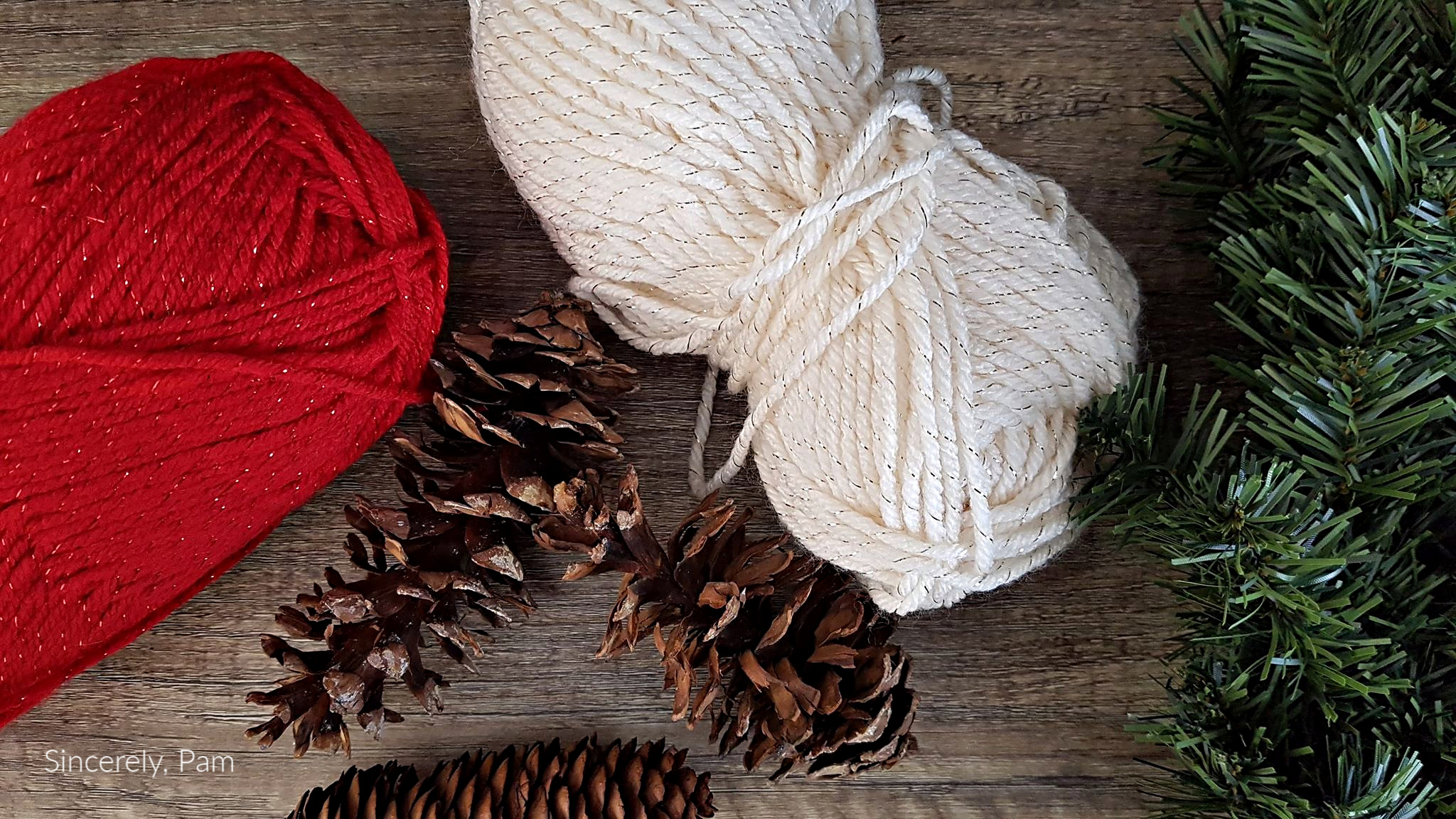 I am so excited to be a part of the annual 12 Weeks of Christmas CAL organized by Maria of Pattern Paradise, and sponsored by Red Heart Yarns!
For all 12 projects and additional event info, click HERE.
FIND THE FACEBOOK EVENT HERE ===> https://www.facebook.com/events/325810794559811/
(Must be a member of the Crochet Playgroup FB group to see the event)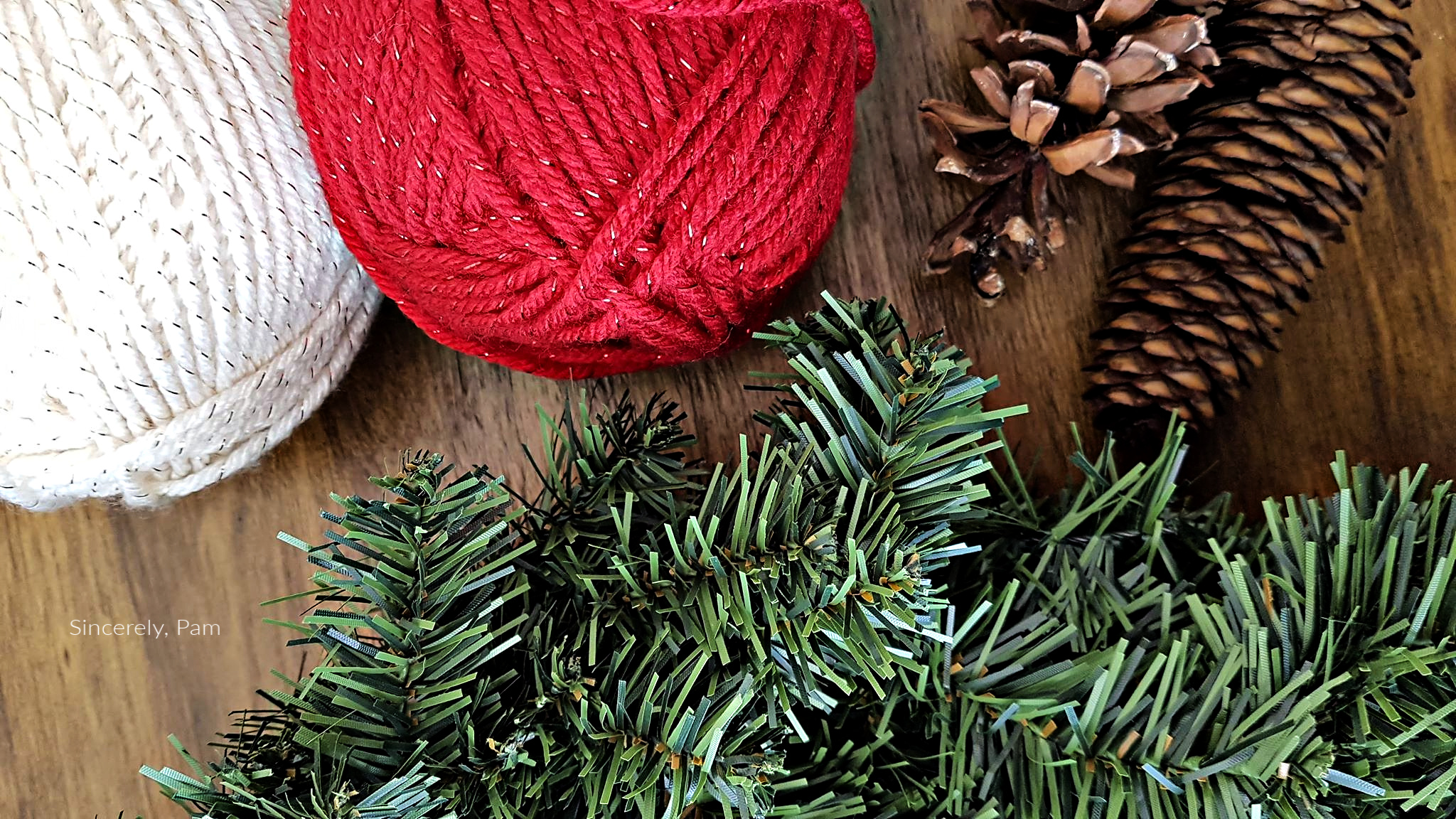 >>> CLICK HERE TO SIGN UP FOR THE SINCERELY, PAM WEEKLY NEWSLETTER! <<<
This post contains affiliate links to products we recommend. We may receive a commission for purchases made through these links.
Each year for the #12WeeksOfChristmasCAL we are asked to choose a yarn we would like to work with for our individual designs. Last year I chose Red Heart Super Saver to make my Christmas Baskets. You can see the design and free pattern HERE. This year I knew I wanted to design a type of bunting, or wreath accessory to spruce up a plain wreath I have had for a few years now. I wanted something festive and sparkly and knew that the colors in With Love Metallics would be perfect!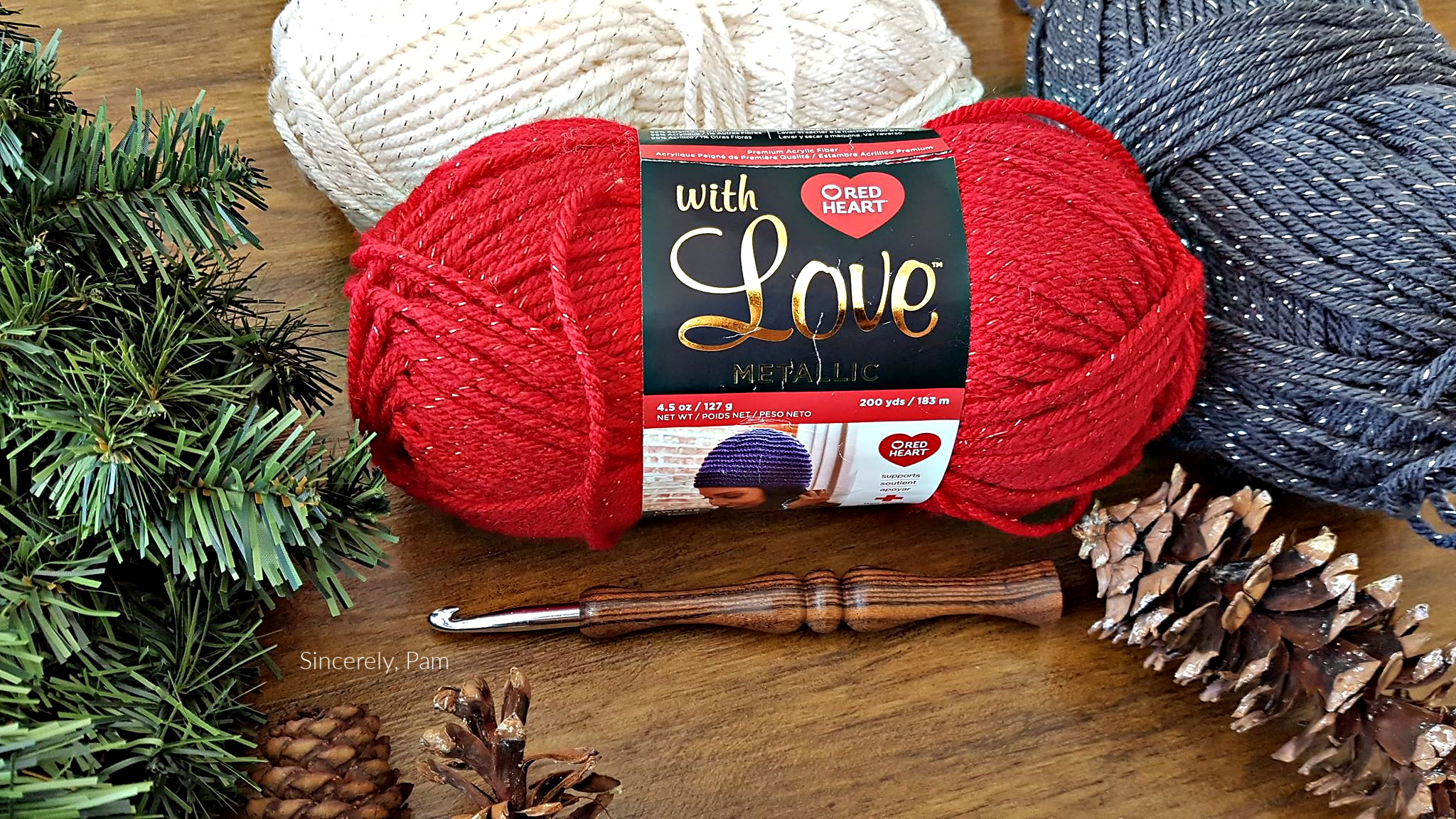 Materials
Yarn: 3 colors of  Worsted Weight #4 medium yarn. Sample made with Red Heart With Love Metallic in Aran, Black, and Red.
Hook: H (5 mm) for the Bunting and K (6.5 mm) for the Bow. I used my Leither Hooks. Use coupon code SINCERELYPAM to save 10% off your purchase!
Wreath (sample shown on 23" diameter wreath)
Pattern Key
ch: chain

st(s): stitch(es)

sk: skip

sp: space

slst: slip stich

sc: single crochet

hdc: half double crochet
Gauge
Although gauge is NOT essential to this project,
K hook: 10 hdc = 4"
H hook: 12 sc = 4"
Special Pattern Notes
These wreath accessories are worked in 3 parts. Part 1 will be the bunting. Part 2 are the letter appliqués. Part 3 will be the scarf that is tied in a bow.
When choosing colors for your wreath accessories, using the photo below as a guide, Color A will be Aran, Color B will be Black, Color C will be Red.
Ch 1 does not count as a stitch throughout.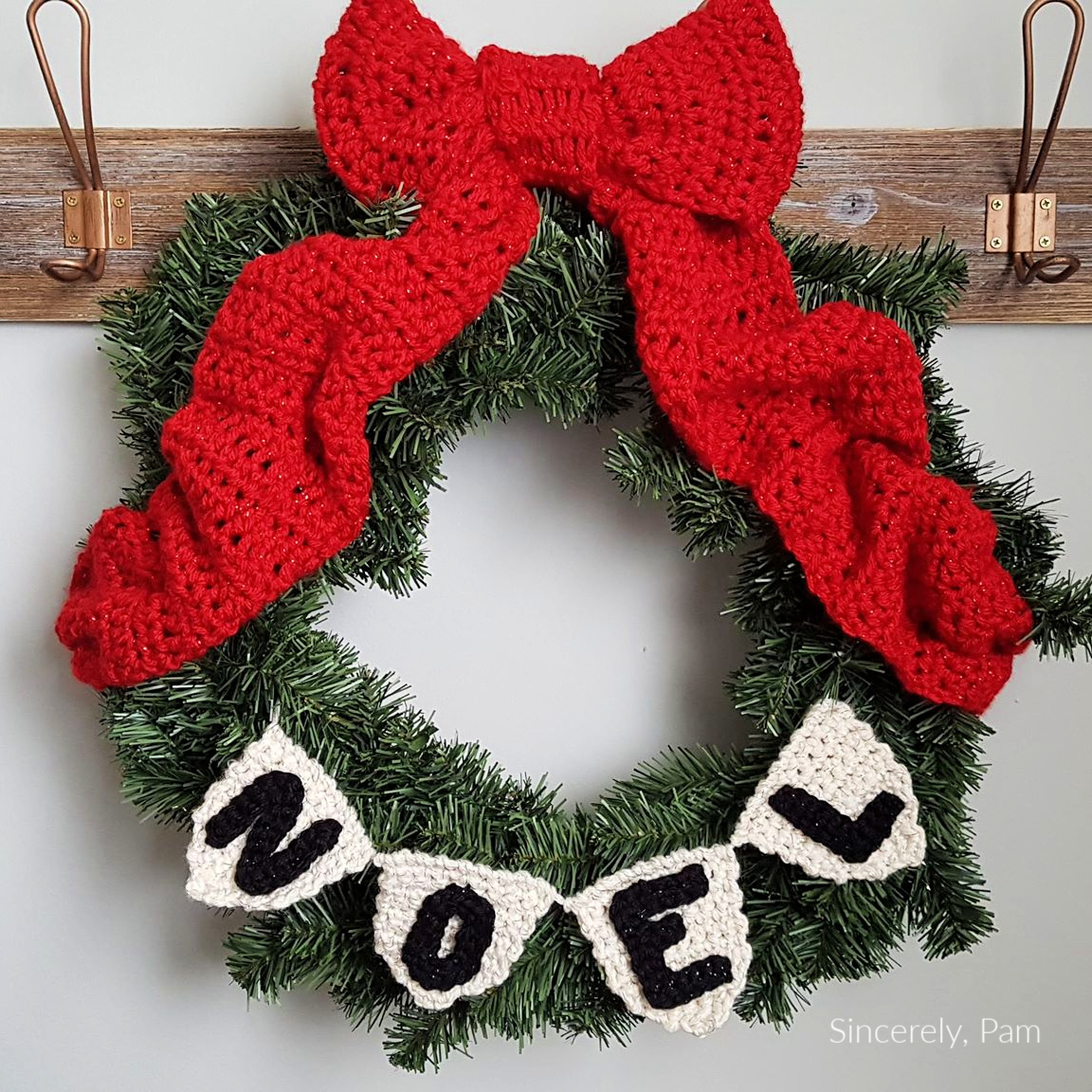 Pattern Instructions
BUNTING (approx 3"x3.5" each)
With Color A and H hook:
1: Ch10, sc in 2nd and across. (9)
2-8: Ch1, turn, sc across. (9)
9: Ch1, turn, sk 1 st, sc to last 2, sc2tog. (7)
10-11: Repeat 9.
12: Ch1, sc3tog. (1)
Fasten off, weave in ends.
Repeat 1-12 three more times.
APPLIQUES
With Color B and H hook:
N
1: Ch21, sc in 2nd ch from hook and next 5, 3sc, sc next 5, sc3tog, sc next 6. (21)
Fasten off and weave in ends.
O
1: Ch12, join.
2: Ch1, 2sc in first 3, sc in next 3, 2sc in next 3, sc in last 3, join.
Fasten off and weave in ends.
E
1: Ch20, sc in first ch from hook and next 3, sc3tog, sc next 2, ch3, sc in 2nd ch from hook and next, sc in next 3 of foundation chain, sc3tog, sc in last 4. (16)
Fasten off and weave in ends.
L
1: Ch14, sc in first ch from hook and next 5, sc3tog, sc last 4. (11)
Fasten off and weave in ends.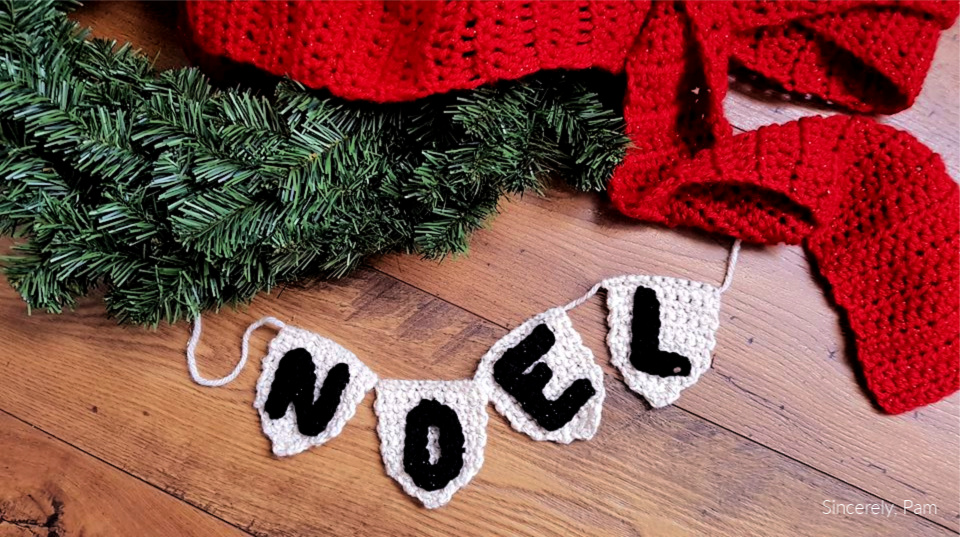 BOW (approx 5"x82")
With Color C and K hook:
1: Ch14, hdc in 2nd chain and across. (13)
2: Ch1, turn, hdc across. (13)
Repeat 2 until Bow is 82" long, or desired length. This used up the entire skein of Red Heart With Love Metallics.
Fasten off and weave in ends. Tie on to wreath like a bow as pictured on Page 1.
FINISHING
Using a tapestry needle and scrap Color B yarn, sew the Appliqués on to the Bunting.
With a long piece of Color A (approx 30") and a tapestry needle, thread through the top of each Bunting to hang onto the wreath.
Block as needed to keep corners crisp and bunting smooth. Check out my easy tutorial HERE.
Attach each piece to a wreath, or other Christmas decor of your choice! Use the photo below as inspiration.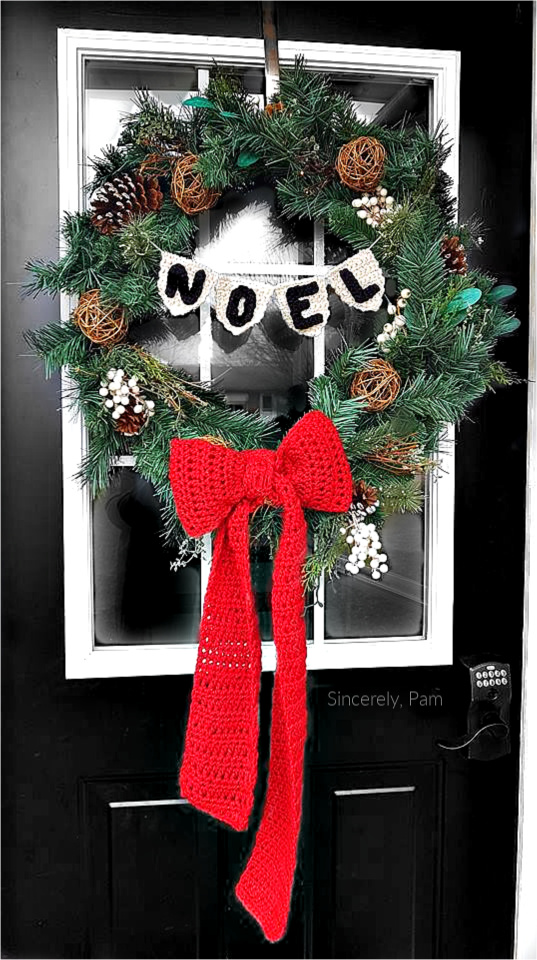 For a complete list of patterns in the 12 Weeks Of Christmas, additional info, and to enter to win the Grand Prize, please check out THIS POST by Pattern Paradise!