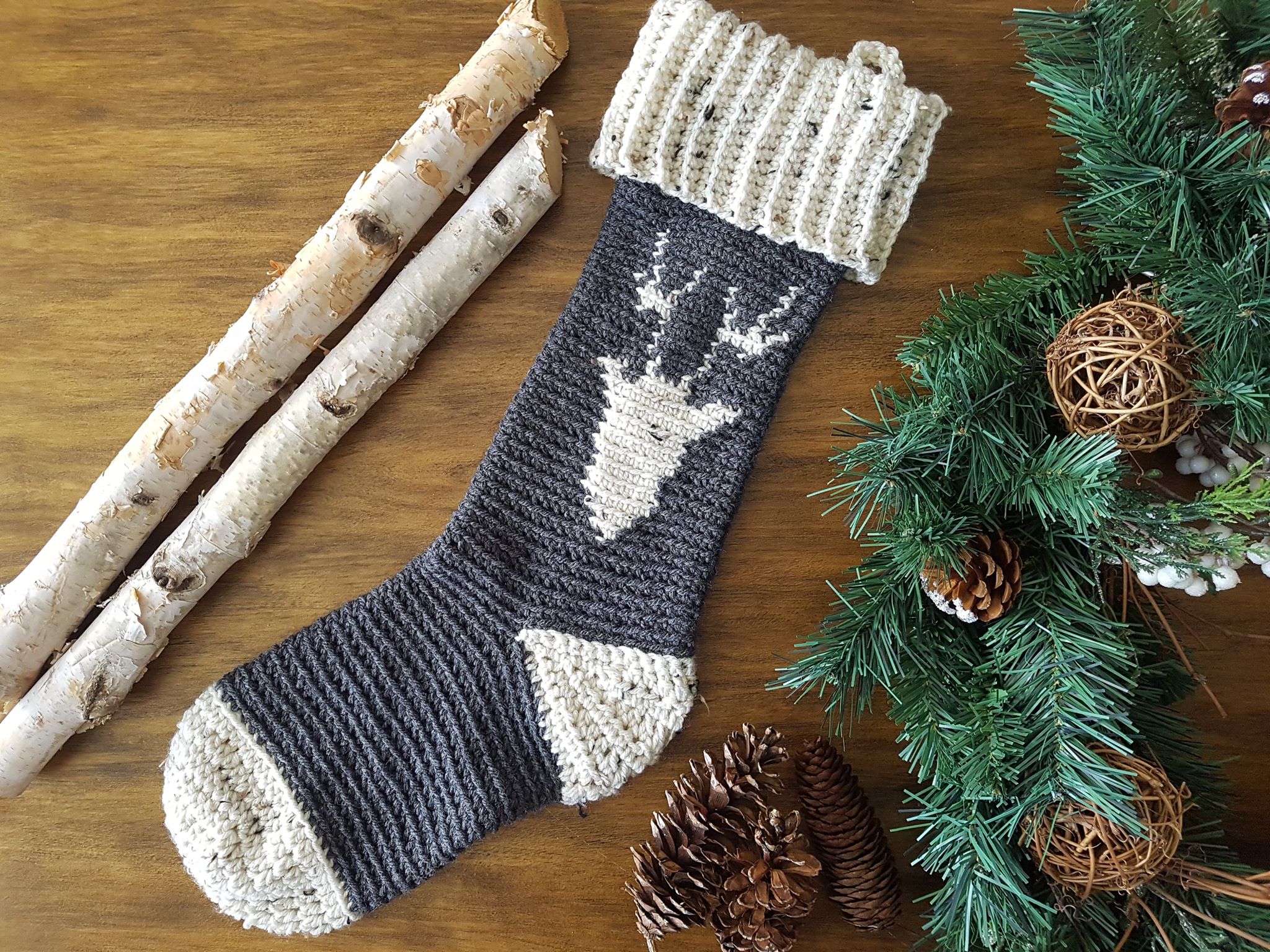 We are in the final stretch of both the month of July and the Reindeer Stocking CAL (crochet along).
***This post may contain affiliate links.***
Have you been following along in my CAL group on Facebook as well? Or just here on the blog?
I decided to make another Reindeer Stocking to help show progress photos in the blog posts, and I couldn't be happier with the color choice! The first one was made in Lion Brand Wool-Ease and the second was made with Bernat Premium and Premium Tweeds. Which one do you like better?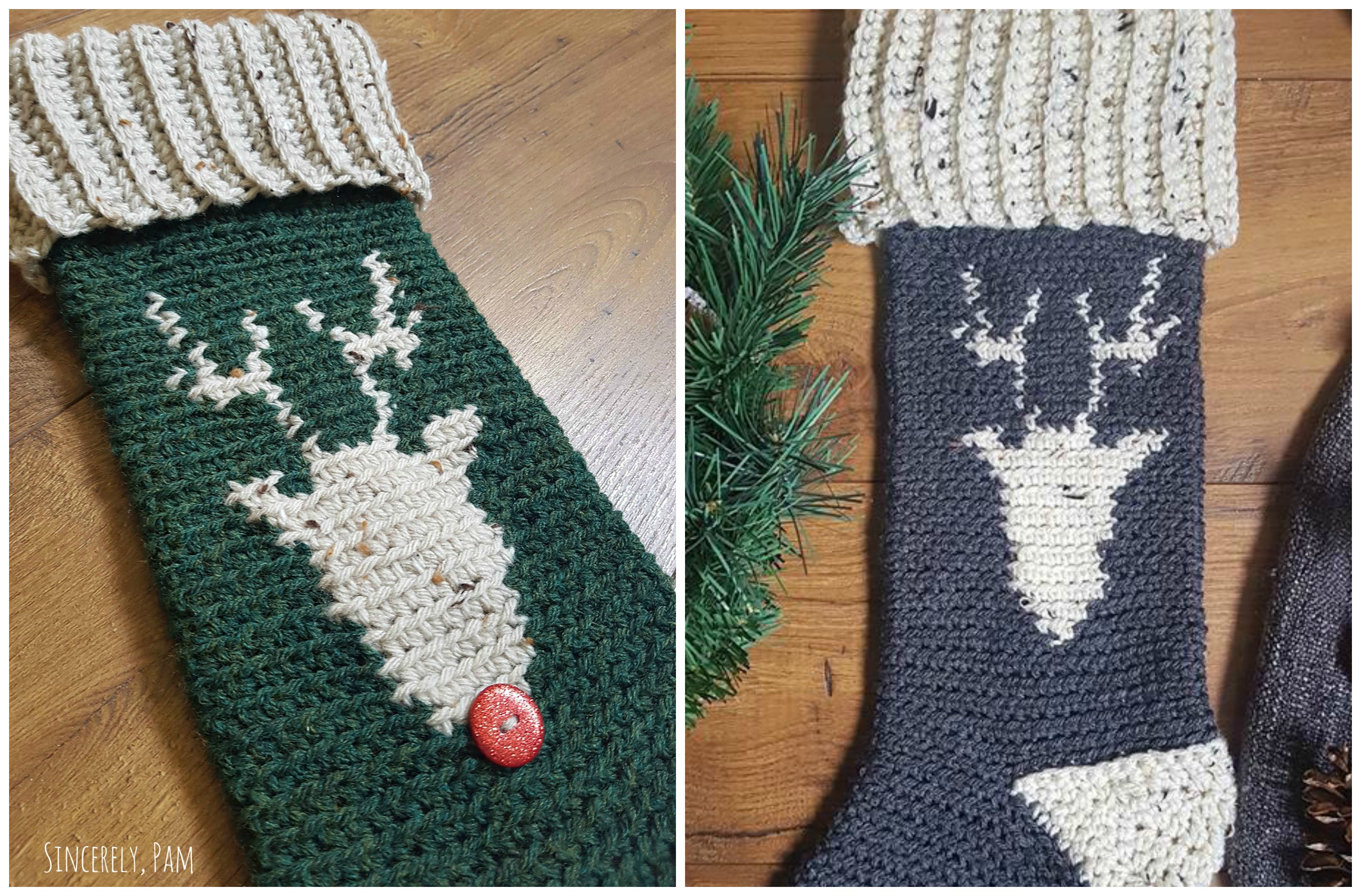 I'm still trying to decide if I am going to add a sparkly button nose to the grey one. I think I might give the green one to my son, and the grey (without a button) to my husband. The two of them are best buddies and I know my son would get a kick out of matching Christmas Stockings this year!
So! Are you ready to work on the cuff? Here we go!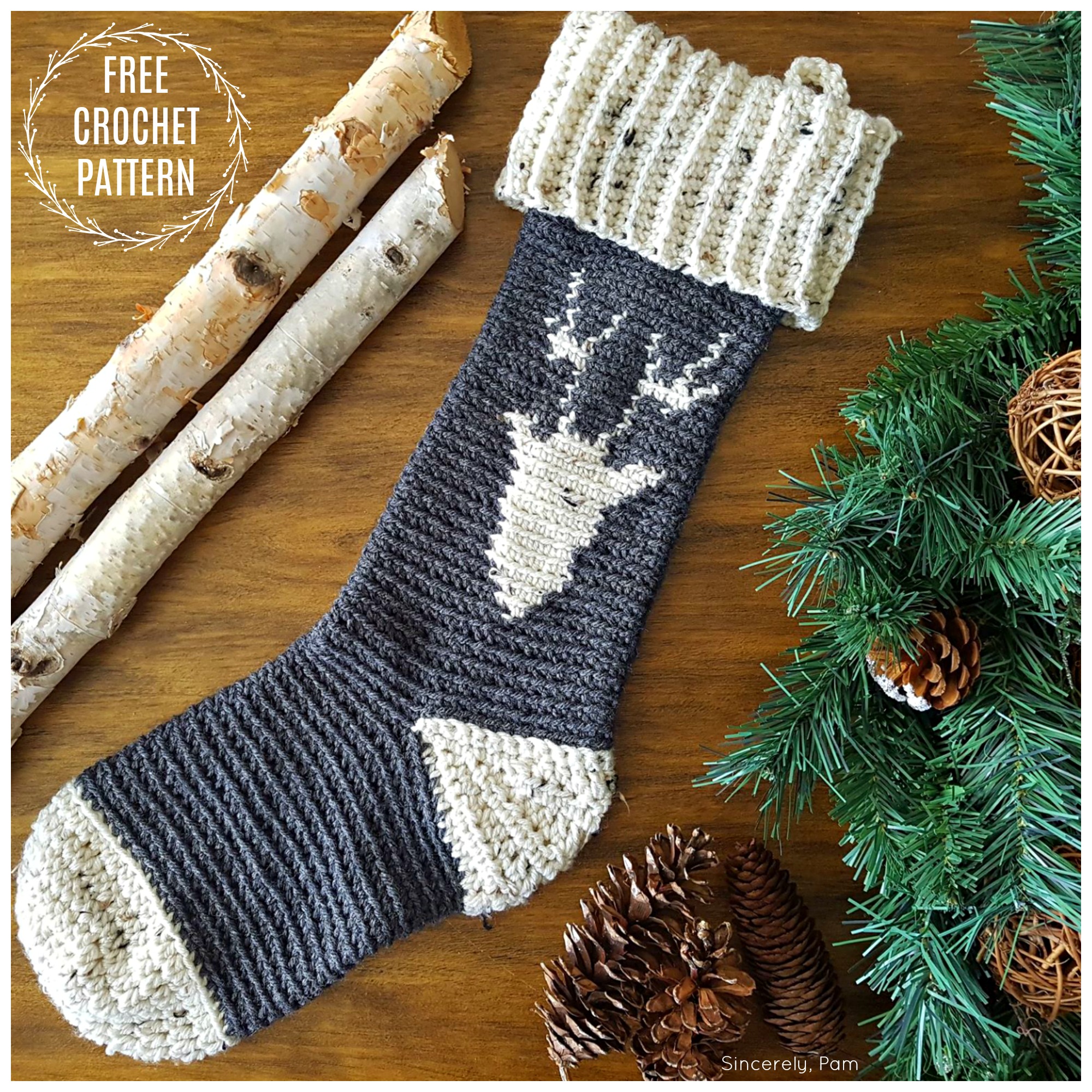 >>> Add it to your Ravelry Favorites or Queue HERE <<<
>>> Pin It for later! <<<
The Reindeer Stocking pattern was released on the blog in 4 parts.
Week 1 – Materials and Gauge
Week 2 – Toe and Heel
Week 3 – Reindeer
Week 4 – Cuff and Finishing (released below!)
If you want to own the Reindeer Stocking pattern in full, you can purchase an ad-free copy of it HERE.
Ok! Ready to start Part 4?
CUFF
69: (B), ch21, sc in 2nd and across, slst to next sc. (20 sc) PHOTOS 1 and 2 below.
70: Slst in next sc, turn, working in the BLO, sk over 2 slst, sc across each sc. (20 sc) PHOTOS 3 and 4 below.
71: Ch1, turn, working in the BLO, sc across, slst to next sc. (20 sc)
Repeat 70 and 71 four more times. The next Row will add the loop to hang the Stocking. Make sure it lines up with the side of the Stocking.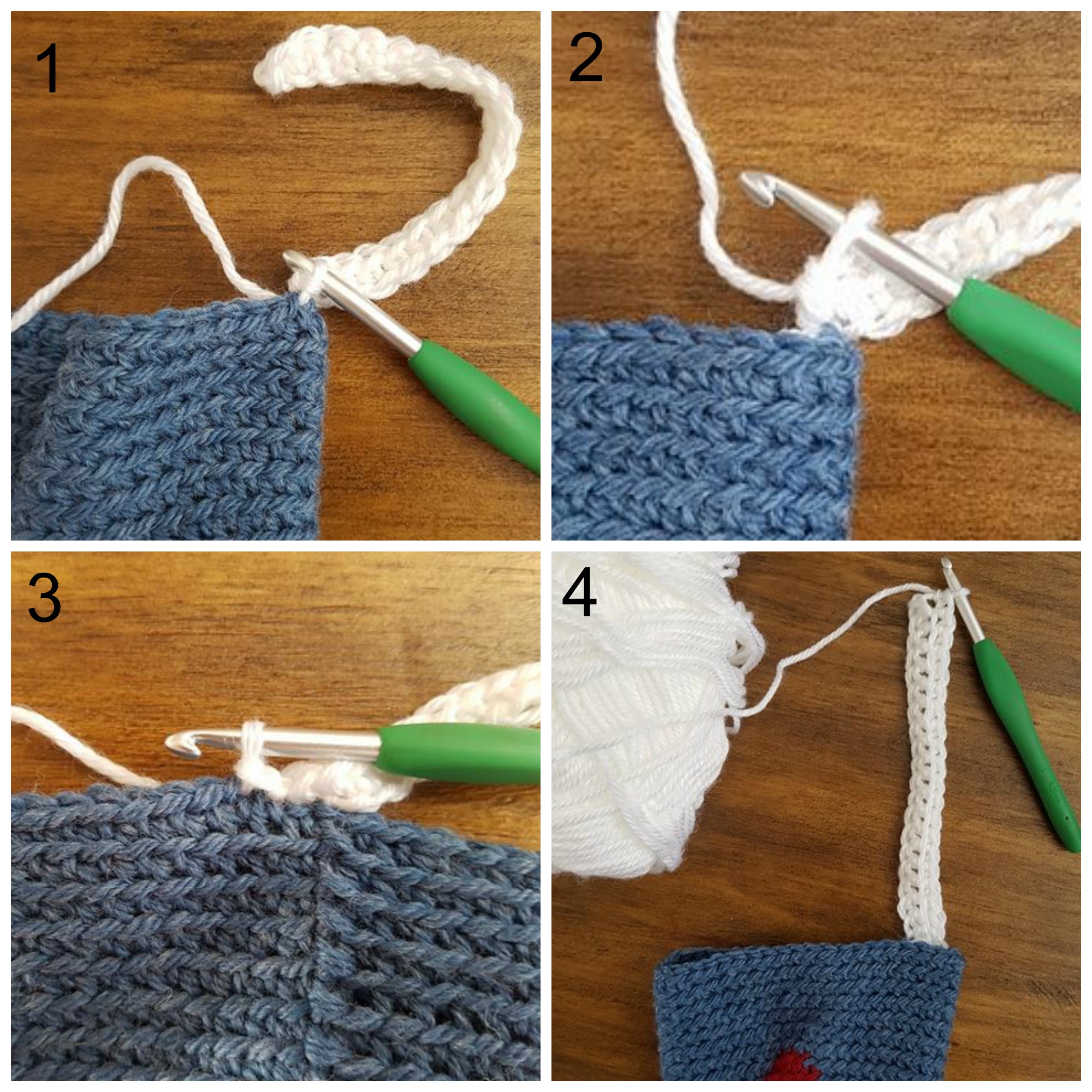 72: Ch21, slst in 2nd and across (PHOTO 1 below), put hook in same stitch as ch21, grab the first slst in Row 72 (PHOTO 2), yarn over, pull through slst (PHOTO 3), pull through all loops on hook (PHOTO 4). Loop to hang Stocking has been made. Tuck this into the Stocking to ensure it stays on the inside of the Stocking when working the next Row.
Working back into the Cuff, repeat 70 and 71 until you have worked all around the top of the Stocking.
73: Lining up the last Row worked to Row 69, sc in the BLO of both Rows to join the Cuff. Fasten off and weave in all ends. Fold over Cuff.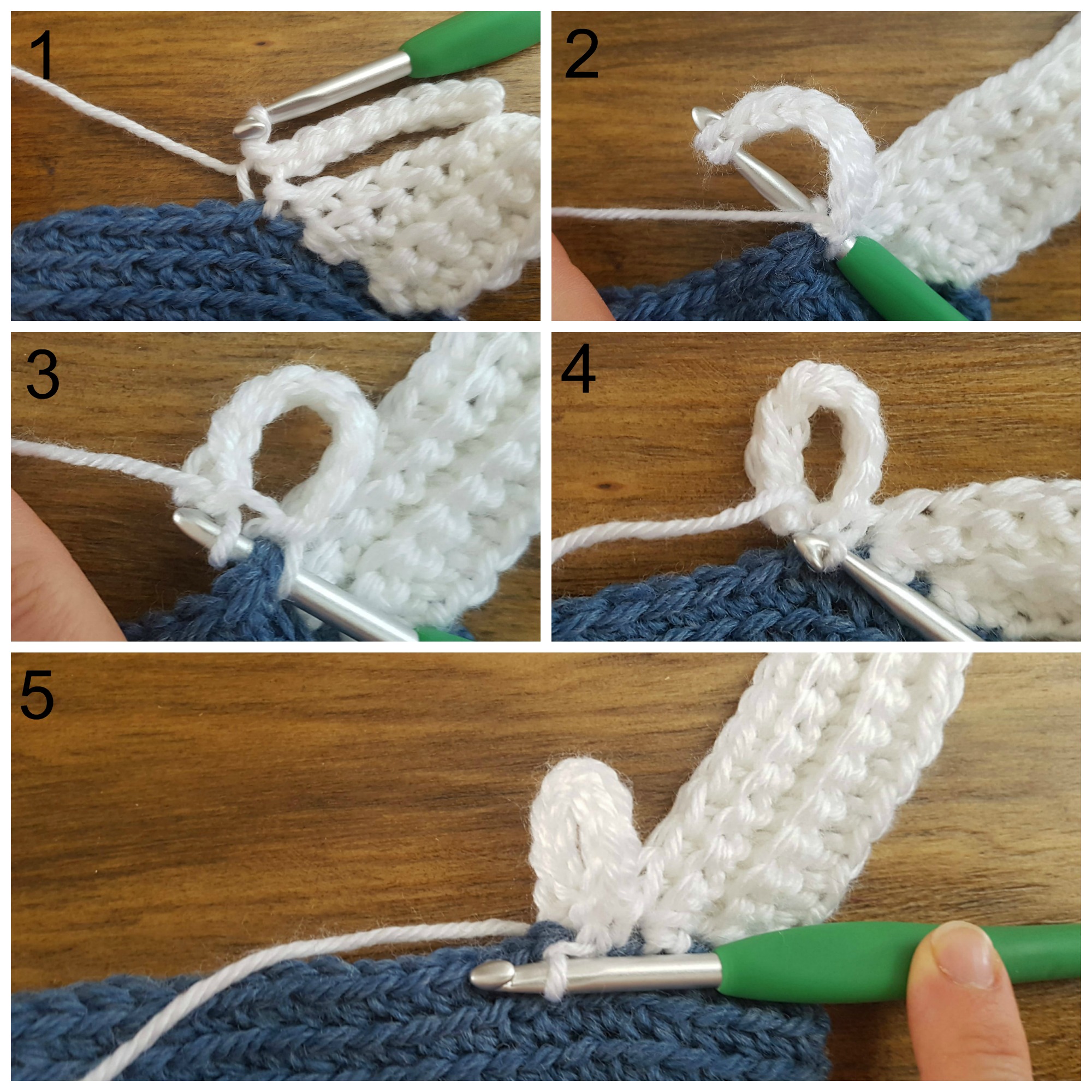 Now you can either add on a button nose like I did on the green stocking, or leave it as is! I hope you love your Reindeer Stocking as much as I do ❤.
Check out the other tapestry crochet patterns I have! Clockwise from top right: Gnome Stocking, Reindeer Toque, Gnome Beanie, Lake Life Pillow, Christmas Tree Basket.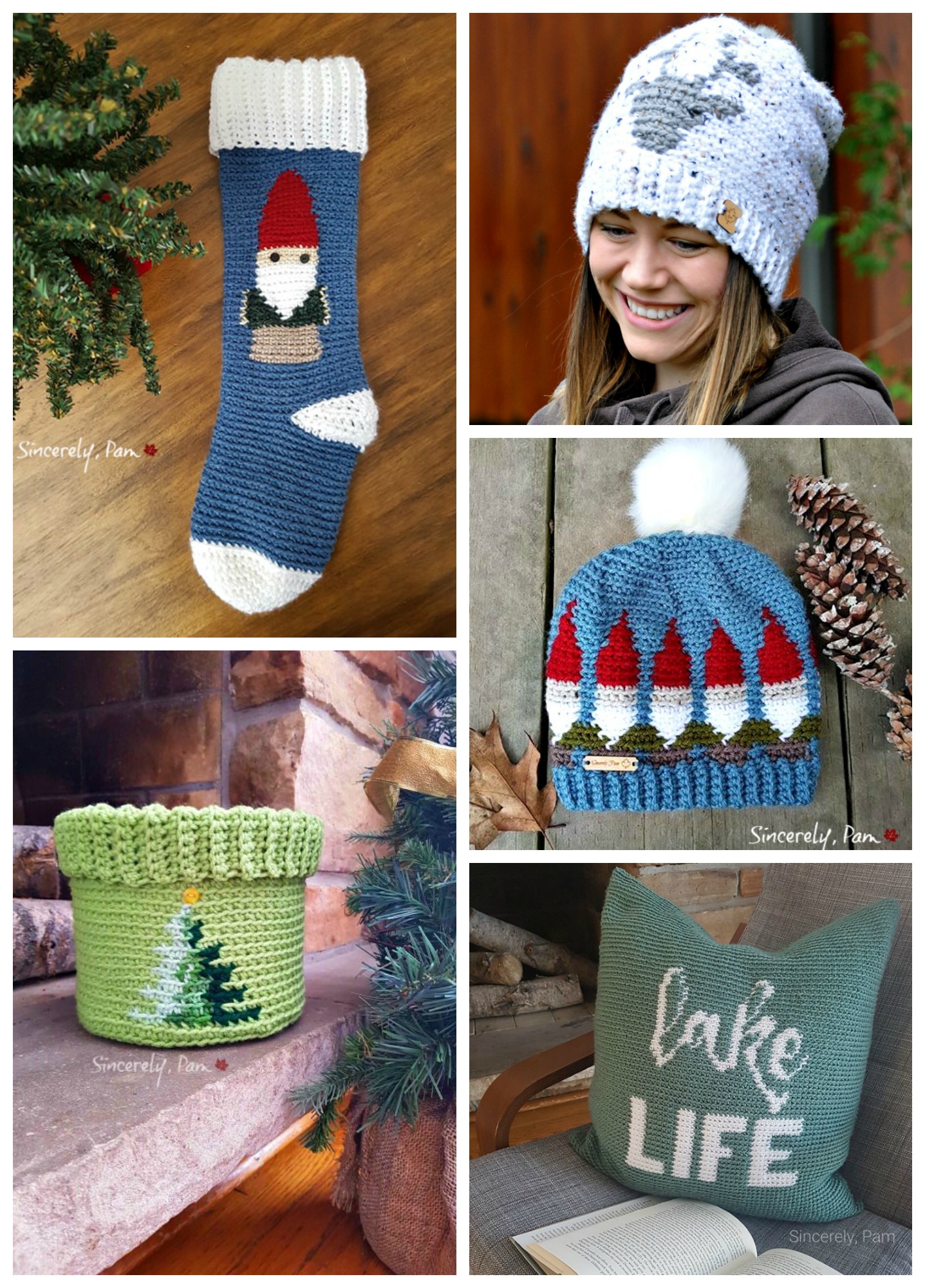 One more thing! Don't forget to add your project to Ravelry!!
See you next time!