The Winter 2020 digital issue of Crochet Foundry hits eNewstands today and that means my Bredele Vest crochet pattern can now have its full reveal!
Each issue of the magazine brings you seven size-inclusive designs using the coziest yarns provided by WeCrochet!
Read on to learn about the Bredele Vest crochet pattern than I designed using the squishiest Swish Worsted yarn.
This post contains affiliate links to products we recommend. We may receive a commission for purchases made through these links.
I won't go into too much detail about the actual magazine since we have an awesomely gorgeous website for you to check out, but I did want to give you the highlights.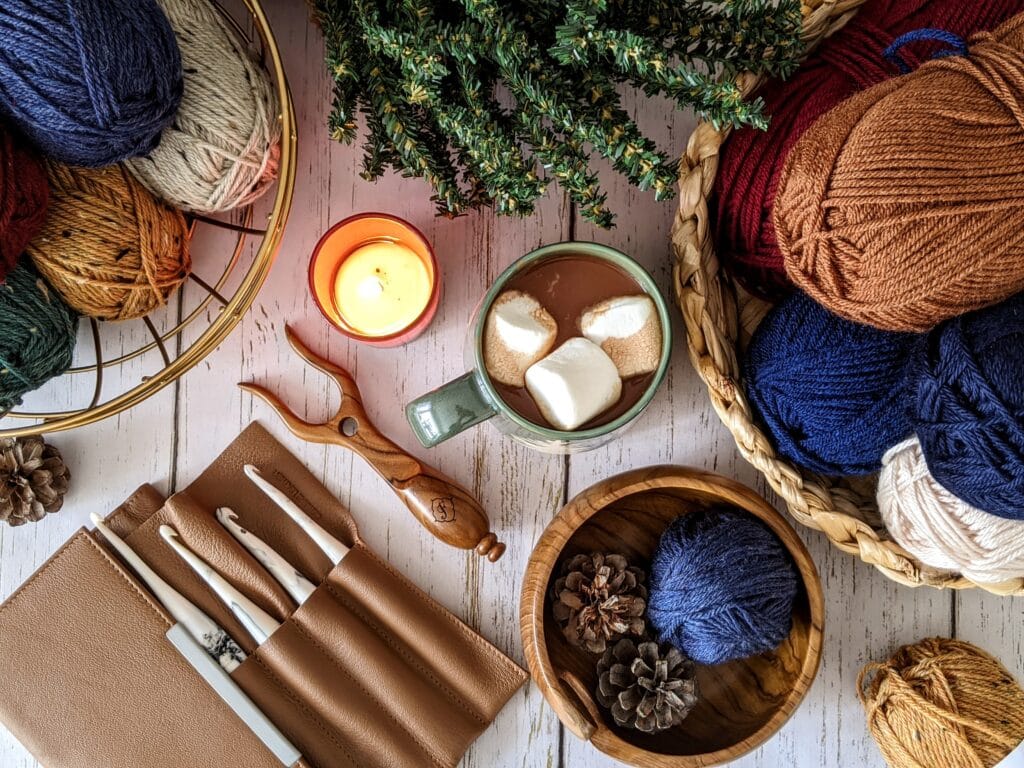 The Yarn
We are beyond thrilled to once again be partnering with WeCrochet. We used their yarn for the Summer and Fall issues, and they continue to be a huge supporter of our endeavor.
For the Winter 2020 digital issue, we decided to use a very warm and inspiring palette of navy, forest green, cranberry, tobacco, and cream. Best part? The entire issue follows a cookie theme!
Wool of the Andes Tweed, Mighty Stitch, Swish Worsted, and Brava were all used in creating these seven size-inclusive designs.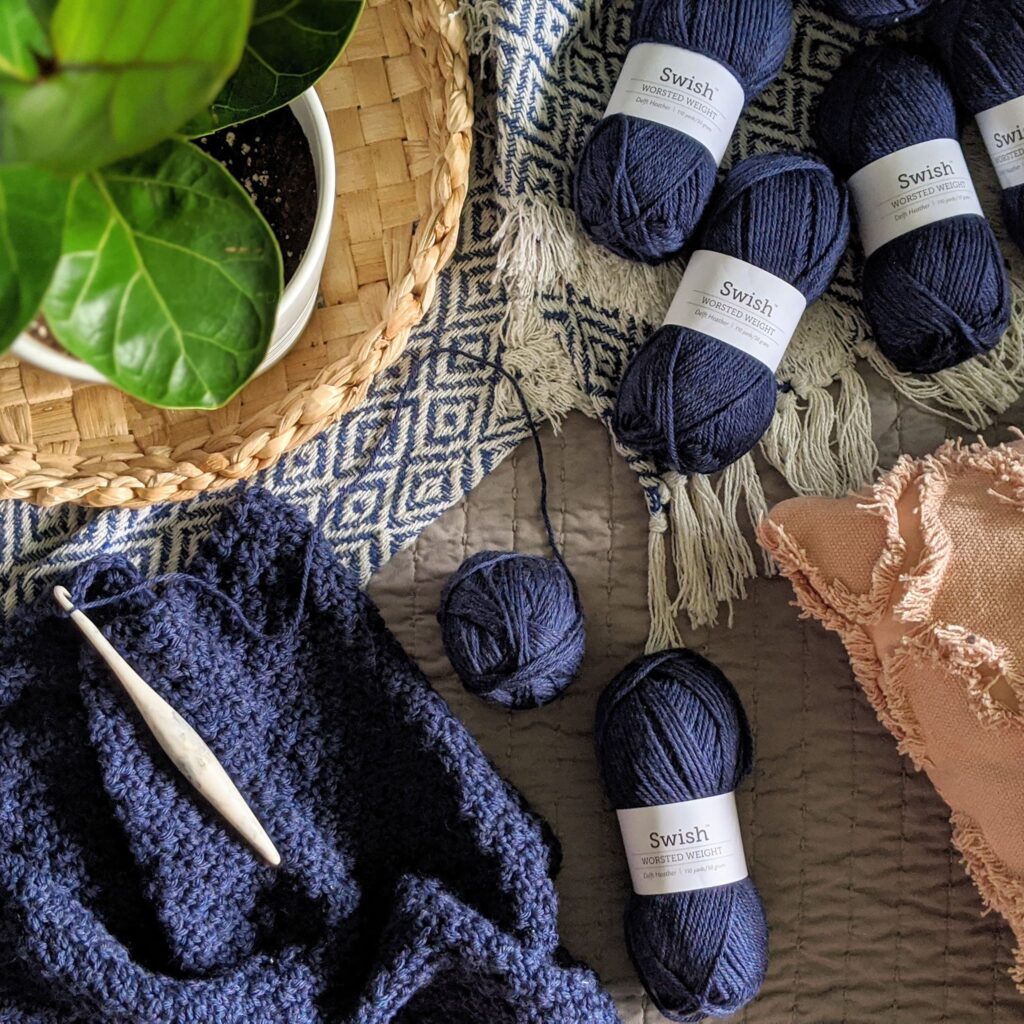 Swish Worsted Yarn – You'll want to Squish the Swish!
For the Bredele Vest crochet pattern, I decided to try Swish Worsted from WeCrochet.
This yarn is a 100% Fine Superwash Merino Wool. This worsted yarn comes in 110 yard/ 50 g skeins and is available in 47 different colors! I'm thinking my next order might include some Haze Heather, or maybe Nutmeg Heather!
Swish is made using a high grade Merino wool (20.5 microns), meaning this machine-washable yarn is super soft. Like, next to skin soft. The best part? Your finished piece can be machine washed and will come out even softer than before!
Swish is also available in DK and Bulky weights.
WeCrochet Notes: For best machine wash results, turn the garment inside out and wash in cold water on a delicate cycle. You may want to wash projects made from darker colors by themselves for the first few washes in case the yarn bleeds a bit.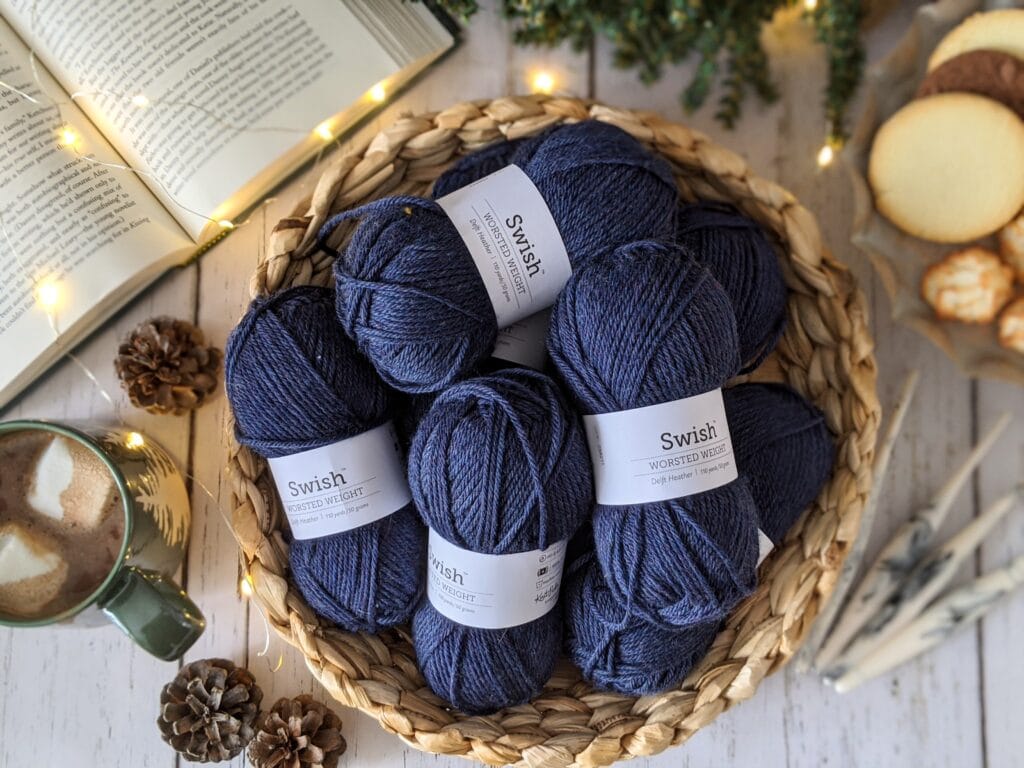 The Hook
Another company we have partnered with are our friends at Furls Crochet. We used the Streamline Swirl hooks when creating our designs. It's no secret that I am in love with Furls hooks, and my carpal tunnel is much less aggravated too!
Also, how can we have a cookie themed issue and not use the Cookie N Cream Swirls?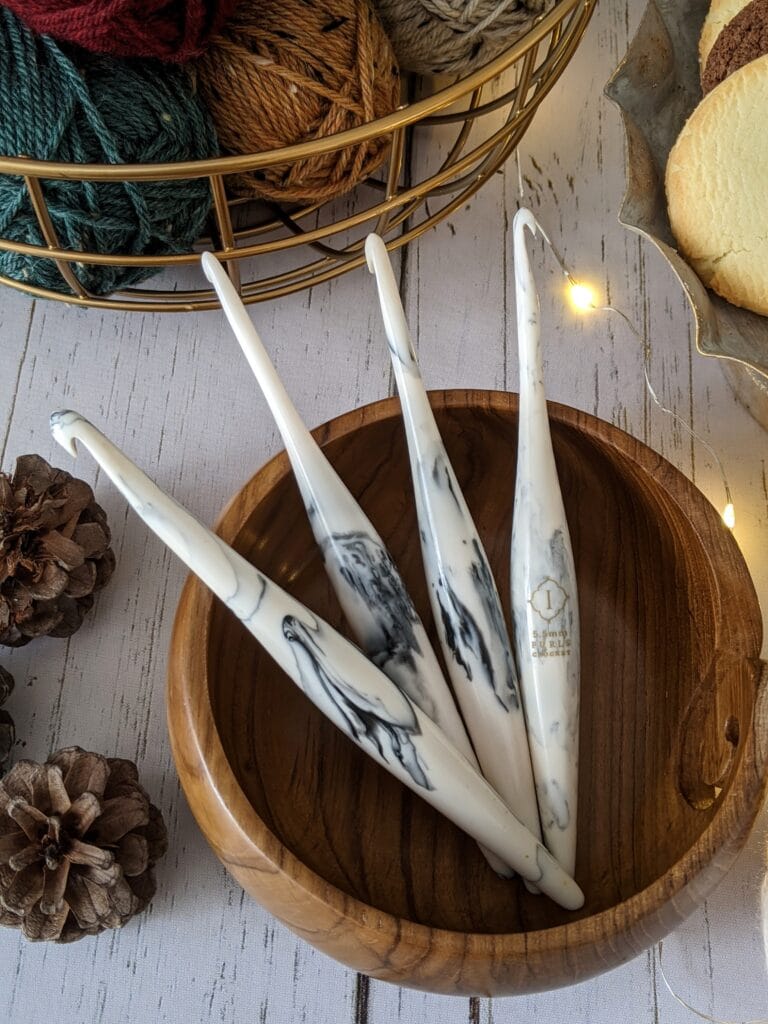 The Designs
This is what you've been waiting for, right? For the Winter 2020 digital issue, we have 7 stunning designs for you. The Gingersnap Pullover by Briana Kepner, the Coconut Macaroon Sweater Dress by Michelle Moore, the Pizzelle Cardigan by Lorene Eppolite, The Bredele Vest by Pamela Stark, the Cranberry Biscotti Turtleneck by Michelle Moore, the Striped Shortbread Duster by Briana Kepner, and the Amaretti Boyfriend Cardigan by Lorene Eppolite.

My Design – Bredele Vest Crochet Pattern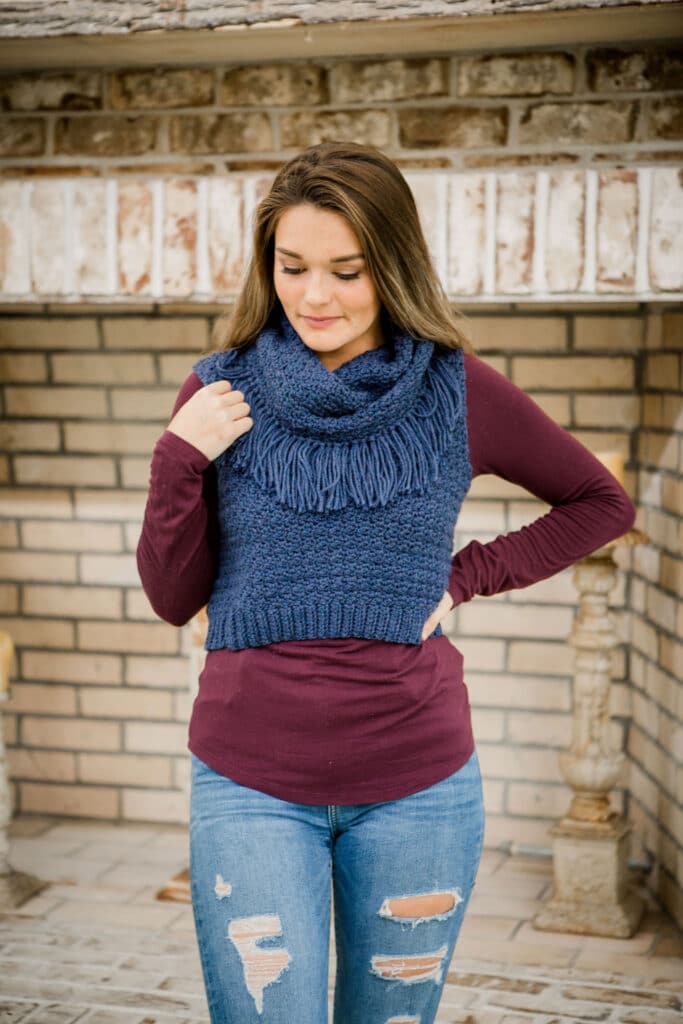 I designed the Bredele Vest with Swish Worsted yarn in the color Delft Heather.
The Bredele Cropped Vest is a fun and unexpected garment to add to your winter wardrobe. This piece was designed to be slightly cropped with a cowl neck, but can easily be adjusted to your style preference. The playful fringe added on to the cowl really sets this design apart.
A few things to consider…. I designed this vest with a cowl neck and fringe. Not a fan of fringe? No worries! It's just as cute without! Just check out the photo below! Cowls not your thing? Copy the same ribbed band found at the bottom of the vest and use it around the neckline! For more customization tips, be sure to check out our handy Custom Fit Guide for the Winter 2020 issue! It includes custom tips for all 7 designs!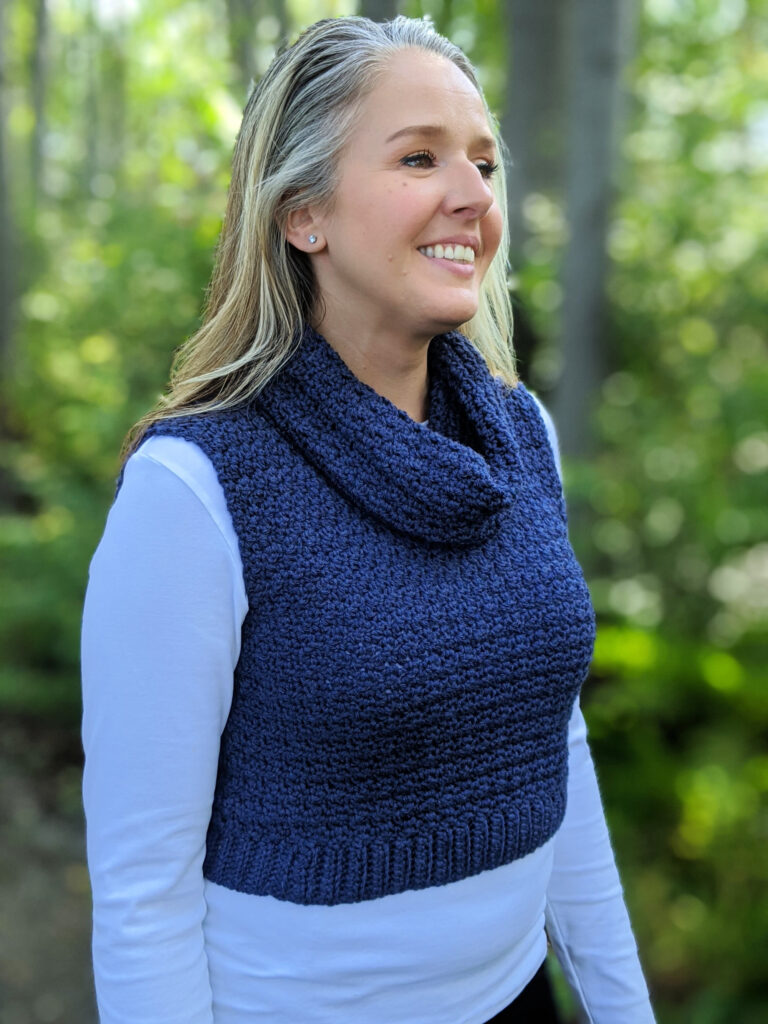 Although this vest was made with super soft merino (which is considerably soft against the skin), you might want an animal-free fibre. In that case, try a cotton yarn for breathability and comfort, or an acrylic for extra warmth and durability. Try a bold color to make a fun statement, or keep it neutral for versatility. I also think this would look cute done in chunky stripes!
For a full description of each Crochet Foundry Design in the Winter 2020 digital issue, along with the details to purchase, you can check out the Crochet Foundry Winter 2020 Blog Post.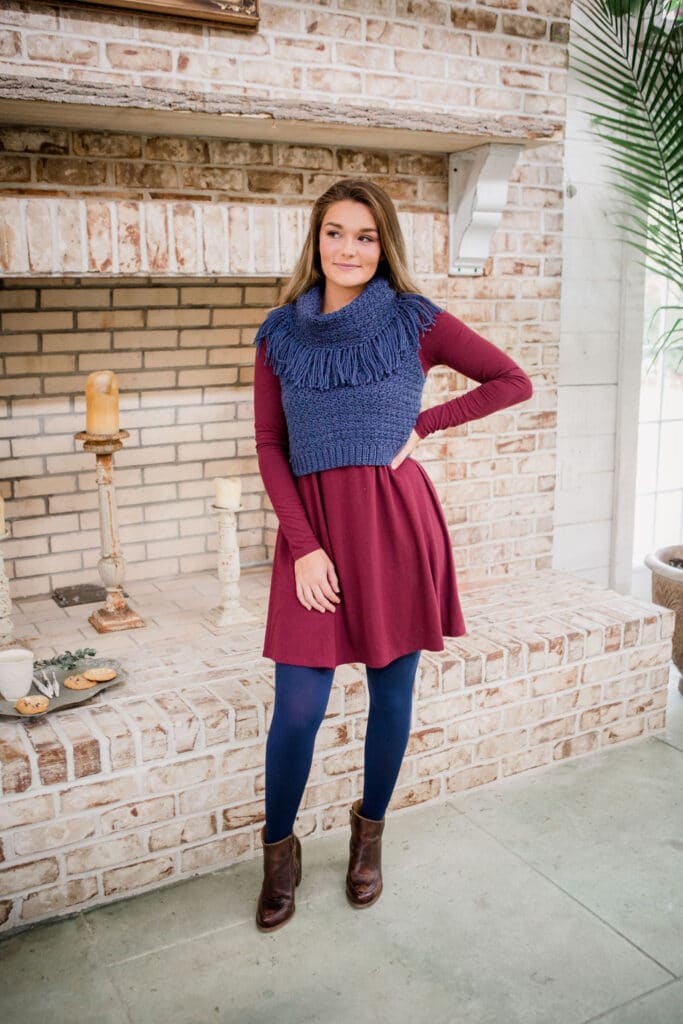 Win A Copy!
Interested in winning a digital copy of the magazine?
You can win a copy of the Winter 2020 Digital Issue of Crochet Foundry Magazine! Winner will be randomly selected December 22nd, 2020.
Each designer is giving away one digital copy. Make sure you check everyone's social media for how to enter theirs!
a Rafflecopter giveaway