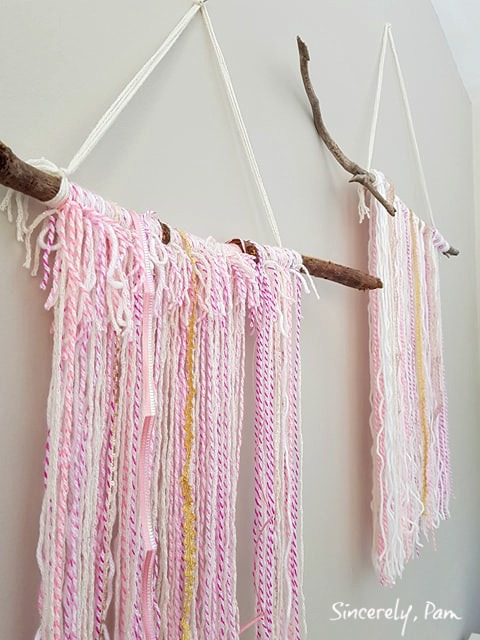 For anyone who knows me in "real life", they know that I love to decorate and renovate my home just about as much as I love to crochet. Possibly even slightly more *gasp*!! When I was a teenager, all my friends were buying Seventeen Magazine. I was buying home decor mags. I have always loved rearranging the furniture in my home, browsing Pinterest for ideas, and I have never left a hardware store without several new paint chips. So, today I thought that I would merge my two passions right here on my blog. I just finished updating my 2 year old daughter's bedroom and thought that I would share some pictures to show you what I have done, and how I incorporated yarn into the final design.
This room got a major update. We replaced all the baseboards and door casings. Painted the doors and ceiling with a fresh coat of white. We painted the walls my favorite color from Sherwin-Williams called Repose Grey. I also updated her lighting with a new chandelier purchased from Canadian Tire. Everything else was already here, including the Victoria Afghan I made for her a couple of years ago. All that was missing was a little something over her dresser.
For that, I grabbed some partial skeins I had in my yarn stash. I used Loops and Threads Kai in color Happy, along with a skein of unlabelled white, and some sparkly leftover Downton Abbey from Premier Yarns in Lily Ice. I grabbed a couple sticks that I had in a vase in my office and went to work. I used the same technique to add the yarn that you can read about in my blog post HERE. I also added some strips of pink and gold ribbon that I had laying around. They aren't laying flat because of the way they are folded, but I kind of like that about them! It adds a little dimension to it and shows them off a little more. It would also be fun to add buttons, charms, or crocheted flowers.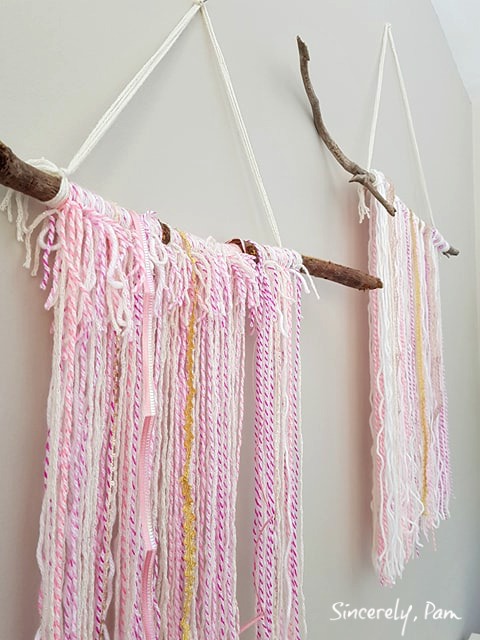 One room down, 8 more to go! I hope to be able to incorporate yarn into as many rooms as I can. I love the warmth and texture it adds. Do you use yarn in any of your rooms? Do you have plans to add some? Would you like to see more of my home renovations as I complete them? Tell me about it in the comments.
Until next time,