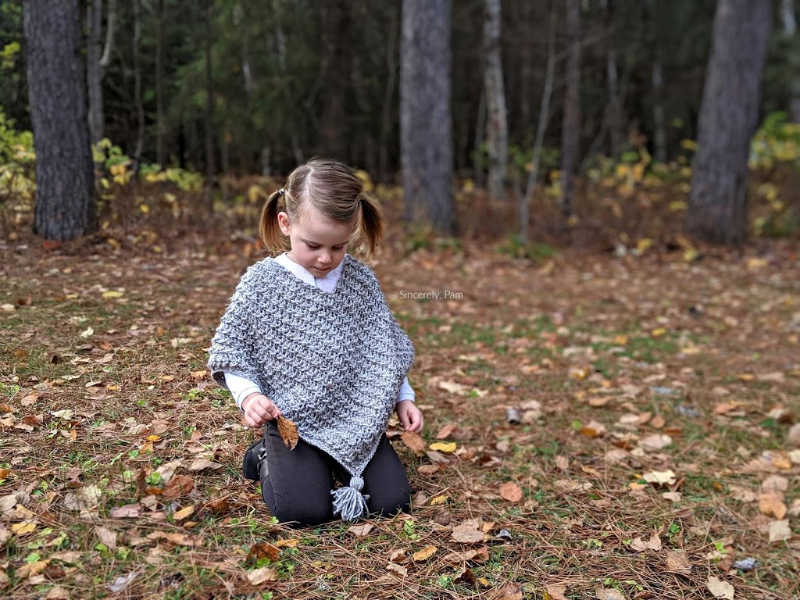 This time of year is tough in Northern Ontario. The mornings are below freezing, but the afternoons warm up nicely, although there is still a definite chill to the wind. This is why my daughter loves ponchos. Since she is only 4, buttons and zippers aren't the easiest for her to do but you have to be kidding me if you think she will let someone help her get dressed! Haha! Ponchos, like the Ragged Falls Poncho, are great for this. She can slip it easily over her head, they are cinch to layer over clothing, and she loves the way they fan out when she twirls. Who can argue with that?!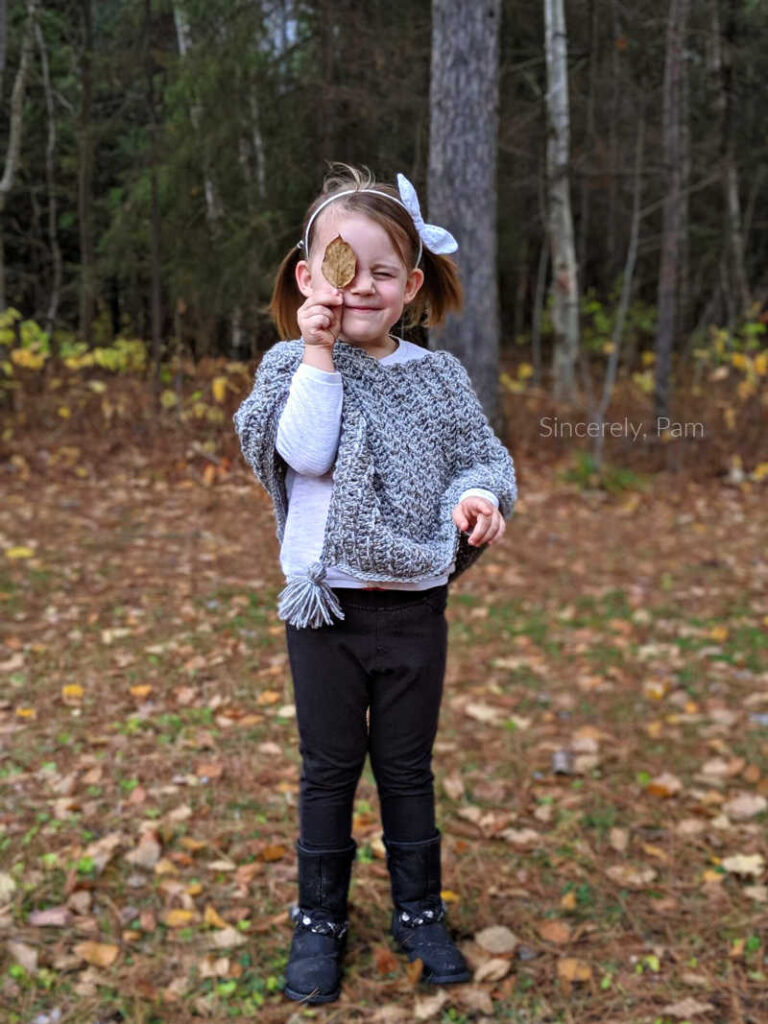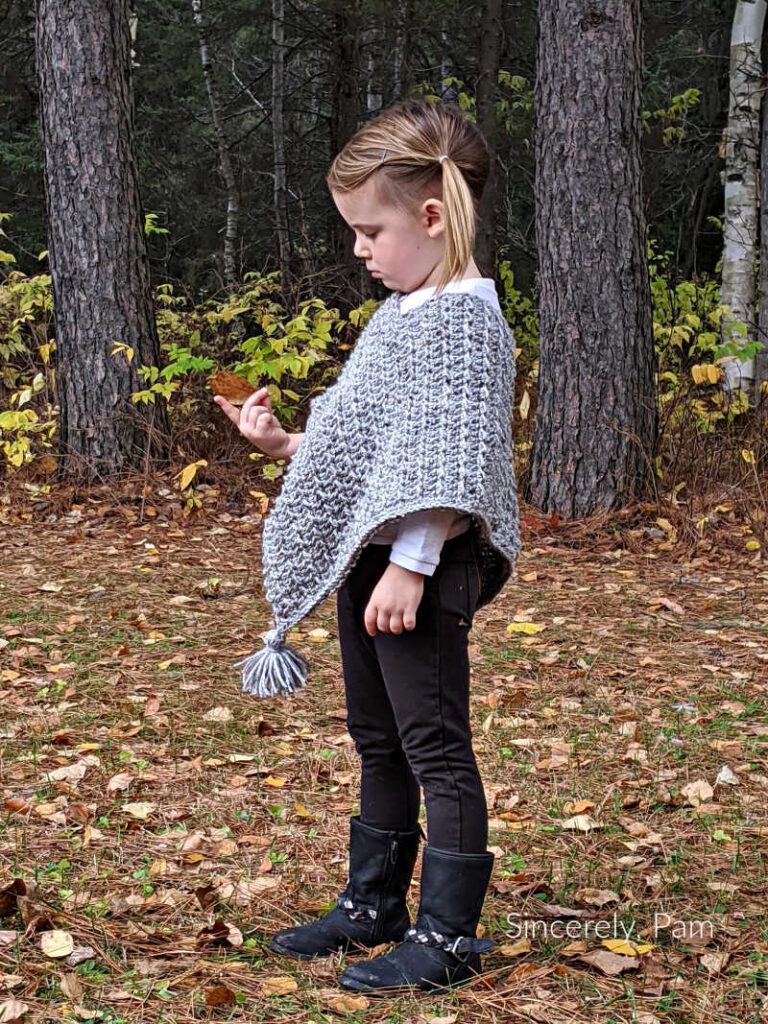 RAGGED FALLS – CROCHET PONCHO PATTERN
>>> PURCHASE THE AD-FREE PDF ON RAVELRY, ETSY, OR LOVECRAFTS <<<
This post contains affiliate links to products we recommend. We may receive a commission for purchases made through these links.
MATERIALS
PATTERN KEY (Standard American terms)
ch: chain
st(s): stitch(es)
sk: skip
sp: space
slst: slip stich
sc: single crochet
hdc: half double crochet
dc: double crochet
GAUGE
12 dc x 9 Rows in pattern = 4"x4"
EXPERIENCE LEVEL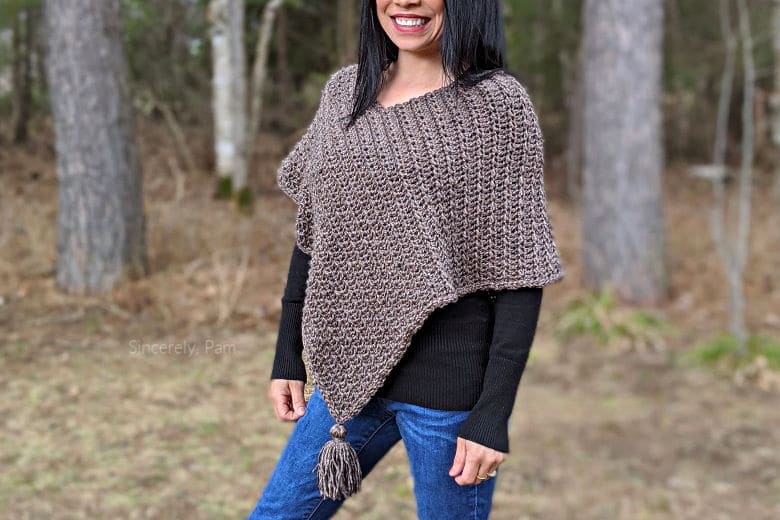 SPECIAL PATTERN NOTES
This pattern is worked in rows, starting at the bottom of the Poncho. Seaming is shown at the end of the pattern.
Beginning chains does not count as a stitches throughout.
Yarns similar in fiber content and weight can be substituted.
Changes for sizes are written as follows: (2/4, 6/8, 10/12, XS/S/M, L/1X/2X, 3X/4X/5X)
Yardage: Please refer to the size chart below.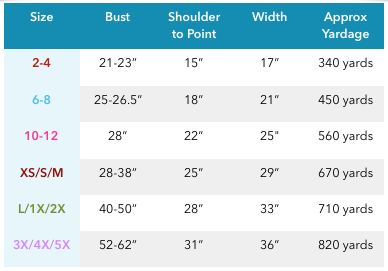 SIZE CHART NOTES
'Bust' measurement is the measurement of the intended wearer, not the garment's finished measurement.
The model shown wears a size 5x in clothing and is wearing the poncho size 6-8. If the wearer is in between sizes, I recommend going up to the next size in the pattern.
GAUGE SWATCH INSTRUCTIONS
Gauge: 12 dc = 4″; 9 rows = 4″
Row 1 (WS): Using a 6mm crochet hook, ch 16, working in the back hump of the foundation ch, hdc in the 2nd ch from your hook, (slst next ch, hdc in the next ch) 7 times. Turn. (15 sts)
Row 2: Ch2, dc in each st across. Turn.
Row 3: Ch 1, hdc in the first st, (slst the next st, hdc in the next st) 7 times. Turn.
Rows 4 – 12: Rep Rows 2 – 3, ending w/ a row 2 repeat.
Fasten off. Measuring the sts in the middle of the swatch and NOT the entire swatch itself, 12 dc x 9 rows = 4″x4″
Please note that it is more important to match the number of dc in 4″ than the number of rows in this particular pattern.
Copyright Notice
You are free to sell what you make from this pattern, but you may not share, copy or reproduce this pattern in part or whole.
Photographs are also copyright protected and may not be used. Please link back to one of my shops if selling your finished items online.
© Pam Dajczak 2019
Sincerely, Pam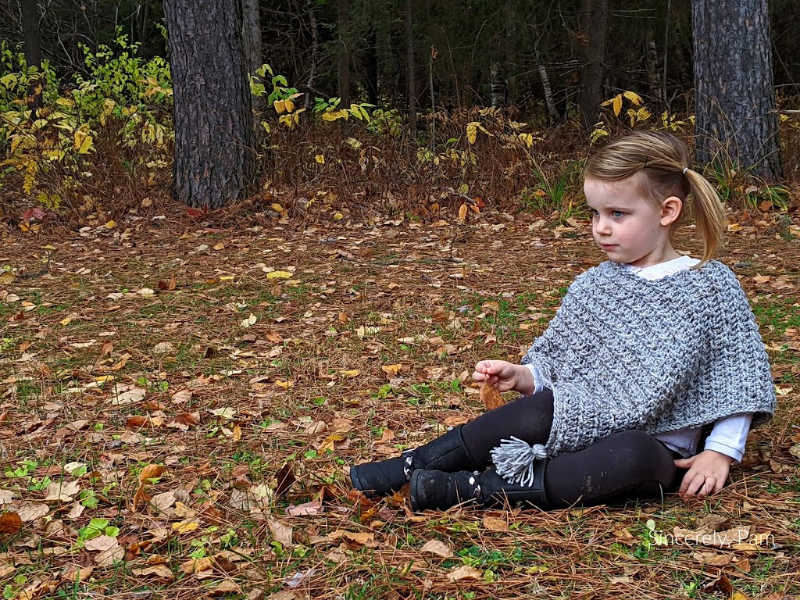 Crochet Poncho Pattern Instructions
1: Ch (77, 92, 107, 122, 137, 152), hdc in 2nd chain from hook, slst in next, *hdc in next, slst in next, repeat from * across. (76, 91, 106, 121, 136, 151)
2: Ch2, turn, dc across. (76, 91, 106, 121, 136, 151)
3: Ch1, turn, hdc in 1st st, slst in next, *hdc in next, slst in next, repeat from * across. (76, 91, 106, 121, 136, 151)
Repeat Rows 2 and 3 until rectangle measures approximately (8", 11", 13", 15", 16.5", 18"), ending on a repeat of Row 3. Place a stitch marker on the first st of the row just completed.
4: Ch1, turn, dc (25, 31, 37, 43, 48, 52). (25, 31, 37, 43, 48, 52)
5: Ch1, turn, hdc in 1st st, slst in next, *hdc in next, slst in next, repeat from * across.. (25, 31, 37, 43, 48, 52)
Repeat 4 and 5 until total height is (16", 19", 22", 25", 28.5", 32") tall ending after a repeat of 4 making sure you end on the corner furthest away from the stitch marker on Row 2 repeats.
Fasten off, leaving a 20" tail for sewing. Line up the stitch just completed with the stitch marked with the Stitch Marker. See photo below. Match up the green dot to green arrow, and red to red, without folding the Poncho. Being careful not to twist, seam across using a basting stitch in the top loops only. Fasten off and weave in ends.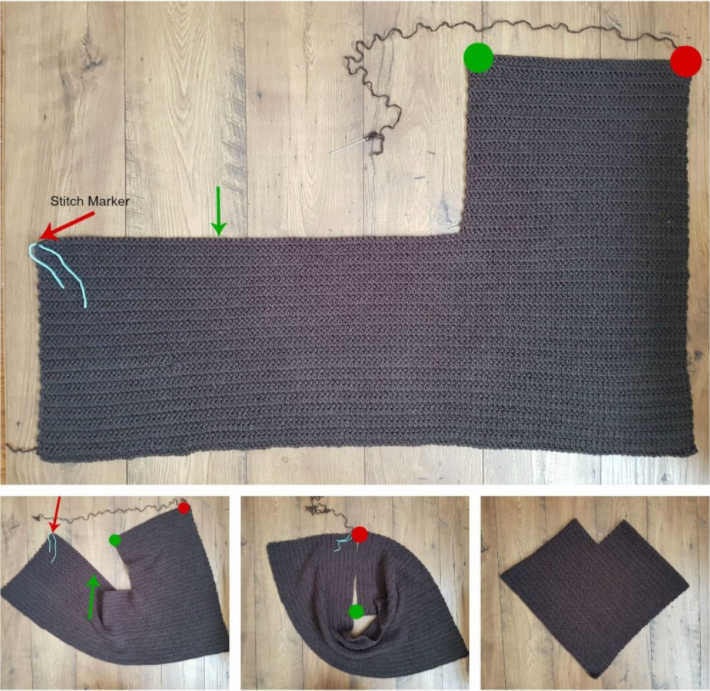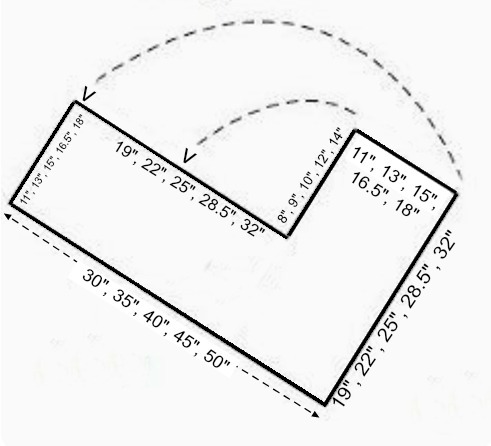 Finishing Instructions
5: Reattach yarn to bottom of Poncho. Ch1, slst around, placing 3 slst in each corner, join.
6: Ch1, slst around placing 3 slst in each ch1 corner, join. Fasten off and weave in all ends.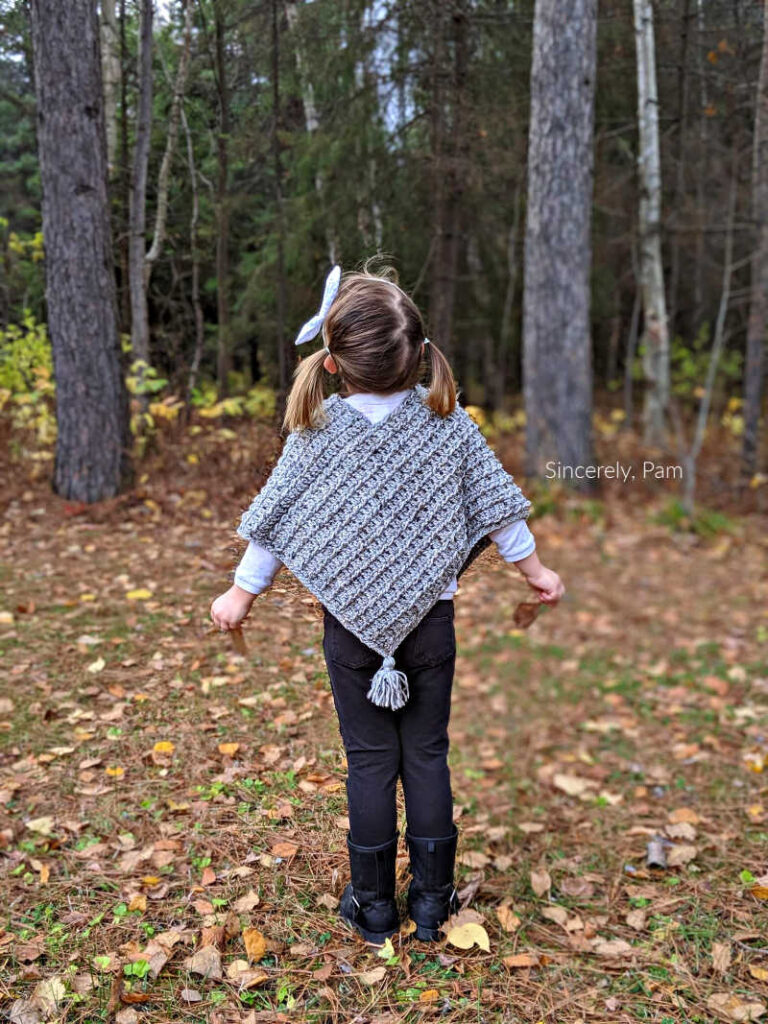 If you liked the Ragged Falls crochet Poncho pattern, make sure to check out The Ragged Falls Scarf!
To see all Sincerely, Pam FREE crochet patterns, click HERE!