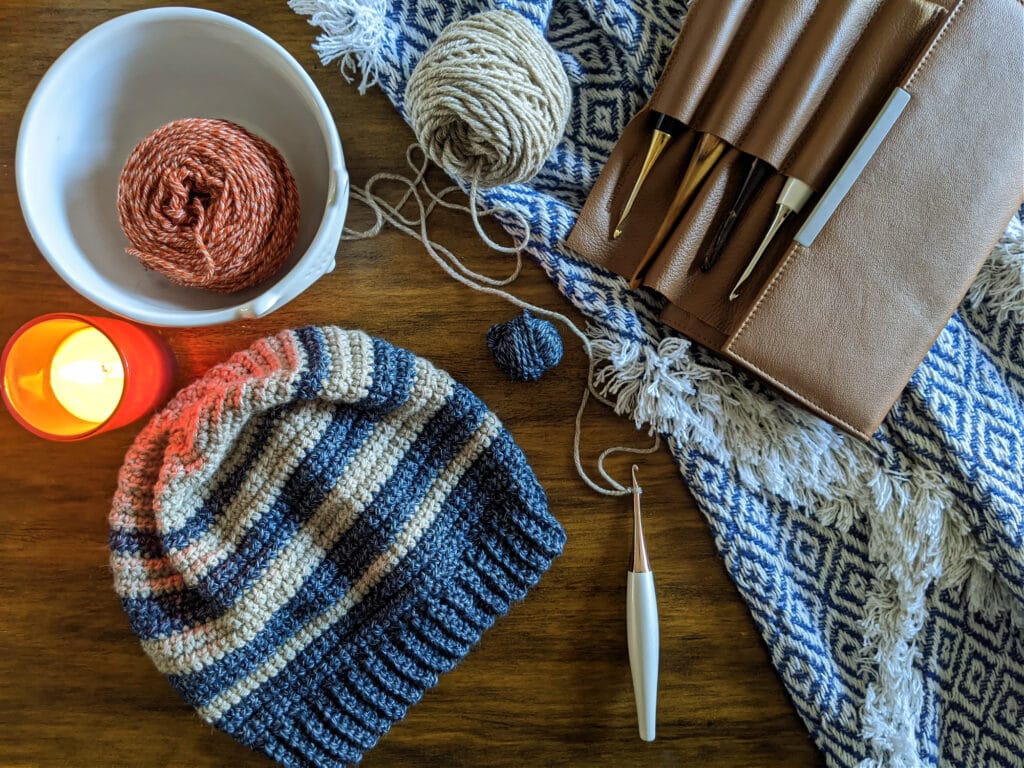 The weather has turned, the frost is on the ground, rain is turning to snow, and just like that… it's hat weather! The Alex Beanie crochet pattern is an older design of mine, but it's one that I come back to often. The slightly slouchy fit, the dense fabric, and the way it lets the yarn shine are just a few of the reasons I love this design!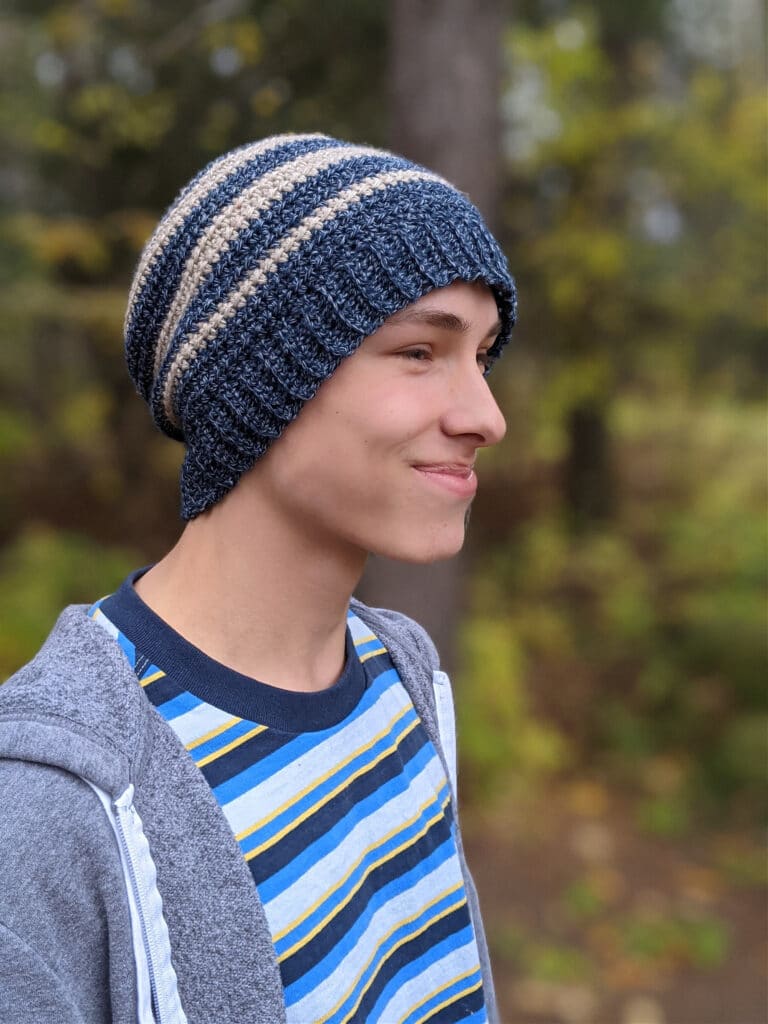 This post contains affiliate links to products we recommend. We may receive a commission for purchases made through these links.
THE YARN
I am so excited to talk about this yarn! For the Alex Beanie crochet pattern I used this brand new yarn called Kindred. This yarn is available at WeCrochet and comes in 11 colors. I have Ink, Spice, and Driftwood and all three are so rich and moody and I absolutely love them! This is a DK weight #3 yarn in a 68% Baby Alpaca, 32% Peruvian Pima Cotton
This is how WeCrochet describes this yarn: Kindred features a light, lofty ply that gives the alpaca fibers room to bloom while cotton strands gracefully twine throughout, giving this blend more substantial strength than pure alpaca. The alpaca fibers are dyed while the cotton fibers are not, resulting in a marled effect unique to this luxurious yarn.
I had originally ordered this thinking I was going to make a hood for my daughter. When I started playing with the yarn I quickly discovered that Kindred did not have enough structure to it to hold the shape I needed. This yarn is ALL about the drape and I'm not mad about it!
So, although a hood wasn't in this yarn's future, I am more than happy with how it looks with the Alex Beanie crochet pattern!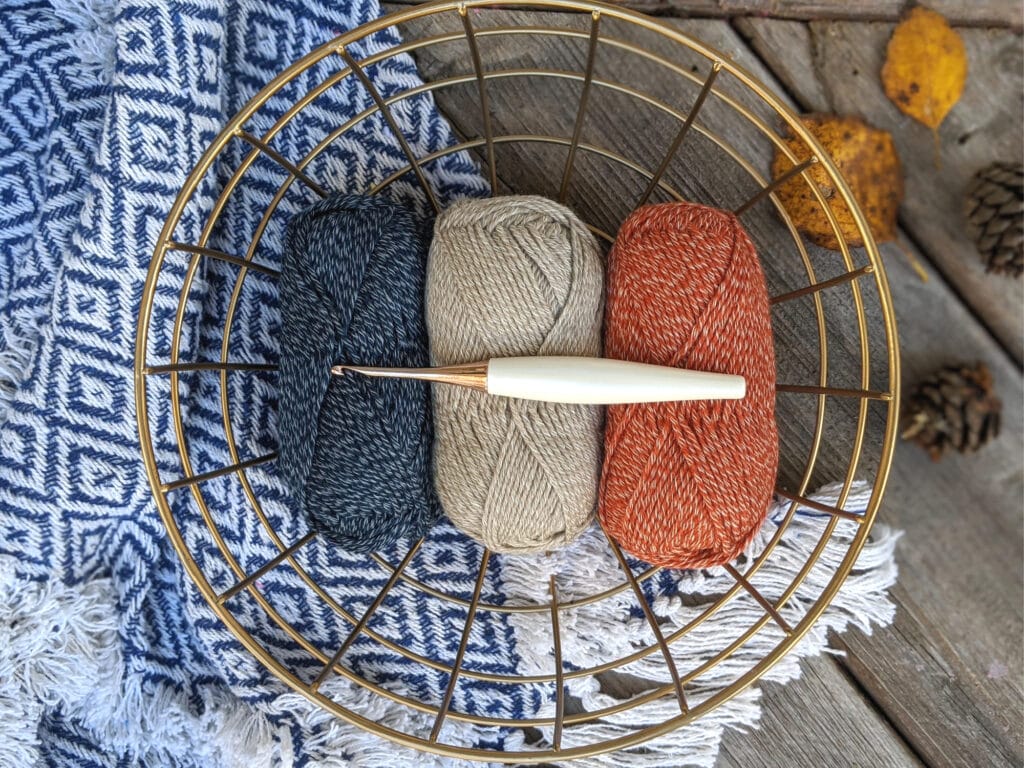 YARN SUBSTITUTIONS
Swish (100% Fine Superwash Merino) or Alpaca Cloud DK (100% Baby Alpaca) would make great substitutions if Kindred isn't for you. Both of these yarns are incredibly soft and feel amazing against the skin.
However, if you are looking for an option that doesn't have animal fibres, I wouldn't hesitate to recommend checking out Lion Brand Mandala for some self-striping fun, or even Brava Worsted if you want something with a little more weight (just watch your gauge).
Any of these options, or similar, would be great when making the Alex Beanie crochet pattern.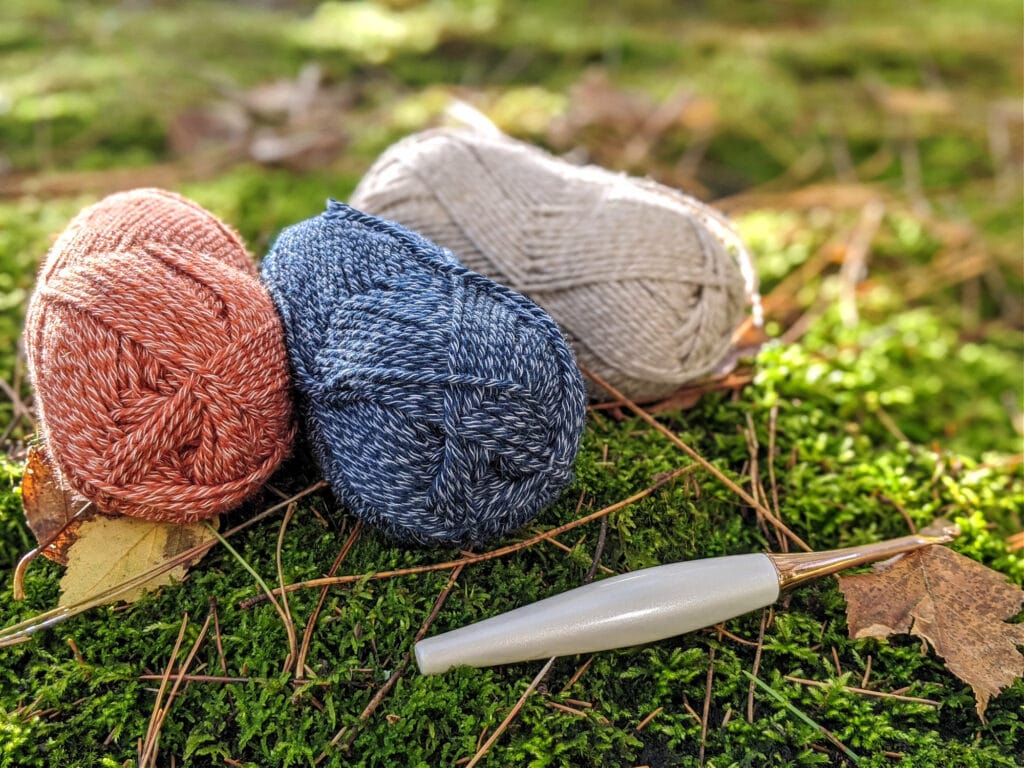 Want to work off-line? You can purchase the ad-free pdf in my Ravelry, Etsy, or LoveCrafts Shops by clicking the buttons below!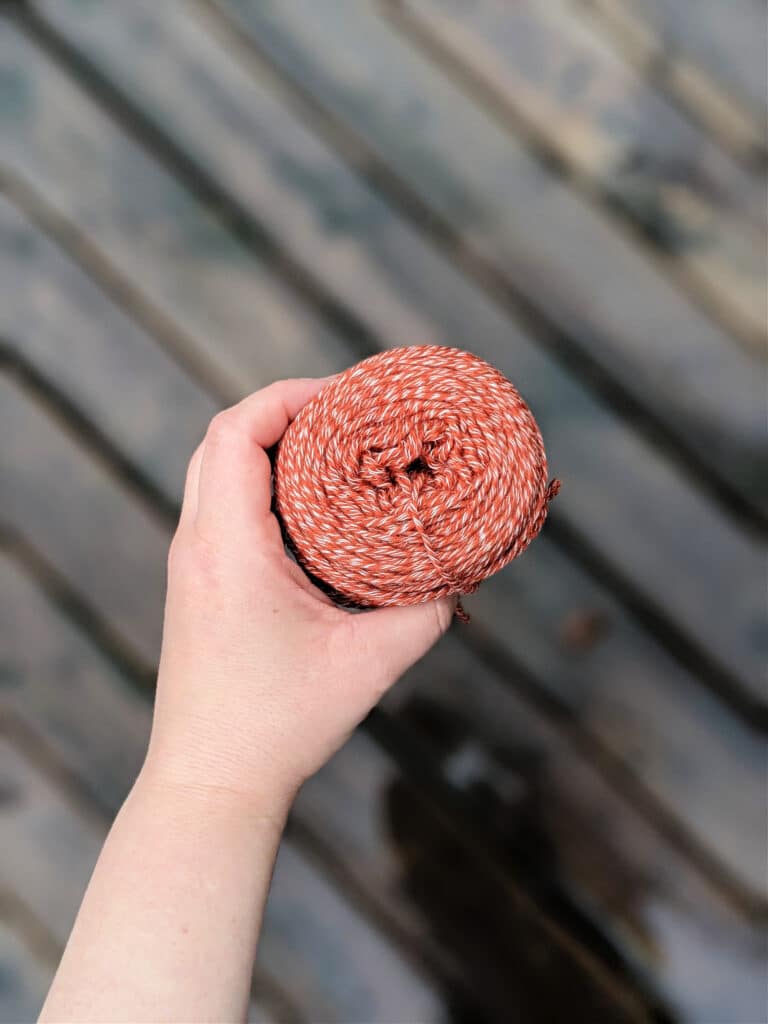 MATERIALS
Yarn: DK Weight #3. Sample made in Kindred by WeCrochet.
Hook: I used my Furls Crochet Odyssey G (4.00 mm).
Use code sincerelypam15 to get 15% off your entire Furls Crochet order.
Tapestry Needle for weaving in ends.
Measuring Tape for checking gauge.
SIZE CHART
| | | |
| --- | --- | --- |
| SIZE | HEAD IN/CM | LENGTH IN/CM |
| Toddler | 18-19″ / 45-48 cm | 7″ / 17.75 cm |
| Child | 19-20″/ 48-51 cm | 8″ / 20.5 cm |
| Adult | 20-22″ / 51-56 cm | 9″ / 23 cm |
PATTERN KEY
beg: beginning
BLO: back loop only
ch: chain
LDC: linked double crochet
LDC2tog: linked double crochet two stitches together
sc: single crochet
sk: skip
sl st: slip stitch
st(s): stitch(es)
LINKED DOUBLE CROCHET VIDEO TUTORIAL
EXPERIENCE LEVEL
Intermediate
GAUGE
15 LDC x 11 rounds = 4"x4″
SPECIAL PATTERN NOTES
This Hat is worked in the Round from the bottom up.
First, the band is worked back and forth in rows, in the back loop only.
Once the correct number of rows is complete, you will join the two ends together and begin working in joined rounds.
For a photo tutorial showing the Linked Double Crochet, as well as how to join in the round, please click HERE.
Always join in the first st of the Round.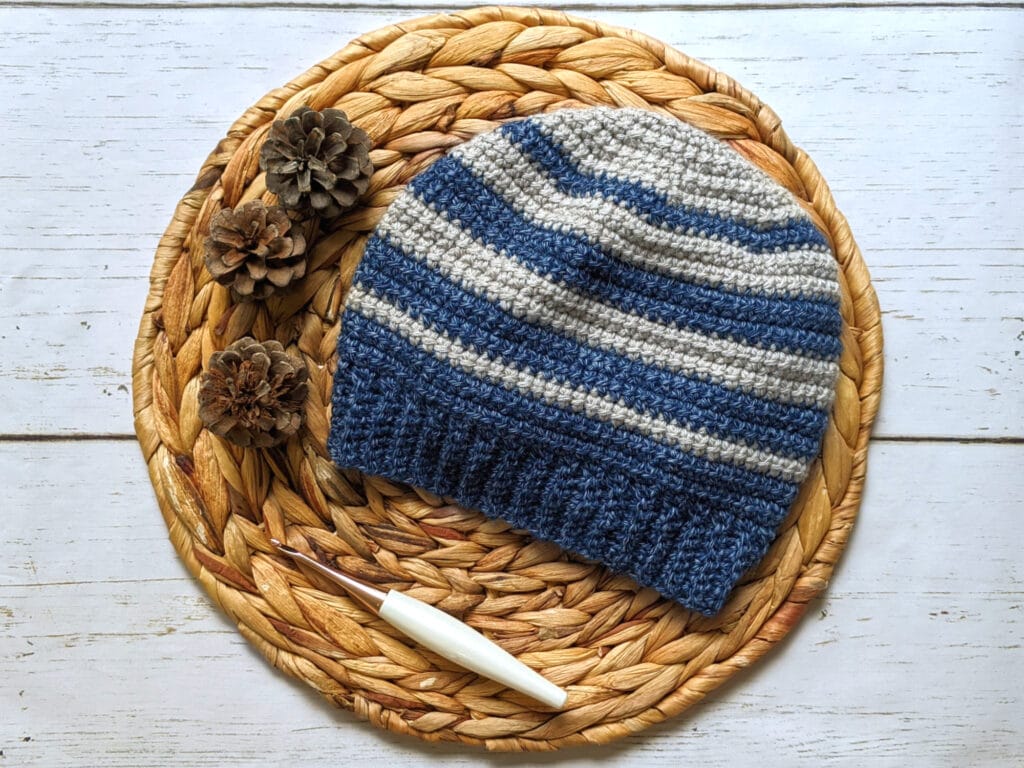 ALEX BEANIE CROCHET PATTERN INSTRUCTIONS
BRIM
1: Ch9, sc in 2nd chain from hook and across. (8)
2: Ch1, turn, BLO, sc across. (8)
Repeat Row 2 (58, 63, 68) more times.
3: Ch1, line up the last Row worked to the Foundation Chain and join by sc in the BLO of both Rows. Band Complete.
Turn the Band inside out. You are now working on the Right Side.
BODY
4: Ch2, LDC around, join. (60, 65, 70)
Repeat Round 4 until hat measures (5.5", 6.5", 7.5") tall, or 1.5" from desired finished length.
DECREASES
LDC2tog: Pull up a loop in the horizontal bar of the previous stitch. Pull up a loop in the next 2 stitches (4 loops on hook). Yarn over, pull through 3 loops. Yarn over, pull through 2 loops. (LTC2tog made).
Toddler Only:
Continue on to Round 7.
Child Only:
5: Ch2, *LDC first 11, LDC2tog, repeat from * around, join. (60)
Continue on to Round 7.
Adult Only:
6: Ch2, *LDC first 5, LDC2tog, repeat from * around, join. (60)
All Sizes:
7: Ch2, *LDC first 4, LDC2tog, repeat from * around, join. (50)
8: Ch2, *LDC first 3, LDC2tog, repeat from * around, join. (40)
9: Ch2, *LDC first 2, LDC2tog, repeat from * around, join. (30)
10: Ch2, *LDC first st, LDC2tog, repeat from * around, join. (20)
11: Ch2, LDC2tog around, join. (10) Fasten off leaving a long tail.
Using a tapestry needle and the long tail, sew the top of the Hat closed by weaving in and out of remaining sts.
Fasten off and weave in all ends.
Add a pompom if desired.
Did you enjoy the Alex Beanie crochet pattern?
Here are some more Sincerely Pam Hat patterns!
Or, try these other Linked Double Crochet patterns!